---
Article by Alex Picken
---
In August 2016, I accepted a scholarship offer from Pfeiffer University in North Carolina, America, approximately 3,869 miles away from home. Along with studying abroad for a 4-year degree in Sports Management, I am also a team member on the University golf team at Pfeiffer. Our team is made up of around 18 other international and American student athletes, both male and female.

The college athletic experience in the US. is something completely different and unique to any other University system in the world. The National Collegiate Athletic Association (NCAA) is a non-profit organisation which regulates student athletes from over 1,200 institutions. Close to half a million student athletes compete annually throughout colleges in America, bringing in just over a billion dollars each year in revenue for the NCAA. The organisation provides young, aspiring student athletes the facilities and resources they need to succeed in their chosen sport, along with giving them educational opportunities for all students to achieve a degree.

The schedule for a student athlete varies from sport to sport, but there is no question that the timetable is tremendously intense. Take my average Monday morning when my sport is in season as an example. I wake up at around 6:30am for our weekly morning workouts at 7am, we focus on strength and conditioning along with working on flexibility as well. After this 30/45-minute workout regime every Monday, Wednesday and Friday, typically your scheduled hours of classes for the week aren't far away. Classes for myself on these days start promptly at 9am and finally conclude at 3pm, giving me time to get ready for the day's practice session. Our practice typically consists of training a variety of important golfing aspects our coach believes to be of paramount importance. This will include short game, long game and course management, we tend to practice until the sun goes down over the lake at Old North State club which usually means we will get back to campus for 6:30/7:00pm. After your day of studying and practice is finally over you might be lucky enough to have a few hours free time, but I find that most students like myself, end up falling asleep early, ready to do it all again tomorrow.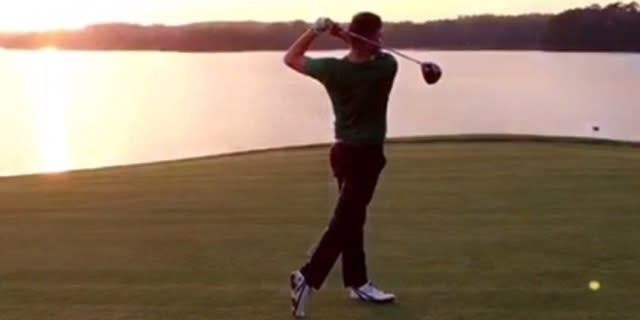 A unique asset that Pfeiffer University has is the variety of golf courses we are able to use in the Stanley County area where the university is located. One course which we as a team are particularly blessed to use is Old North State Golf Club. Recognized by Golf Digest as the number two "Best New Private Course in America" in its inaugural year, Old North State Club remains one of North Carolina's most celebrated golf courses. The community at Old North State is completely private and sealed off from the general public, a gated community where only members and invited guests are allowed in. The course itself provides any golfer with a challenging test, surrounded by water and constant difficult tee shots, the course provides you with both a beautiful and punishing golfing challenge. This incredible private club is located just 20 minutes away from Pfeiffer, a truly brilliant asset for our team which is undoubtedly one of the nicest golf courses I have ever had the pleasure of setting foot on.

Looking at American sports teams through a European perspective, we tend to laugh at their over the top culture of cliched "we can do this" chants and constant high fives. This is something seemingly unique to American sporting culture, and initially I found the whole idea of it all to be just extremely cheesy and fake. The idea of being so overblown with team camaraderie was such an alien concept to me as an independent golfer, but it really didn't take long for the experience of being part of this team to change my opinion.
Two days before my 21st birthday, I received a phone call from my parents telling me that my Grandfather had lost his battle with cancer and passed away peacefully in his home. For anyone who has lost a loved one, there is obviously no such thing as a perfect time and place to be told this heart-breaking news, but being on the other side of the Atlantic, when your entire family is back home, certainly raises a few significant problems. When I wanted nothing more than to receive a kiss from my Mum and a hug from my Dad, my entire golf team pulled through for me and became my second family. It was in this moment I realised the true meaning behind what it means to be a team, to look out for one another like they are your own flesh and blood. My teammates signed cards and sent condolences to my family, my coaches even offered to help with payment for the flights home to attend the funeral if that was needed. These loving gestures from people who only a few months ago were complete strangers showed me how this 'cheesy' American sporting culture is something so unique and special, and something I will never take for granted again.
With the recent rise of young American talent like Justin Thomas, Rickie Fowler and Jordan Spieth, it is starting to become clear that the college experience of playing golf is helping a large majority of influential PGA Tour and European Tour players achieve great success. Throughout the years notable alumni from a variety of colleges like Tiger Woods, Phil Mickleson and Jim Furyk have made their mark on the game of golf, all of which have stressed the importance of their college careers in preparing them for a successful career on tour. Even English tour players like Paul Casey, Matthew Fitzpatrick and Luke Donald chose to gain their golfing experience out in the United States instead of choosing the typical route of going through qualifying schools like most other European players. So many previous iconic golfing names along with rising future stars have come from and developed their craft in a university environment, and these numbers continue to grow as more and more new faces are seen on tour every year. The impact of college golf on these players is clearly helping them succeed, and it raises the question, is the college golf university lifestyle the best way for a young aspiring golfer to become a future professional golfer?

After just a short time based in the States, the experience has already been life changing. I have made friendships with people I never would have come across in a million years, two of my closest friends at the University is a 22-year-old from Barcelona, Spain and a 21-year-old from Saskatchewan, Canada, places I have never even visited before. I have made relationships with coaches that have helped me become a more disciplined individual and given me incredible networking opportunities globally. I have played on some of the most private and pristine golf clubs in North Carolina, where you are treated like royalty no matter the time or day. I have experienced a Southern American culture that is so unbelievably different from the typical English culture I was used too, even country music and Bourbon don't seem too bad anymore. I have succeeded academically better than I could have ever hoped for, due to the brilliant professors and faculty at the University. Above all, and without sounding too cliche, I really do believe the experience has helped me develop hugely as a person, being away from home and placed in a completely different country and culture at this age encourages you to be more organised, independent and mature (my mum and dad might not agree with the last one). Of course, there have been moments of homesickness and loneliness throughout my time here, and I appreciate there will be many more to come. But even with all that, the opportunity to pursue a hobby I love, while simultaneously achieving a great academic degree is an opportunity that only really presents itself in America, and one I am so glad I did not turn down.
---
What do you think? leave your comments below (Comments)
---
Tags: College Golf
---
PLAY MORE PLAY BETTER - LATEST TUITION TIPS
---
Leave your comments below
comments powered by

Disqus