Europe is Turning to Exercise in Huge Numbers
---
THERE are huge changes in human behaviour around the world as we adapt to our lives in lockdown. There were fears that most of us would emerge from this overweight and unfit but, according to a survey conducted by Garmin, exactly the opposite seems to be the case, but millions of people turning to exercise.
Here in the UK we have been locked up since March 23 and according to activity tracking data from the millions of registered Garmin users, that date was a turning point, marking a major shift in human activity. Those who live alone in flats or apartments face unique challenges, and it seems that, all over Europe, we are finding ways to rise to that challenge.
Take, for example, a woman who's quarantined in a 120-square-metre apartment in Italy. While she may be logging a very low daily step count due to the physical confinement, she could also be cycling in place on a virtual trainer for 20 kilometres a day. Has her activity level decreased because of the pandemic? No. She's actually moving more. She's just changed her routine because of the circumstances in which she finds herself. Millions of us are doing the same.
---
Read Golfshake's Derek Clements weekly update on his own fitness drive during lockdown
---
There has been an astonishing increase in indoor cycling activity in France, Italy and Spain.
In France, where cycling was already hugely popular, there has been a 157% increase, while the figures in Spain and Italy are even more remarkable, with increases of a staggering 273% and 309% respectively. This is something that has never happened before.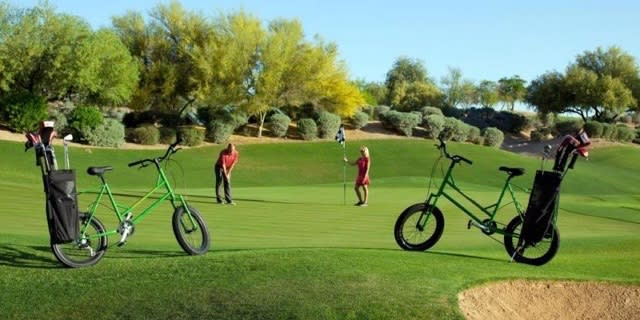 Golf bikes available for hire at The Westin Kierland Resort 5*
---
Spain is seeing a 41% average increase in distance per ride. Meanwhile, Germans are also going on longer rides with a 12% average distance per ride increase. And there has been a 153% increase in outdoor cycling in Germany. You only have to look around when you go out for your daily exercise here in the UK to know that similar things are happening here too.
Of course, cycling is not for everybody, and many of us have been looking at other ways to keep fit. Italy has seen a 105% increase in fitness equipment activities, while Garmin says that people in France, Spain and the UK are also working out more, with increases of 80%, 93% and 8%, respectively. All of this seems to indicate that those living in countries with the most extreme lockdown restrictions are still finding ways to move.
You will know that Sweden has dealt with the coronavirus outbreak rather differently to other parts of the world. The government there decided against imposing a lockdown. Life continues to be lived fairly normally, with the main restriction being that no more than 49 people can mix together. Bars, restaurants, shops and sporting facilities remain open for business.
As a result, the country has seen a barely credible 741% increase in golfing activity - the sort of figures that can only be dreamt of by the R&A and the USGA. This figure is even more notable when considering the 26% decrease in the UK before the lockdown was imposed. And there is evidence that people living in other parts of Scandinavia, fed up with restrictions under which they have had to live in recent weeks, are flocking to Sweden to play golf - and to remember what life used to be like.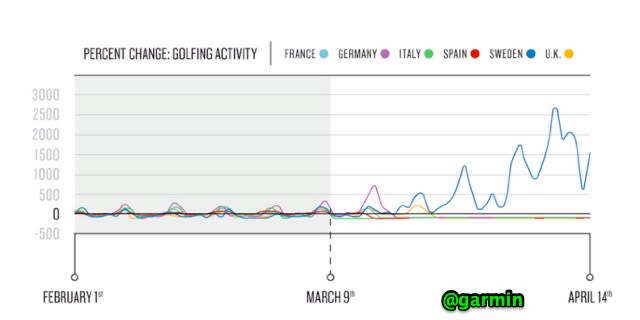 Running is traditionally the most popular springtime activity, especially in the UK in the run-up to the London Marathon. In Spain and Italy, where countrywide lockdowns are most extreme, outdoor running has dropped significantly with respective decreases of 68% and 42%.
But there has been a huge increase in the number of people using indoor treadmills and turning to virtual running. Italians, Spaniards and the French are uploading running activities in record numbers, with respective country increases of 130%, 84% and 18%.
The situation is somewhat different in Germany, Sweden and the UK. In every country, those who are running outside are running shorter distances. That is hardly surprising given the restrictions imposed on the amount of time we are meant to stay outside. Germans, Swedes and British runners are limiting their outdoor exposure, which indicates that they are following the rules. While indoor running is on the rise in most places, outdoor running is still happening – just a little closer to home these days.
There is also evidence to suggest that most of us are resisting the temptation to spend our lives raiding the fridge as we attempt to relieve the boredom.
It is impossible to switch on the TV without seeing some chef telling us what we need to be doing to eat healthily - and showing us how to do it. We are having recipes rammed down our throats at every turn. And if you happen to have a Nectar card, you will know that the powers-that-be at Sainsbury's are providing daily recipes and cooking tips. So it looks like one of the surprising benefits of this lockdown is that many of us are going to emerge fitter and leaner than we have been for years.
---
Related Content
Lessons to be Learnt Before Golf Reopens
An Open and Shut Case for Golf Courses Around the Globe
The Self Isolation Guide For Golfers
---
What do you think? leave your comments below (Comments)
---
Tags: Fitness daily picks
---
PLAY MORE PLAY BETTER - LATEST TUITION TIPS
---
Leave your comments below
comments powered by

Disqus