How Coronavirus is Affecting the World of Golf
---
BRITONS are at our best in a crisis. And we are currently facing the biggest peacetime crisis the world has ever seen. Coronavirus has now impacted on all your lives in a way that, just a couple of weeks ago, we could never have imagined.
Millions of us are now being forced to work from home. The public transport network is largely deserted. In general, most of us have pulled together and shown the bulldog spirit for which we are famous. Acts of kindness are routine. If we have an elderly neighbour, most of us are going out of our way to ensure that they have sufficient food. Individuals such as Roman Abramovich and Gary Neville have made their hotels available to NHS workers - free of charge.
Sadly, there will always be exceptions, as anybody who has been to a supermarket recently will know. We are told not to panic buy. We are told there is enough food in the supply chain. So why is it that so many supermarket shelves have been stripped bare? Why is it that we have seen people coming to blows over fresh meat and vegetables? And why, oh why, is it that so many people have decided to bulk-buy toilet paper? It is lunacy. My weekend trip to my local branch of Sainsbury's rendered me absolutely speechless. Despite turning up to do my weekly food shopping at about 8.30am, there was no rice, no pasta, no chicken, no beer (really) and, of course, no toilet paper. The world has gone mad.
When Prime Minister Boris Johnson announced the order of pubs and restaurants around the country, Britain's golf clubs knew that the impact of the coronavirus had landed at their doorsteps. Remember that many golf clubs have already been struggling to survive - this just seems like another hammer blow.
But amid the gloom there have been some good news stories. Rather than throwing their food away, the kitchen staff at Bedford Golf Club packed up all perishable items and distributed it to day and night shelters in the town.
Playing @Worksopgolfclub soon. Very clear info on website. ????Takeaway food for society. ????Course has its own twitter account @WorksopGreens. ????Daily updates ???? just need advice from @WestwoodLee about strategy???? @golfshake @derekclem1 https://t.co/zS3Knv8mqp

— andrew picken (@pickenan) March 21, 2020
Lee Westwood is from Worksop and grew up playing his local course and, lo and behold, within minutes he had come back to Andrew with some simple advice: "Hit it straight. Very straight!" I spent some 18 months living near Worksop and was a member at the club so I can confirm that Lee's advice was spot on.
Clubhouses around the country are now lying empty, which is precisely as it should be, but there is nothing to stop staff providing a takeaway food service. Indeed, it may be the only way that some of them will survive. If your club is doing this, let us know. And keep us informed of any other innovative measures you hear about.
The global economy is being hit by the effects of this awful virus and golf is one of many sports that is going to be feeling the impact for a long time to come.
Spare a thought for the caddies. These are men and women who only earn when their employers pocket prize money. And since there is no tournament golf being played anywhere in the world, that means they are not earning. And in any event, it is only a small number of bagmen who earn a comfortable living.
And just when they thought that they had a chance to improve their income streams, along comes coronavirus. For the first time, an agreement with the European Tour to allow them to be paid for displaying advertising branding is now in place but with no televised golf, there is nowhere to show off that branding.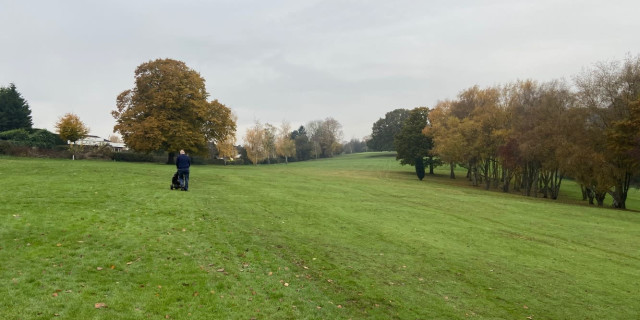 "Something like this could not have come at a worse time," Sean Russell, chairman of the European Tour Caddie Association, told BBC Sport. "With no golf it's difficult to see sponsors wanting to sign on the dotted line at the moment. I've talked to a few guys who are already driving taxis, contemplating working at places like Amazon. Some do that in the winter anyway, but they're going to have to do stuff like this because they have families, and mortgages to pay."
"The guy who worked for the seventh-ranked player last year [on the European Tour] is doing all right and earned quite a bit of money," said Russell. "The guy who worked for the player who finished 157th probably isn't.
"His potential earnings are really quite small; that's the thing that people don't see. That guy still has the same expenses, if not more, than someone who caddies for a really top player, but they are earning way less."
Most caddies are paid a weekly fee, probably around £1,000 and get a further 10% of their players' winnings - but if that player is missing the cut week after week then 10% of nothing is not going to put food on the table. "You negotiate that with the player and that covers your expenses. And then you get a percentage of what the player wins," Russell explained.
"It sounds a lot, but take into account air fares, six to seven nights in a hotel, and you usually eat out every night, so it soon mounts up. A caddie's true earnings come out of the bonus. But if the player is winning nothing, either because he's missing cuts or not playing, the bonus is zero."
Russell admits that he and his colleagues enter this world with their eyes open to its precarious nature. "There's no sick pay, holiday pay and no guarantees or HR in there," he said. "Tomorrow I could turn up and my player might not like the colour of the pants I'm wearing and he could fire me and I've got no comeback."
We want to hear your stories. What is your golf club doing at this dfficult time? How are you keeping your game in shape? If you are working from home, how are you keeping your spirits up?
---
Related Content
Golf Reacts To Keep Us Playing
Courses Close Across Europe But UK Golf Remains Largely Open
Golf Innovation in the Face of Adversity
---
What do you think? leave your comments below (Comments)
---
---
PLAY MORE PLAY BETTER - LATEST TUITION TIPS
---
Leave your comments below
comments powered by

Disqus