GolfBuddy Aim W10 Golf Watch Review
REVIEW: GolfBuddy Aim W10

By: Golfshake Editor | Tue 14 Jan 2020 |
Comments
---
Review by Golfshake Contributor Saul Guilford
---
We recently asked Golfshake Contributor Saul Guilford to test and try out the GolfBuddy Aim W10 Golf Watch. We wanted his perspective as a 4-handicap golfer based at Moor Allerton Golf Club who had never used a watch before.
First Impressions
The watch has a very sporty look and feel, with a substantial red, white and blue rubber strap and a large face I could use with ease. On the smallest size, the strap was too large for my small wrist even if I wore it over a thermal layer, it became loose. The watch I got had an alternative all black strap included which had a smaller fitting to it which on the smallest size fit me perfectly. I did prefer the striped strap more purely from an aesthetic point of view as I'm not a fan of the 'wave' pattern on the black strap.
The packaging is like the watch, straightforward, simple and easy to use.
Tech Features + Thoughts
The watch comes with 40,000 golf courses and updates are available without fees or subscriptions via the GolfBuddy app. Definitely a factor to consider when buying equipment of this sort.
When you are using the GolfBuddy Aim W10, it identifies the course you are playing automatically, which speeds up the process of getting the watch set-up. However, if it hasn't found the course by the time you're walking down the 1st fairway, then it has to wait until you are stood on the 2nd tee before loading the course and this can't be overridden.
The watch measures steps taken with the pedometer feature along with calories burnt on the same screen, which is a fun feature to have.
The face has a substantial depth, along with a thick strap, yet it's surprisingly light and also gave me faith that it would be durable after a lot of use.
It provides distances to the front centre and back of the green, along with a separate screen display of the hole which has distance rings from the green and current location, then a third display for distances to hazards.
The hazards screen shows all water and bunkers that are in play. There is also a fourth screen which shows the green and allows pin placement, although this wasn't a feature I used in the rounds as I felt like it was quicker to use the front, middle and back to estimate the number myself to a similar accuracy.
The watch does offer notifications from your phone via Bluetooth which requires their app. This is not something I would use as I enjoy keeping away from my phone whilst playing, but could be useful for some. I tried to connect my phone to this at home but was unable to see any notifications come through the watch despite having them all enabled and having a confirmed connection to the watch.
Review Introduction
As a four-handicap player I find improvement can at times be hard to come by. I tend to look for anything which can give me more data or focus my attention to a specific aspect of the game. I usually use a rangefinder for my yardages on approach shots as it focusses my attention onto the flag and a single distance.
I tried the watch out a few times at Moor Allerton in Leeds, with the first time being less than ideal conditions as the imperfect triad of cold, wind and rain were in full force. The watch screen worked well despite the rain pooling up constantly, but with a quick brush off it worked as I wanted with simple taps, swipes and the single side button controlling all of the features I wanted. Ease of use is a real positive for this watch
The second time I used the watch was much warmer, drier and there was almost no wind. The watch worked when using my golf glove to manoeuvre between screens and features. This isn't something most people will require but as a lefty playing right-handed, it does impact myself. This wasn't a feature, I had considered I would need, but it certainly makes using the watch much quicker as opposed to having to take off my glove at every shot. Another plus point.
Experience
When using the watch, I got to see that the distance always changed gradually, yard by yard, whilst moving. This was something I was pleased with as it gave me a lot of confidence that it always recognised my location, rather than skipping forward for every ten steps I took. This provided belief that the numbers were accurate, and this seemed to be the case as when I managed to hit a few good approaches the distances were close to the flag.
The watch was comfortable for all the time walking between shots, I never even noticed I was wearing it. When addressing the ball, I always felt comfortable and it never got in the way or my eyesight whilst swinging. The screen has different settings for dimming the screen so most of the time it isn't bright enough to catch your eye, however with the motion settings available the screen can brighten up when rotated to see the face, or by tapping the screen.
I used the hole layout screen to aim for blind shots which worked out very well for me as I was able to use bunkers and trees to aim down. When I walked up after hitting these shots, I found that I was aiming within a couple of yards of my 'ideal' line every time. This is a benefit, I never imagined I would use from a GPS watch and will certainly speed up play in the future.
The battery life is 11 hours according to GolfBuddy which after a couple of nine hole rounds, I only got it down to 37% and I never had to worry about it running out despite it only being on 72% to start, this shows they are probably accurate.
I really like the sporty look of this watch, but it's not one that I would wear outside of a golf club simply because I look for a much more casual watch in day to day life away from the course. However, if you are a fan of that sporty look away from a golf course, then this watch would most likely work for you.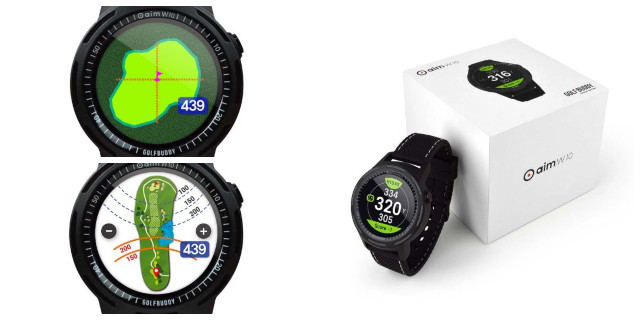 Conclusion
I was impressed by just how easy the GolfBuddy Aim W10 was to use as I never had to wait for any screens to change or distances to catch up. It was as efficient of an experience as possible, which is something I look for with so much discussion about slow play.
I loved the hole view feature as it gives almost as much information as most course guides do and also has a pinpoint for where you are on the hole. Whilst using other screens to allow the maximum detail to be displayed onto the screen.
In conclusion, I could see value in buying the watch as it is comfortable and easy to use, the distances appeared to be accurate to me and the battery life was better than I would expect from this type of watch. If you don't have a GPS device then I would definitely look to add the GolfBuddy Aim W10 to your list of golf gadgets for the 2020 season.
For more information, visit the GolfBuddy Official Website.
---
What do you think? leave your comments below (Comments)
---
Tags: review rangefinder Laser gps golfbuddy
---
comments powered by

Disqus