Duca del Cosma Camelot Shoe Review
REVIEW: Duca del Cosma Camelot Golf Shoe

---
Reviewed by Golfshake Ambassador Rob Treanor
---
Duca Del Cosma is an Italian brand helping to bring stylish, bold and classy apparel to golfers around the world. The brand is very much at the forefront of the sophisticated golf movement, bringing Italian style and flair to the masses.
Technical Specs
We tested the Camelot which like all Duca Del Cosma shoes, are made from extremely high-quality materials. The waterproof leather outer is accompanied by soft feeling waxed laces and has a trainer style profile. An ergonomic, cushioned insole adds comfort to the fully breathable shoes and rubber nubs provide plenty of traction on the course.
Nappa leather
Wax laces for luxurious look and feel
Waterproof bootie System with breathable membrane
Comfortable and breathable
Arneflex® insole Memory foam covered with cow leather
Airplay VI outsole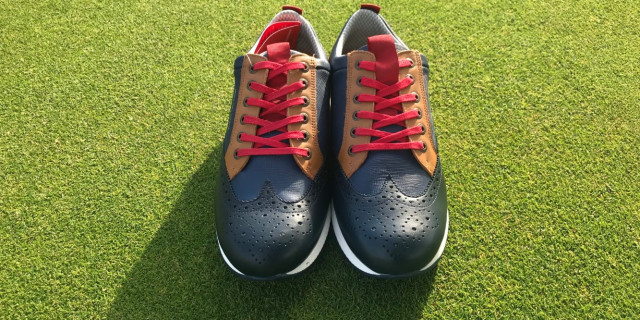 Looks
The classy design is striking without being imposing. These fashionable shoes break the mould from traditional golf shoes and would not look out of place in the cafes of Paris or Milan. Attention to detail with features such as the patterned toe make the shoe easily distinguishable as a quality piece of footwear.
Feel
Duca Del Cosma is quality by default, meaning that the shoes feel fantastic from the moment they slip on the feet. In truth, even handling them whilst removing from the box feels sublime. There is a real spring added from the insole and the shoes were as comfortable on the drive home after 18 holes as they were during the first few steps. This truly is an uncompromising, incredibly comfortable piece of footwear which can be worn all day for a range of activities.
The shoes tested were a size 9 which is what I select for all footwear, considering myself a "true nine". Duca Del Cosma's sizing was perfect as these were spot on for comfort and feel on the course.
Performance
He shoes were outstanding on the course from the very first tee. Extremely comfortable and offering superb grip, they supported a range of shots from different lies and conditions. They repelled the morning dew with ease and whilst we weren't able to test them under very wet conditions, the impression they made is that they would easily deal with a downpour.
Verdict
Pros
The Camelot is an extremely high-quality pair of shoes which look great and will last a long time. They break the mould in that they bear no resemblance to traditional spiked golf shoes, having more in common with smart, high end fashionable footwear. The shoes can easily transition from the course to the next activity in your day without looking out of place.
Cons
As with any product constructed solely of high-quality materials, the shoes carry a premium price tag which might not suit all budgets. Although all of our Golfshake reviewers liked the bold styling, it may not be to everyone's taste.
The Bottom Line
The hallmarks of Italian design shine through in the quality of these handsome shoes. These stylish, luxurious shoes are designed for a new generation of golfer who demands a good-looking shoe which can do more than just perform on the course.
---
For more on this model, visit Duca del Cosma.
---
What do you think? leave your comments below (Comments)
---
Tags: shoes review golf shoes Duca del Cosma
---
comments powered by

Disqus