The 18 Hardest Holes at St Andrews Links
---
St Andrews Links is the largest and most famous public golf facility in Europe, comprising of seven accessible courses that provide a varied challenge in view of the historic town, which serves as a striking backdrop.
The Old is the spiritual home of the game, a soon to be 30-time host of the Open Championship, and is unquestionably the most iconic. The New is an Old Tom Morris creation that is a favourite of many aficionados near and afar. The Jubilee was revamped in the 1980s and is widely considered to be the most testing of the bunch.
The Castle is the most recent of the layouts - opened in 2008 - and removed from the rest, sitting on the spectacular cliffs to the east of St Andrews, offering a different kind of golf. The Eden is a Harry Colt design that rests alongside the Old, possessing innovative greens, and is a popular course for the locals.
Additionally, the Strathtyrum and nine-hole Balgove provide a more suitable challenge for higher handicap golfers and beginners, ensuring that there is something at St Andrews Links for everyone.
Overall, that adds up to 117 holes to play at the Home of Golf, but which are the most difficult? We have delved into the comprehensive statistics available within the Golfshake Score Tracker, looking at rounds tracked by mid-handicap golfers (12 to 19) to identify their average score to par on each of the holes at St Andrews, picking out the 18 hardest.
There could be some surprises in there. The prominence of the Jubilee and Castle won't come as a shock to those who have played them, but the difficulty of certain holes on the Eden may be unexpected to golfers who have overlooked this gem that sits adjacent to the historic Old Course.
If you were to compile this fantasy course, the par would be 72, with the length (each stat is taken from the yellow tees) measuring 7,112 yards. When it comes to sheer difficulty, the numbers suggest that this would be the Ultimate St Andrews Links Course!
2nd (Eden), 438 Yards, Par 4
Average Score to Par: +1.769
2nd (Jubilee), 352 Yards, Par 4
Average Score to Par: +1.545
16th (Jubilee), 418 Yards, Par 4
Average Score to Par: +1.523
3rd (Eden), 402 Yards, Par 4
Average Score to Par: +1.513
17th (Old), 436 Yards, Par 4
Average Score to Par: +1.483
6th (New), 433 Yards, Par 4
Average Score to Par: +1.476
12th (Castle), 415 Yards, Par 4
Average Score to Par: +1.453
10th (New), 457 Yards, Par 4
Average Score to Par: +1.413
17th (Eden), 407 Yards, Par 4
Average Score to Par: +1.372
2nd (Castle), 394 Yards, Par 4
Average Score to Par: +1.357
4th (Castle), 518 Yards, Par 5
Average Score to Par: +1.357
1st (Jubilee), 337 Yards, Par 4
Average Score to Par: +1.318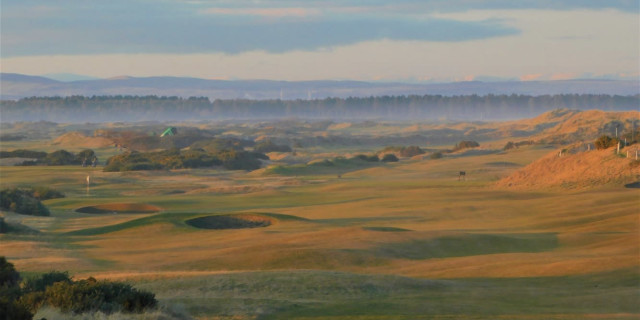 17th (New), 211 Yards, Par 3
Average Score to Par: +1.286
6th (Castle), 399 Yards, Par 4
Average Score to Par: +1.262
9th (New), 225 Yards, Par 3
Average Score to Par: +1.254
13th (Eden), 404 Yards, Par 4
Average Score to Par: +1.231
7th (Jubilee), 341 Yards, Par 4
Average Score to Par: +1.227
6th (Jubilee), 480 Yards, Par 5
Average Score to Par: +1.205
---
Overall Course Difficulty (Average Score to Par on Each Hole)
Jubilee: +1.078
Castle: +1.064
New: +0.978
Eden: +0.975
Old: +0.898
Strathtyrum: +0.678
---
Related Articles
Stat Focus: The Old Course at St Andrews
The Experience of Playing the Old Course at St Andrews
How to Secure a Tee Time on the Old Course
Six Favourite Holes on the Old Course
---
What do you think? leave your comments below (Comments)
---
Tags: stat focus series st andrews Score Tracker old course daily picks
---
PLAY MORE PLAY BETTER - LATEST TUITION TIPS
---
Leave your comments below
comments powered by

Disqus