There's Something To Be Said For Playing Golf in a Mankini
---
HAVE you been out on the course these past few days? Phew, what a scorcher! How on earth do you keep cool when the mercury is exceeding 30C, especially when this great game of ours imposes so many dress rules upon us?
I had the misfortune to be playing on Thursday, July 25. In case you missed it, that was the hottest day of the year, the hottest day of any year in the UK actually, and I just happened to be playing at a course (which shall remain nameless) that remains stuck in the 19th century in many respects. I turned up to pay my green fee, only to be informed by the pro that I needed to be wearing knee-length socks. I would remind you that the temperature was nudging 38C. That is 100F in old money. In any money, that is bloody hot. I, of course, had pulled out a tiny pair of white socks that barely covered my ankles.
"Sorry, but I don't have any knee-length socks," I informed him. And neither did my playing partner.
"That's not a problem sir, I can sell you a pair."
"And do you have anything to hold them up?" I asked.
"No sir, I am afraid that I don't. But I am going to have to insist that you buy a pair if you wish to go out and play. It's the rules."
"You do, of course, realise that by the time we get to the first tee, the knee-length socks you are about to sell us will have fallen down by our ankles?"
"I'm sorry sir, it's the...."
"Yes, I know, it's the rules."
With which, myself and my playing partner were each forced to part with £12.50 for a pair of socks neither of us will ever wear again. And yes, you've guessed it, they were down around our ankles even before we had left the changing rooms. There are times when I find golf's dress rules incredibly puerile. And trust me, this was one of them.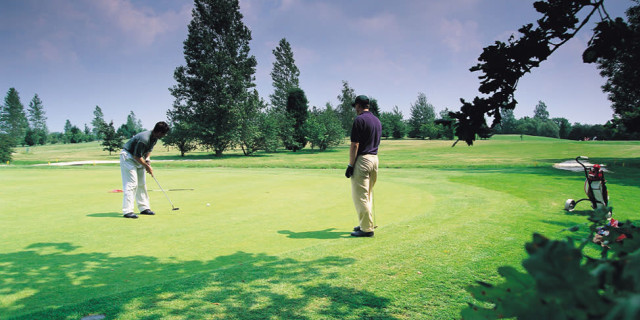 We were, naturally enough, wearing polo tops with collars. How come Tiger Woods can get away with wearing tops without a collar? But we know that if we turn up wearing the same style, the pro will turn around and tell us we can't possibly go out on his precious course wearing such a fashion abomination because "it's the rules, sir."
So, the two of us stood on the first tee, sweat dripping from every orifice before we had even struck a golf ball. Within minutes our hands were so sweaty that it was well-nigh impossible to hold our golf clubs. Sweat poured down our arms. As we stood over our putts on the first green, sweat ran down our foreheads and into our eyes, so we couldn't actually see the ball.
We were sensible. We were both wearing baseball-style caps. And this meant that our hair stuck to our heads. Our tailored shorts, reaching to our knees, meant that had there been any air, we wouldn't have felt it where we needed it most anyway. And heaven help us all had that club professional been able to supply us with garters to hold up those awful socks.
Yes, days of hot weather had meant that the fairways were hard and firm, and our drives rolled for miles. I didn't think that I was capable of hitting the ball 300-plus yards at my advanced stage of life, but here I was going for all the par fives in two. The problem is that the greens had dried out too, so it was impossible to stop the ball on any green. At one point I actually found myself contemplating pulling out a wedge from 200 yards.
We had each started off with a bottle of water in our bags. Every drop had been consumed by the time we crawled off the third green. And were there any water taps to be found? Did anybody come around the course on a buggy selling water? No and no! We would have phoned the clubhouse and asked somebody to send out some supplies but, you've already guessed it, this particular golf club banned the use of mobile phones on any and all parts of the course!
By the time we came off the 18th green on our hands and knees we felt like two survivors of a plane crash in the Sahara Desert who had spent two weeks crawling through the sand looking for signs of life. We were barely able to talk to one another, far less shake hands and thank the other for their company. And when we finally found the sanctuary of the clubhouse we realised that we weren't the only ones in this boat - all around us were strange male creatures with bright red faces, soaking wet hair spattered across their heads, throwing down pints of beer as if their very lives depended upon it.
I never thought I would find myself writing these words but I now believe that Borat had something when he appeared in a mankini. And I promise you one thing - if this weather continues, I will be going out to buy one. As long as it has a collar, I can't imagine that it could possibly offend anybody. Failing that, I plan to advocate topless golf for all men of a certain age.
30C? Knee-length socks? You can keep it!
---
How to Protect Yourself From the Sun When Playing Golf
---
What do you think? leave your comments below (Comments)
---
Tags: Summer Golf
---
PLAY MORE PLAY BETTER - LATEST TUITION TIPS
---
Leave your comments below
comments powered by

Disqus