5 Reasons Why Summer Golf is Great
---
Article by Golf Journalist Joe Hughes
---
I'm almost certain that if you speak to any golfer on the planet and ask them whether they prefer paying golf in the summer or winter months, their answer would most likely be the former. Let's face it, you don't wake up in the morning and say to yourself, "I really hope I end up wet and cold at the golf course today." Unless of course you're still partaking in a huge streak of the Ice Bucket Challenge fundraiser from a few years ago, in which case, I doff my proverbial cap to you, as you were. But other than that, it just doesn't happen. You hope for dry and maybe even sunny weather to shoot a nice score around the course you're playing and this got me thinking about some of the reasons why golf is so much better in the summer. You may notice that some of these are rather light-hearted, but hey, they're good enough for me.
Game Progression
Beginning on a serious note, there is a great opportunity for you to develop your game through the summertime, whether that be on a range or out on a golf course. A first reason for this is more to do with conditions rather than your actual game. Many of you will have heard people say that a golf ball will travel further in warmer conditions rather than colder conditions, and this is true. According to an article on Titleist's website, "when a golf ball flies through colder air, it loses distance because cold air is more dense than warm air." So, it would be wise to take advantage of the warmer air and at least temporarily give yourself a better chance of par or birdie, in theory.
In addition to this extra distance, there is the fact that the opportunities to play golf will likely be more regular, with courses being in good condition and able to stay open for longer. If you are able to get out onto the course on a less sporadic basis than in the cold months, you will gain some consistency and be able to build upon your previous performance more easily. This will inevitably help you to improve on certain aspects using more of a 'feel' aspect, with fresh memories of where you went wrong on the last outing.
No Course Closures or Temporary Greens
As I touched upon in the previous section, one of the reasons that there are more opportunities to play golf is due to the great condition that most courses are in, in the summer. There would be no reason for clubs to be closed barring some sort of freak weather and best of all, it's unlikely that there will be any temporary greens whatsoever. Now, I'm not claiming to be a Jordan Spieth on regular greens, but I have even less chance of holing my 20-footer for double-bogey when I'm putting across the bumps and bobbles of a temporary green in the fairway. So, with the courses at their best this is a cracking time to take advantage of the smooth greens.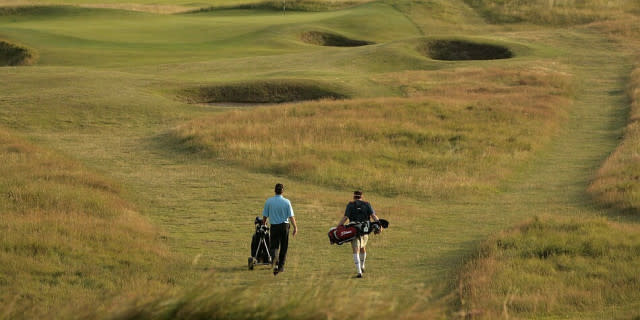 More Time to Play – Twilight Golf
As we've looked at in one of our previous articles, twilight golf is one of the best ways that you can play more golf this summer. The longer days provide those few hours extra in which you can spend some time hitting balls. Many people who work during the day and have families to spend time with at the weekends struggle to play golf regularly if at all through the winter months. But, the late evenings offer a chance for those who lead busy lives to just have a few hours to themselves, without a care in the world. I can't emphasise enough how highly I rate twilight golf, its brilliant. And when you think of those times when it's dark before you even finish work (of course this depends on your job type), you realise just how valuable these times are. Utilise the sunlight and get out there.
Wearing Shorts
Now, this may seem like quite a trivial reason, however, I believe that the idea of wearing a comfortable yet smart pair of shorts to golf is very much overlooked and frankly underrated. The freedom that you feel is brilliant and what is even better is that after four hours in the sunshine, you may well pick up a bit of a tan to disguise the fact that your calves have been hiding in trousers for the last six months. On the male professional tours, it is still required that the golfers wear trousers during tournament days, which may well be altered in the coming years. For now though, players on the European and PGA Tours are making the most of being able to wear shorts in practice rounds, as you will see at any tournament boasting some decent weather. But, for golfers who aren't lucky enough to be playing on the professional tours, shorts must surely be seen as a huge positive, whether you're male or female. So, this summer, and beyond, slip into some shorts and give them a go!
More Leaves on Trees, Less Leaves on the Floor
This one is perhaps aimed more at the amateur golfers, following nicely on from the shorts for amateurs idea. Many courses, particularly in the UK, boast more than just a couple of trees and this is a good thing in terms of preservation of land and it's natural features. However, as I'm sure plenty of you will know, it's rather frustrating hunting for your ball, just off the side of the fairway amongst what feels like 10,000 shining leaves. Granted, some courses are able to manage this better than others during the autumn and winter months, but for some, there's just no way they can keep the course clear from leaves.
Well, thanks to mother nature and her changing seasons, we have some time in the spring and summer where the trees are full of life and are fully attached to their leaves, rather than having them peppered all over the grass. The only downside to this being that there is a smaller chance of the ball making it through a tree, should it end up heading for one, but we can't have it all. So, I'm more than convinced that for the average golfer this is a great reason to suggest that summer golf is superior to winter golf.
Further reading...
5 Ways to Play More Golf This Summer
UK & Ireland Top 100 Courses Twilight Rates
Why do you love summer golf? Let us know!
---
What do you think? leave your comments below (Comments)
---
Tags: Summer Golf
---
comments powered by

Disqus