5 Ways to Play More Golf This Summer
---
Article by Golf Journalist Joe Hughes
---
The golfing season is well and truly upon us, and with the improving weather we believe that it is right for us to take a look at various methods that will get golfers out onto the course as much as possible. After all, we have endured what can only be described as a three-putt of a winter, so we deserve to be back out there.
Thanks to the wealth of technology that is available in the modern day, there is no shortage of apps or sites which you can use to meet your golfing needs and find the perfect round for you. Whether you are playing on a budget, looking to meet new golfing friends or simply want to enter a competition to check that you still have that "Masters Sunday focus" that you used to use in your club's monthly medals, we have you covered. Below are some of the best tools to help you make the most of the dry weather.
Teeofftimes is an established tee-time booking website that offers deals on bookings at a plethora of different courses. The website, which also has an easy to use app, allows you to browse clubs by location and filter results by specifying your desired price range, date, time, and whether you're looking to play nine or 18 holes. Once you've selected your personal preferences, the site will display any available tee-times that match your search criteria and you may proceed to booking the one that takes your fancy. Often, you I'll find that there are some offers available for certain clubs or tee-times and you may find that this in fact works out cheaper than contacting the club directly. Using Teeofftimes is a great way to play some of the best courses in your area for a more than reasonable price.
Founded by those behind The De Vere Club, PlayMoreGolf is a flexible membership that grants you access to a number of courses as if you were a member of the club itself. By paying a reasonable up-front cost of £325 you are able to choose one of the courses offered by the organisation as your home club. This would not mean that you become ab member of the club specifically but it would be the club you are associated with in terms of you PlayMoreGolf membership.
So, what is the deal with the membership with regards to how often you can play and where?
Well, to begin with, 100 points are allocated to your account and these points are to be spent on rounds of golf at either your home club or what are known as 'away' clubs. You can play as much or as little as you like and you may spend up to 20 of these points at away clubs with the rest being spent at home. This gives you the opportunity to sample a wide range of top courses whilst also becoming a master of your home venue. If you use up all of your points, fear not, as it is simply a case of logging on to your account and purchasing some more, allowing you to get back out onto the course in no time at all.
In my opinion, this option represents great value and an opportunity to play more golf, as the name suggests. I would encourage any golfer to give this a try over the summer months and see explore the courses of your choice.
The third tool you can use to play more golf is My Circle Golf. This is an app that allows you to connect with other golfers in your area whether you know them, or not. The system allows you to create various relationship circles in which you can invite whoever you so wish. Think friends, family, colleagues or even total strangers. The app's main purpose is to allow golfers to discover others in their area with whom they could play a round or practice with. And it is becoming increasingly popular.
With a simple layout, you can easily create multiple circles, ranging from small to large and all with a slightly different relationship to yourself. For example, you can search for golfers in your area and then refine your search by selecting what their handicap is, by doing this you will be connecting with golfers that are perfect for your round. Once you've added others to your circle, it will take you a matter of seconds to set up a round at your selected course and have an invite on the way directly to your golfing acquaintances.
By using this innovative app, you can wave goodbye to those lonely Thursday evening rounds and say hello to enjoyable, sociable rounds of golf.
Golf Empire is one for those who wish not just to have a knock with some good company, but for those who wish to test their ability in amateur competitions. The website advertises more than 10,000 amateur events with some in locations as far as Japan and the USA. That does not mean however, that you will need to travel long-distance to get to all of the events. In fact, the majority of the competitions are held across the UK.
The site has a straightforward layout allowing you to search by location and view all available events in that area. The search results are well organised by club name, in alphabetical order and this means that there is no trouble in finding a specific club's competitions, if you have one In mind. Furthermore, once you have selected your desired location, you are able to select a competition and view its key details, such as entry requirements and fees. From there, all you need to do is fill in the entry form and send it to the address provided, then, you're all good to go.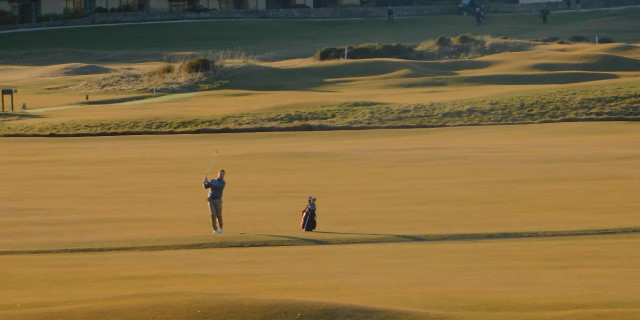 Twilight Golf and Nine-Hole Courses
Finally comes one of the easiest ways to play more golf. During the summer, when the evenings are long and bright, the vast majority of clubs will offer a reduced fee for twilight golf. The reason being is that you may not fit a full 18 holes in before sunset but you will certainly get a decent few holes in if you start in the early evening. It can be tricky to fit your golf into a busy schedule week after week, things such as work, school and family often take priority, and in most cases, rightly so. However, this option offers a solution to that, in which you can get out onto the course for even just an hour or so in the evening and get away from the stresses of everyday life. Twilight golf means that golf doesn't necessarily have to take up the best part of a full day and certainly does not to break the bank. This cheaper, an less time consuming alternative is popular amongst workers and is a brilliant way for you to play more gore, regularly.
UK & Ireland Summer Top 100 Twilight Deals
Another slightly cheaper and quicker golfing format is playing at a nine-hole golf course. There are thousands of these around the UK, even more if you take into account the nine-hole pitch and putt courses. A nine-hole course will rarely take you longer than an two hours and this is ideal, once again, for those who have busy lives and may struggle to fit in a full 18 holes on a regular basis. It is not uncommon to stumble across a brilliantly challenging yet enjoyable nine-hole venue and I would urge golfers to explore their local area and give the shorter format a go on a sunny summers evening.
So, there are just a few tools that can help you to play more golf this summer, and potentially connect with other golfers and experience new courses. Do you have any other suggestions to add? Let us know!
---
What do you think? leave your comments below (Comments)
---
---
comments powered by

Disqus