5 Things the Average Golfer Can Learn From Tiger Woods
---
Article by Will Trinkwon
---
Tiger Woods is one of the greatest golfers ever to have graced a fairway. Destined for the highest precipices of the sport since he appeared on the Mike Douglas show at the age of two and squared up against Bob Hope in a putting contest. Since then the records have just kept on tumbling, the most recent being his sensational recovery from back injuries and THAT public scandal, to fight his way back unto the summit of the golf world and win the 2019 Masters. Most of us are unlikely to ever get anywhere as good as Tiger, of course, but there's still plenty we can learn from his game and that amateurs can translate into their own. Here's a list of five things the average golfer can learn from Tiger Woods.
1. The Importance of Physical Fitness
When Tiger Woods burst onto the scene in the late 1990s, he was whippet thin and took little heed of his fitness. Fastforward ten years and Woods was built like an NFL linebacker, running over seven miles a day and working out like an Olympic track athlete. While Woods's punishing workout regime and strict diet may be beyond the reach (or inclination!) of us mere mortals, taking your fitness seriously is a crucial element to improving your golf game. Strength and weight training will improve your ability to make all the dynamic movements that are so important for making a good swing as well as your endurance – no more throwing shots away due to tiredness at the end of a round! Today's pros are harder, faster and stronger than the generation before, an effect which is largely due to Tiger Woods showcasing the importance of athleticism. Take a leaf out of Woods's book and start taking your fitness seriously.
---
Golfshake Tuition: Fitness Tips
---
2. Learning to Love the Grind
Most people think Tiger Woods's key record is attaining 15 major championships, but perhaps his most impressive achievement, in my view, is his career total of only 19 missed cuts across two decades of playing on the PGA Tour. That's an average of less than one missed cut a year and shows an extraordinary level of consistency. One of the big keys to achieving this stat is Tiger's ability to never give up. The final round of this year's US Open was a case in point. After starting with four bogeys in six holes, most golfers would have thrown in the towel, but Tiger kept grinding and, going six under from there on in, nevertheless managed to break 70 (his lowest final round in a US Open since 2009). As Woods said in his winner's press conference at the Masters: "You never give up. That's a given. You always fight. Just giving up's never in the equation." Amateurs (and many professionals) could learn a thing or two from Woods's words. Next time you're about to NR, remember this nugget. Channel your inner Tiger and carry on.
3. Mental Fortitude Under Pressure
"There is no one mentally tougher than my son," said Earl Woods in a popular Nike ad which highlighted Tiger's amazing powers of focus. Earl would do all he could to train Tiger for the psychological challenges of professional sport, from hurling abuse at him while he lined up putts, to dropping clubs during his backswing. His methods may have been extreme, but the results are self-evident: Tiger is without question, one of the mentally toughest athletes of all time. Most of us are unlikely to ever develop the fortitude of the Big Cat, but we can still strive to emulate his skills. One way of training mental strength is to practice wearing headphones which are set up to play random sounds in your ear. A further technique is to try playing for money (not enough that it'll bankrupt you, of course, but enough that if you lose it, it'll hurt). The goal is to simulate the pressure of a monthly medal or an important tournament so that, when you have to face it for real, you are mentally prepared.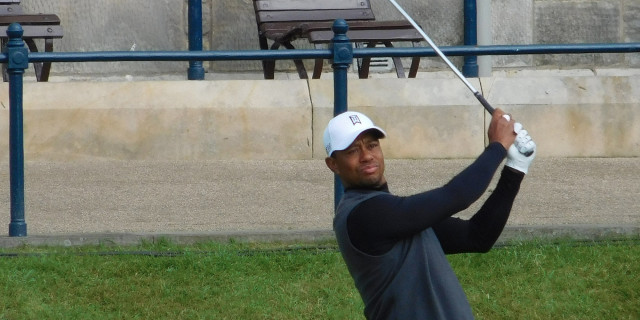 4. A Consistent Routine
One of the best ways of helping yourself to cope with pressure is by developing a solid pre-shot routine. As with many other golfing virtues, Tiger is a brilliant exemplar of this. Pay attention to any clip of the great man hitting drivers, irons and even putting, and you'll notice that his routines stay exactly the same. When he hits putts, for instance, Woods always takes exactly two practice strokes, while prior to hitting many other shots, he visualises the shot, makes a number of slow practice swings and then steps back, collects himself, and steps in to hit it. By making his routine the same on every shot, Woods is training his muscle memory to operate on autopilot, making his swing repeatable even under fierce pressure.
---
Golfshake Tuition: Course Management Tips
---
5. Learning to Adapt
One thing about Tiger: he's smart. Not just an amazing athlete, Woods also upheld a 3.7 GPA in Economics at Stanford University (before he quit his degree early to turn pro), and Tiger's golfing brain is every bit as sharp as his business one. Woods's street smarts are most evident in how he constantly adapts his game. When he won the 2006 Open at Royal Liverpool, for example, Woods famously hit a two iron off most of the tees, reasoning that accuracy was more important than distance on the fast-running course. The win was a ball-striking clinic, but it was also an example of plotting your way around a course and showing that a smart golfing head is every bit as important as skill or power. To mimic Woods's course management, try to analyse every hole before you play it. Ask yourself questions – do you really need to hit driver here, or will a hybrid or a three iron do? Do you need length or accuracy? Which is the best side to miss a green? Where can you really not afford to go? These are just some of the questions you should be asking yourself in order to get the most out of your game and adapt to the challenges of each course.
---

Be part of the action with a selection of unique golf tournament experiences, from playing in a pro-am with the stars to watching the action at golf's most illustrious events. Whether it's the Masters or The Open, The Ryder Cup or WM Phoenix Open, build your own bespoke package with the experts at Golfbreaks.com.
---
What do you think? leave your comments below (Comments)
---
Tags: tiger woods daily picks course management
---
comments powered by

Disqus