Skechers Go Golf Elite V3 Approach RF Shoe Review
REVIEW: Skechers Go Golf Elite V3 Approach RF Shoe

By: Golfshake Editor | Fri 10 May 2019 |
Comments
---
Review by Ed Dimambro
---
Skechers GO GOLF Elite V.3 Approach RF were featured in our guide to the Best Spikeless & Casual Golf Shoes in 2018, with a comfortable design providing stability and flexibility.

One of the main featues of the Go Golf Elite V.3 Approach was the innovative H2GO shield waterproof design that offers protection against any bad weather conditions. The unique Relaxed Fit design is made to offer a spacious and comfortable experience in the toe and forefoot. Additionally, these have also been created with performance in mind, the heel lock design offers a secure and stable fit, while the durable TPU bottom plate grip provides a strong and sturdy base for your golf swing, allowing you to swing freely and comfortably.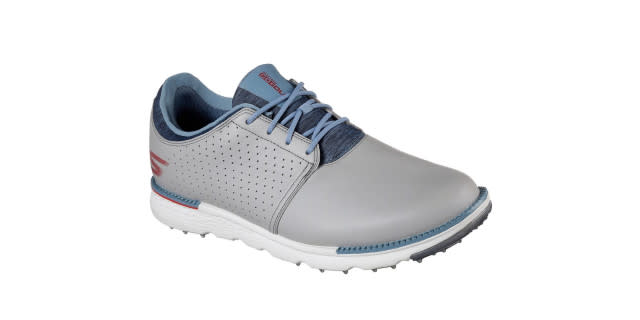 County golfer Ed Dimambro has tested and reviewed these new shoes for us.
Looks
First and foremost, these shoes look great. I am a big fan of the styling and combination of the leather and woven fabric upper. Their first competitive outing was in a county match against Essex and it only took until the 1st green for my playing partners to comment on the Skechers by saying they liked the way they looked and that they looked so comfortable, and boy were they right. The shoes I have tested are navy but also come in black or charcoal. An excellent addition to the ever growing spikeless offering of golf shoes.
Feel
These shoes are just wonderful. Zero wear in time to get past the inevitable foot ache I have experienced from a more rigid shoe and the cushioned insole feels like memory foam. I particularly like the relaxed fit around the forefoot but more snug fit around the heel, so your foot feels locked in without being squeezed.
Performance
The first competitive outing was a 36-hole county match at Saffron Walden Golf Club. Skechers' own description in three words was 'comfort, comfort, comfort', absolutely spot on. In all situations, the shoes provided both high levels of grip and stability. I also managed to check out the H2GO waterproof protection during some rogue weather spells during the Berkhamsted Trophy. Certainly, impressive that they are as light as they are, look the way they do and provide protection from the elements. Top marks, Skechers!
Pros
Look fantastic
Stunning comfort
Stable
Great all round performance shoe
Cons
Takes a bit of time/effort to clean the fabric upper
The Bottom Line
Absolutely no hesitation in giving this shoe a perfect 10/10 rating. A superb performing shoe that can be worn all year round.
---
What do you think? leave your comments below (Comments)
---
---
comments powered by

Disqus