UA Spieth 2 Ambassador Review
By: Golfshake Editor | Thu 13 Sep 2018 |
Comments
---
Under Armour's Spieth 2 was designed to build on the highly regarded debut of the original model, delivering enhancements to the technology and performance. The addition of a GORE-TEX layer for the first time ensures that the shoe is 100% waterproof, while it also features smart weave upper, a fabric interwoven with TPU to allow for major weight savings, but no loss in stability.
Under Armour Spieth 2 Features:
UA smart weave upper provides the ultimate lightweight support
Clarino® microfiber leather for added durability & support
Integrated lacing system for a locked-in fit
GORE-TEX® construction is 100% waterproof but remains incredibly breathable
2 Year Limited Waterproof Warranty
Removable EVA footbed delivers premium underfoot comfort
UA Rotational Resistance (RST) Spikes for lockdown traction
TPU outsole with lightweight EVA midsole for responsive cushioning with every step
Weight: 14.4 oz.
RRP - £160
If you want to know more about the Spieth 2, here is our full Golfshake Review.
Best Performance Golf Shoes of 2018
However, to delve that little bit deeper, we tasked four Golfshake Ambassadors - Mel Davies, Andrew Picken, Rob Treanor, Matt Holbrook - with testing the shoe and noting their thoughts on it. Take a look at what they said.
Mel Davies
Looks
"These shoes look fantastic. Very stylish and can be worn with a more traditional golf outfit or a sporty outfit and also look great with shorts."
Feel
"I've heard lots of mixed reviews about these so really didn't know what I would find out but I have to say they were very comfortable from the first time I wore them and now I've worn them a good few times they really do feel great."

Performance

"Very stable through the swing, not had any issues at all with my feet slipping on a shot."

Pros

"Great looking that will go with any outfit you choose. Perform well out on the course."

Bottom Line

"These shoes are a great addition to the under armour family. Like all their gear you can see a lot of effort has gone into the design and manufacture to give the golfer the best product possible for the money."

Rated: 9/10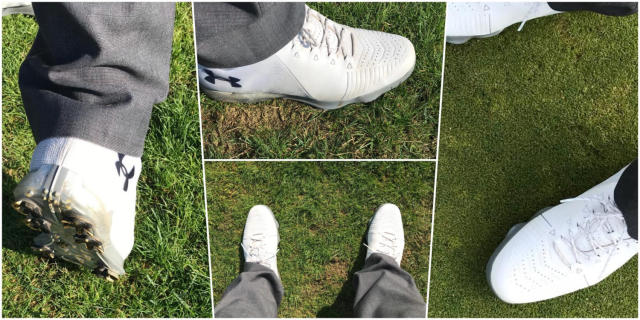 ---
Andrew Picken
Introduction

"Under Amour have been producing excellent shoes with a positive design input from Jordan Speith. the most recent edition have been made lighter but still as stable. The sole feels solid and supportive."
Tech Specs
"The spike system is excellent providing support laterally and throughout any amount of aggressive swinging.My feet are very active ( wrongly) and these have definitely helped me to be more grounded and stable."
Looks
"Goretex provides the waterproofing and they look great."
Feel
"Supportive and solid but light enough to be used for 36 holes easily."
Performance
"Very comfortable, very stable."
Pros
"Easy to clean an very sure footed due to the spike patterns and design."
Cons
"They feel a little narrower than other brands but ensuring proper fitting will mean this is not a problem."
Bottom Line
"I am comfortable using these regularly. They seem to be very stable providing me a good platform to swing against. I like them."
Rated: 9/10
---
Rob Treanor
Looks

"It is instantly clear this is a premium product. The shoes look fantastic and are constructed from the very highest quality materials."

Feel

"The UA Spieth 2 shoes are very, very comfortable. It feels as though your feet are cemented to the floor when playing shots which inspires a lot of confidence."

Performance

"The shoes were completely waterproof despite being put to the test in some very damp conditions. I found them very comfortable to wear and would be happy playing 36 holes in them. If you want a sturdy, no compromise shoe then this is the model for you!"

Pros

"Extremely high quality shoe which will keep you dry in any conditions. The grip will allow you to get great contact with the ground to aid power in your swing."

Cons

"Not the lightest weight so for a summer shoe you might want to consider an alternative if you play a lot."

Rated: 10/10
---
Matt Holbrook
Introduction

"Having never had a pair of UA shoes before and hearing the hype around the release of the Spieth 2s I was really excited about getting my feet into a pair and hitting the course."

Looks
"The look of the shoe is slight more traditional than what I would normally go for, Having had Adidas boost, Puma Titan & FootJoy DNA tour over the past few years, the Spieth 2's seem to be able to appeal to those that would actually like a mixture of modern and traditional, a big thumbs up from me!

"Weather worn with trousers or shorts they look fantastic!"
Feel

"The shoes fit a feel great on. To start with I felt like I was walking in a sponge. The true test for shoes though comes at the end of the round!"

Performance

"Once finished playing there were no signs of achy feet!!! This is a big plus considering I play on a fairly hilly golf course. I felt like I could go again straight after!

"They also clean up great, which as a self proclaimed golf geek this is another plus!"

Pros

"Great design, comfy, perform well. Everything you could ask for in a golf shoe."

Cons

"I have no cons!"

Bottom Line

"All round these are a cracking shoe, I know some people may be put off by the price but you get what you pay for and investing in a pair of Spieth 2s is something that you won't regret."

Rated: 9/10
---
What do you think? leave your comments below (Comments)
---
Tags: under armour shoes Jordan Spieth
---
comments powered by

Disqus