9 Golf Apps That Every Golfer Should Have On Their Phone
---
Over the years, phone apps have grown increasingly popular amongst the golfing public, and with so many available, it is hard to try them all out. However, having given fair few of them a go, I've come up with, in my opinion, nine of the best available. These are not limited to specific category and operate for many different purposes, but I felt that all of these do their own job well. You may notice that they are not ranked in a specific order and that is because, when apps have different uses, you simply can't compare them.
PGA Tour Live – Free (Subscription Fee in App)
PGA TOUR App: The PGA Tour Live app, is the tour's way of keeping up with the times and allowing golf fans all over the world to stream the live action straight to their phone's, tablets or laptops. Occasionally, the coverage is available for free, but generally there is a monthly or yearly cost to the subscription service, as is the case with most sports streaming services. This provides even more coverage of the PGA's live tournaments with users able to follow the round of some featured groups before the main TV coverage kicks off. Whilst, this is the app's main purpose there are some other features that complete the app, the top stories from the tour along with some videos are available, as well as the current leader board and event schedule. Overall, I think that this app was a good introduction and despite the subscription fee really is beneficial to the avid golf fan.
TeeOffTimes - Free
Tee Time App: As we've mentioned before TeeOffTimes is a tool that you can use to help you play more golf and through its app, it's so easy to do so. The straightforward layout of the tee time app allows you to simply load it up, search for a specific course or even just a location and it will provide you with the best deals for the most relevant results. Once you've decided on your course and date, all you need to do is select you tee time deal and pay through the app. This means that once you arrive at the club, once you're checked in with the club, you're good to go. I would urge any golfers who like to vary the courses they play at to download the TeeOffTimes app.
European Tour/ PGA Tour/Ladies European Tour - Free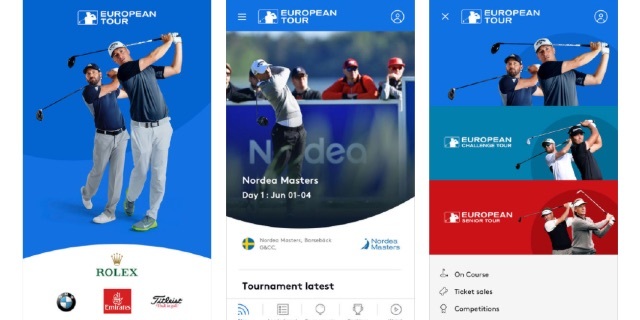 European Tour App: I've banded these three apps together as they do exactly the same job in a very similar way. They have the aim of keeping golf fans up to date on live action whilst providing them with news and schedules during times where there is no tournament underway. All with clean and simple layouts, information is easily found which is exactly what you want for an app of this kind. The PGA Tour app does overlap in ways with the new Live app, but is more focused on leader boards and news. If you follow any of the professional tours, then these are a must get.
The R&A Rules of Golf – Free
Rules of Golf App: Whether you play golf multiple times a week or once in a blue moon, everyone will always end up at some point in a situation where they are just not quite sure what the ruling should be. Fear not though, The R&A's official Rules of Golf app is available for free to help clear up any uncertainty that you may have. From golf etiquette to the rules on the green, this app has you covered. For me, this is another must have app for all golfers.
Major Tournament Apps (The Master, US Open, The Open, PGA Championship) – Free
Majors App: Available in the build-up to each of these major championships, the official apps are a great way for golf followers to keep up to date with the tournament and not miss any of the action. Each app varies slightly in terms of what they offer however, leader boards, breaking news and highlights tend to be common place. Whether you are heading to the event or not, there are features tailored for both, a welcome addition to any punters phone prior to major week.
Shot Tracer (Visual Vertigo Software Technologies) – £5.99
Swing Recording/Shot Tracer App: Any of you that tune in to professional golf coverage on you TV will have noticed that the use of shot tracers is very much the norm. Thanks to the wonders of technology, this piece of kit is now available for your iPhone or iPad. Simply record your shot from behind and the app will trace the ball for the entirety of its flight. This is great for those of you who wish to look back at your swing and analyse your flight to help you improve your game. Alternatively, you can show off your best shots by sharing them with friends. A modern app and concept that is becoming an increasingly big part of golf, Shot Tracer is a good investment.
Hudl Technique Golf – Free (In-App Purchases)
Swing Anlaysis/Coaching App: This swing analysis app is one of the best on the market and allows golfers to record their swing and analyse in slow motion. Many golf coaches now use video technology to look back at your swing and help to improve, but with this app, you can do that yourself. You have the option to compare you swing to existing swings of professional golfers and this will help you to spot the difference and focus on your areas for improvement. Offering a simple way to take a look back at your technique I think that this app is a great addition for all golfers.
Motocaddy GPS – Free
GPS App: Motocaddy are one of the market leaders in golf technology, and are well-known for their high-quality powered golf trolleys. In-keeping with this top of the range image, their GPS rangefinder app is a brilliant addition to any golfers phone. Utilising the GPS data from thousands of courses around the world, the app allows golfers to track their shots and get a reading of distances for their next. According to their official website, Motocaddy say that their app features distances on 40,000 golf courses and if that isn't an indication that this app is the real deal, then I don't know what is. For those of you who have grown tired of the yardage book but still like to have a distance aid, then look no further.
Golfshake Score Tracker – Free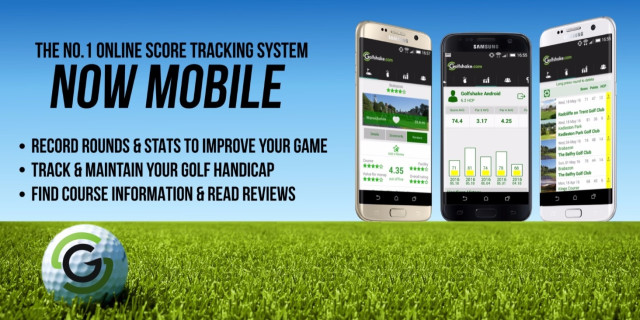 Score/Stat Tracking App: The Golfshake App has a number of key features based around tracking. Use as an individual or track multiple players scores, stats and handicap movements all in one place. Simply select your course and enter the players you wish to track, fill in your scores as you go and then leave the app to do the rest. Once a handicap has been established you can track progress from that and even check up on stats as specific as your par 3 scoring average. Offering something a little different and highly effective, the Golfshake score tracker app can help you discover a lot about your game.
I'm sure that a lot of you will have your own favourite apps that you use on a regular basis, if so, let us know what they are and why you like them!

---
What do you think? leave your comments below (Comments)
---
Tags: apps
---
PLAY MORE PLAY BETTER - LATEST TUITION TIPS
---
Leave your comments below
comments powered by

Disqus