What on earth were you thinking, Phil?
---
PHIL MICKELSON is one of the most respected and popular men ever to step onto a golf course. We have cheered his major victories and suffered with him as he has six times finished runner-up at the US Open, the one major to elude him.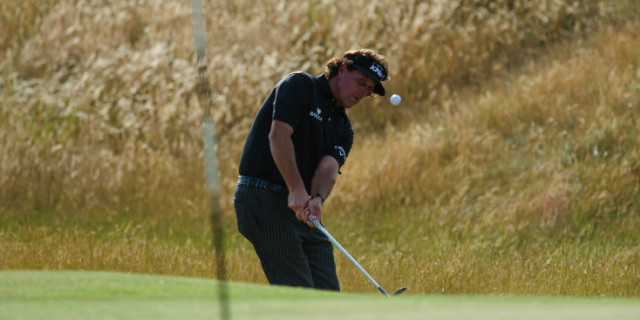 Everybody loves Phil. Maybe not so much after his antics on the 13th green during the third round at Shinnecock Hills. Mickelson had been all over the place on the hole and as he struck a putt he knew that it was destined to keep travelling and fall off the green.

What did he do? Unbelievably, he ran after it and hit the ball back towards the hole while it was still moving. He received a two-shot penalty and walked off the hole with a 10 on his card. What he did was a flagrant breach of the rules. He should have been disqualified. Period.

Instead, the USGA defended its decision to simply add two shots to his score. Mickelson was having a bad day, but he knew precisely what he was doing. There are those who will say that because he wasn't in contention, it doesn't really matter. Poppycock.
What's more, Mickelson, who was celebrating his 48th birthday, was totally unrepentant afterwards. He even told the world's media that he had contemplated doing something similar many times in the past and that he was comfortable with what he had done. He may have been, but not many others were.

Golf can be a cruel game at times and it is possible that the conditions at Shinnecock Hills simply got the better of Mickelson. It looked like a moment of madness, and that is what it was. But he seems to forget that he is a role model to millions of aspiring golfers all around the world. And youngsters who watched him cheat - and that's is what it was - will now feel able to do precisely the same thing in future.

If you witnessed somebody deliberately hitting a moving ball during a monthly medal at your club, would you not go straight to the committee and report it? Would you not confront the player? And would you not expect him to be disqualified without a second thought?

One of the reasons many of us play this wonderful game is because it is played in the right way. We expect those we compete with, against and alongside to abide by the rules. And they almost always do.

What Mickelson did could be described as some sort of meltdown, a brainstorm even. Until you listen to his explanation.

"I didn't mean disrespect," Mickelson said after completing his round. "I didn't feel like going back and forth so I took the two-shot penalty and moved on. I've felt like doing that many times before and I finally did it. I took advantage of the rules as best I could. I've had an awesome day, a fun birthday." He eventually signed for an 81.
The rule he broke was 14.5, which is designed to cover players who accidentally strike a moving ball. It is an automatic two-shot penalty. Mickelson's offence was no accident. It was deliberate.

And you have to spare a thought for his playing partner, England's Andrew Johnston, a man who idolises Mickelson. He said that he's never seen anything like it. "It's something you might see at your home course with your mates. It was a moment – I think it was just a moment of madness. I said to Phil, that's one of the strangest things I've ever seen and then just started laughing. I said, I'm sorry, but I've got to laugh at this."
There was a similar incident at the 1999 US Open when John Daly hit a moving ball, took an 11 and said it was done as a protest against unfair pin positions. But Daly was a different kettle of fish altogether.
Mickelson will hope that the fuss dies down. He could be in for some serious disappointment.
---

Be part of the action with a selection of unique golf tournament experiences, from playing in a pro-am with the stars to watching the action at golf's most illustrious events. Whether it's the Masters or The Open, The Ryder Cup or WM Phoenix Open, build your own bespoke package with the experts at Golfbreaks.com.
---
What do you think? leave your comments below (Comments)
---
Tags: us open
---
PLAY MORE PLAY BETTER - LATEST TUITION TIPS
---
Leave your comments below
comments powered by

Disqus