BMW PGA Championship Preview, Picks & Analysis
---
IT WAS the round of golf of the year. Almost unnoticed, Sweden's Alex Noren headed out onto the West Course at Wentworth and produced a display of shotmaking that was breathtaking and scarcely believable. And when he was finished, he had shot a remarkable 62 and then had to sit back to find out whether it was good enough to win the BMW PGA Championship.

Nobody could catch him. It was the culmination of an incredible run that had begun in 2016 and confirmed his status as one of the best golfers in Europe. And Noren has continued to head in the right direction. Week after week he seems to be there or thereabouts and is now proving to the world that he has the game to compete at the very highest level.

He has spent much of 2018 playing on the PGA Tour, coming within a whisker of winning the Farmers Insurance Open at Torrey Pines. He was also third at the Honda Classic and again at the Dell Technologies World Match Play. He missed successive cuts at The Masters and Wells Fargo Championship but bounced straight back at the Players Championship at Sawgrass, where he managed to finish in a tie for 17th place despite a third round of 77.

He is comfortably established in the world's top 20 and will return to Wentworth relishing the opportunity to defend his title at the European Tour's flagship event.
It is no secret that many players were unhappy with the changes made to the course by Ernie Els but the criticism was taken on board and immediately after the 2016 tournament, Wentworth Club's West Course underwent a multi-million-pound renovation project that saw a sub-air system installed underneath all 18 greens, which were stripped of their old turf and completely re- seeded. All the bunkers were reconstructed with 29 being totally removed. The latest changes earned the almost universal approval of everybody who played in the event last year.
"I had heard quite a bit about the greens being not so good," said Matt Wallace. "The tournament and the golf course decided to change that and now the course is just fantastic. I know that everybody has worked hard to get this golf course right up to where it deserves to be. You know when you come here the condition is going to be amazing." Wallace has already won this season and, along with Eddie Pepperell, has confirmed that the future of English golf looks incredibly bright.
"It definitely adds an extra something when you're hitting balls on the same range as Rory McIlroy or Paul Casey," Pepperell said. "For everyone involved, we know how much Rory brings to an event, so when he shows up and plays, it certainly adds a lot of excitement across the board from fans to players."


And so a field that amounts to a who's who of European golf assembles at Wentworth. The only big name missing is Justin Rose, who is otherwise engaged on the PGA Tour.

The list of recent winners is both impressive and demonstrates just how quickly things can change in golf. It was won in 2011 and 2012 by Luke Donald who, at the time, was riding high in the world rankings, in 2013 by Matteo Manassero, who was the youngest winner, in 2014 by Rory McIlroy, in 2015 by Ben An, in 2016 by Chris Wood, a golfer who has struggled horribly with injuries, and last year by Noren.
As Pepperell indicated, all eyes will be on McIlroy, who in turns is the best and most frustrating golfer in the world. He looked irresistible when he won the Arnold Palmer Invitational, and for three rounds at The Masters he continued that form. But then his driving and putting fell apart.
He had high hopes coming into the Players Championship at Sawgrass but missed the cut after finding the water at the 17th hole in the second round. You never quite know what you are going to get with McIlroy and it is stating the obvious to say that his current problem, and one that he simply must sort out, is a lack of consistency. He is either brilliant or he is dreadful.
Most pundits will tell you that the nub of his problem is his putting, but the reality is that during the final round at Augusta and again at Sawgrass it was his driving that caused him the most serious headaches. It is all well and good being able to hit the ball 320 yards with that effortless power he possesses, but if you keep missing fairways you are going to be found out. The reason that Tiger Woods is still looking for the first victory of his comeback is that he keeps putting his ball in places from which it is incredibly difficult to recover. And the same is becoming increasingly true of McIlroy.
Wentworth should suit him, as proved by his victory here in 2014, but unless he can find the short and prepared then he may as well cancel his flight to England and remain at home in America. I have a feeling, however, that this is a week when we are going to see the real Rory McIlroy, and he will be desperate to put on a show for the huge home galleries who are certain to turn out to watch him.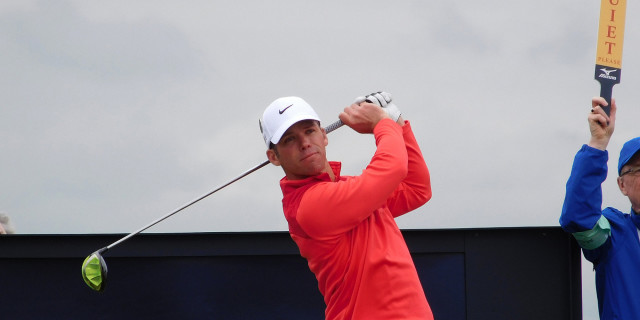 But boy does he have some opposition. There will be a terrific amount of support for England's Paul Casey and Ian Poulter, both of whom have returned to the winners' circle on the PGA Tour in 2018. Casey's win was long overdue. Known as Popeye, he has huge forearms and has worked long and hard on his fitness. He has always been a wonderful ball striker but, by his own admission, has struggled to get the ball in the hole when the chips are down.

However, his confidence is sky-high once more. He was persuaded by Thomas Bjorn to rejoin the European Tour and is surely a shoo-in to qualify for the Ryder Cup. When Casey gets on a roll, he is well nigh unbeatable and is capable of producing bucketloads of birdies - exactly the sort of man you want on your team.

Poulter's return to the top is the stuff of fairytales. Barely 12 months ago it seemed that he might be about to lose his playing rights on the PGA Tour, but he did enough to secure his card while playing on a medical exemption and then finished second at the Players Championship in 2017. It proved to be a turning point for the 42-year-old, who has gone on to play some of the best golf of his life since that point.

Here's the thing with Poulter. He doesn't hit the ball terribly far; he is prone to making some dreadful mistakes; he hits more shanks than any other golfer in the world's top 100; but he has the heart of a lion. And if you wanted to nominate somebody to hole a snaking 10-feet downhill putt to save your life, Poulter is the man you would pick.
Confidence is everything in this game, and, like Casey, Poulter is absolutely flying right now and believes that he can win every tournament in which he plays. So if not McIlroy, Casey or Poulter, who?


Well, how about an each-way flutter on Tommy Fleetwood, who can do no wrong just now? The 2017 Race to Dubai winner is another who has already picked up a victory this year but it is his incredible level of consistency that has impressed everybody who has watched him play.

Like Noren, he has played a fair amount of his golf in America this year, turning up at courses that are unfamiliar to him. And week after week he is there or thereabouts. Unsurprisingly, he has built a sizeable cult following in the US, where they like people who are different. Fleetwood certainly doesn't conform to the norm, with his long hair and stubbly beard. And he has a wonderful temperament. When things go wrong, as they are always going to do from time to time, he just gets his head down and works out a way to get his round back on track.

He admitted recently that the biggest improvement in his golf over the past couple of years has been his ability to score well when he doesn't have his A-game with him. That is a rare quality, and a sign of a golfer who deserves to be regarded as one of the best in the world.

If only Tyrrell Hatton could learn something from Fleetwood. There is no end to what Hatton could achieve in this game. But there is one thing that will hold him back, and that is his temper. Tom Weiskopf, who was one of the best golfers of the 1970s and 1980s, won 16 tournaments during an illustrious career, including The Open. But he recently admitted that it would have been at least twice as many had he been able to keep his emotions in check. Such was his temper that he became known as The Towering Inferno. It would be tragic if Hatton allowed the same thing to happen to him.

Much has been said and written about the role of sports psychologists. Whether you believe they can help or not, there is surely a powerful case to be made for Hatton sitting down with somebody who could help him to deal with the way he reacts to bad shots. Golf is a game where, by its very nature, you are going to lose far more often than you win. How you deal with the disappointment of losing, or the manner of your defeats, could define your career.

It would be a shame if, in 15-20 years' time, Hatton sits down, looks back and thinks to himself: "If only…" He is good enough to force his way into the top 10 in the world rankings and he surely won't want to become better known for his temper tantrums than for the quality of his golf. If he is in the right frame of mind, he will take some beating at Wentworth. If he isn't…light the blue touch paper and retire to a safe distance.

To Win:

Rory McIlroy. On form he wins

Each Way:

Tyrrell Hatton. Calm down Tyrrell, calm down

Each Way:

Paul Casey. Has huge self-belief

Fantasy Picks:

Rory McIlroy. Will the real Rory please stand up

Tyrrell Hatton. All depends on his start

Paul Casey. Could easily win by a street

Alex Noren. Returns with great memories of 2017

Ian Poulter. As confident as anybody

Alex Levy. Has Ryder Cup ambitions

Tommy Fleetwood. Impossible to ignore

Paul Dunne. Europe's next superstar

Thomas Pieters. Brilliant ball striker

Matthew Fitzpatrick. Wondrous short game
---

Be part of the action with a selection of unique golf tournament experiences, from playing in a pro-am with the stars to watching the action at golf's most illustrious events. Whether it's the Masters or The Open, The Ryder Cup or WM Phoenix Open, build your own bespoke package with the experts at Golfbreaks.com.
---
What do you think? leave your comments below (Comments)
---
Tags: european tour
---
PLAY MORE PLAY BETTER - LATEST TUITION TIPS
---
Leave your comments below
comments powered by

Disqus