18 Reasons Why Golf Isn't Boring
---
You will probably be aware that a survey has revealed golf to be the most boring sport in the world - according to those who responded at any rate. How very dare they! American football came next, closely followed by cricket.

Naturally enough, we don't agree. Golf is a fabulous game and almost everybody who plays it quickly becomes addicted. Here, we come up with just 18 reasons why golf isn't boring, and, just like the game itself, we also have a 19th hole.

You may be able to come up with some of your own, let us know the comments below!

1. No two rounds are ever the same. You may shoot successive rounds of, say, 78 but you can guarantee that they will have little in common. Every time you play, this is a different game, offering different challenges. One day you will drive the ball great, the next you couldn't hit a fairway if your life depended upon it.

2. You get to play with your friends
, which means you can actually have fun together, sharing a few laughs as well as having a bit of competition.
3. The handicap system
means that you can take on somebody who is much better than you on level terms - and enjoy bragging rights in the clubhouse when you beat them.
4. In what other sport are you able to play at the same venues as your heroes
? You can't play football at Wembley, you can't play cricket at Lord's, you can't play snooker at the Crucible, but you can play golf at the Old Course, at Pebble Beach, at Wentworth.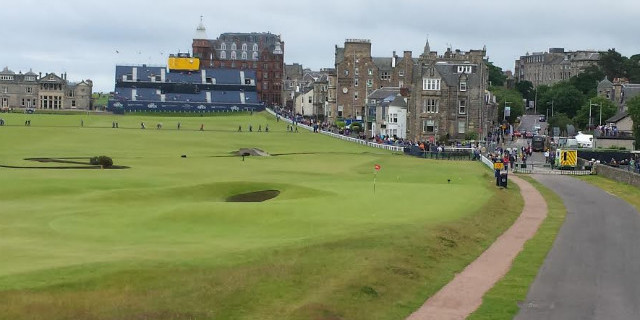 5. Technology. Golf has embraced technology in a way few other sports have. What's not to get excited about when it comes to club design, ball design, and the part technology plays in devising waterproof clothing that really works, and lightweight tops that keep the cold out? And that's before you even start to consider GPS systems that help you plot your way round any course on the planet.

6. The weather
. Let's face it, if you live in the UK, no two days are ever the same. One day you may be playing in glorious sunshine, the next you face the challenge of keeping your score together in driving wind and rain. Boring? Not a chance.


7. The chance to play other courses. You can play anywhere you want, and that includes the best golf courses in the world, those that are used to stage majors. Golfshake Course Section!

8. As long as you have a handicap, you can play in competitions, which means you have the opportunity to take home some monstrosity of a trophy and listen to your other half pretending that it is the most wonderful thing he or she has ever seen. But you know the truth.

9. New equipment. Every time you change your clubs, you emerge with optimism, your friends gather round to admire them and you get a nice, warm glow when you look at those shiny new irons and that driver that promises you an extra 10-15 yards. Right up until the moment you use them in anger for the very first time. Golfshake Gear Section!

10. Golf holidays with the family. It is the perfect way to assuage your guilt. They spend their days by the pool, you spend your days playing golf in the sun. Everybody is happy, nobody is bored - well, apart from your 14-year-son maybe, who would rather be anywhere else. Golfshake Travel Section!

11. Golf holidays with your mates. What could be better than heading off on a break with like-minded people, enjoying a few rounds of golf together during the day and a few rounds of something far less strenuous in the evening?


12. Wildlife. You are in the great outdoors, so the chances are that, no matter the time of year, there will be some form of wildlife frolicking around on your course. Take the time to enjoy it.

13. Looking for golf balls. "What?" we hear you ask. "Looking for golf balls lost in the rought is REALLY boring." Not when you keep finding Titleist Pro V1s, most of which have only been hit a couple of times.
14. Golf attire
. Don't get the wrong idea - we are not saying that you should go out and buy bright pink trousers and tops of indeterminate colours. But you can't half have some fun taking the mickey out of those who do.
15. If there are four of yo
u, you will probably be out on the course for about four hours, which is plenty of time to set the world to rights.
16. Playing in the summer
means you get to show off your sun tan to all your non-golfing friends - just don't let them see that it is a golfers' tan, and that you arms about the sleeve line of your polo top are white, along with the rest of your torso.
17. You will never get the better of this game
. You can take all the lessons you want and even begin to feel that you have cracked it, but golf rewards complacency with a sharp smack in the teeth.
Golfshake Tuition Section!
18. Other people's golf swings
! Watch the professionals and you will see golf swings that are largely flawless and all pretty much identical. Then head to the first tee at your local club and take a look at how the club golfer does it, usually with many moving parts, left heels that come off the ground, bent left elbows, reverse pivots, grips more suited to holding a cricket bat - and all designed to put a smile on your face, though entirely unintentionally.
And.....a Special 19h.

19. The 19th hole! You, your friends, a good pint of beer. Nothing more needs to be said.
---
What do you think? leave your comments below (Comments)
---
---
PLAY MORE PLAY BETTER - LATEST TUITION TIPS
---
Leave your comments below
comments powered by

Disqus