Halo Sport Headphones Review
---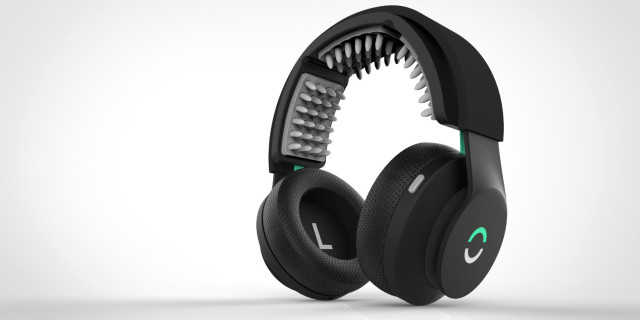 I would describe myself as a completely obsessed golfer. I'm constantly looking at ways to help me improve my own game – technological or otherwise, much like many of you reading this!
To be perfectly honest, I have a garage full of golf training aids. Some good, some not so good, but every single one of them was in the pursuit of golfing happiness.
So, when I read about the new 'brain-training' headphones from Halo Sport, I was very, very keen to try them.
A bit more info about Halo Neuroscience
Now… the guys that have created these do have some serious credentials. Dr. Daniel Chao, Halo Co-Founder is a very clever chap who has been trying to improve people's lives through medical research for his entire career. He has an MS in neuroscience and his medical degree from Stanford University. He has been at the forefront of research and development on neurostimulation before creating Halo Neuroscience and subsequently the Halo Sport headphones.
But… onto the real reason you're reading this:
CAN HALO SPORT HELP ME BECOME BETTER AT GOLF?
How the Halo Sport Headphones work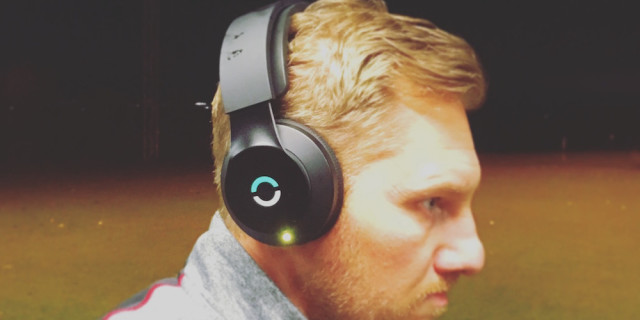 Neuropriming is the key word with the Halo Sport headphones. On wearing them, you create a state of 'hyperplasticity' (hyper-learning) in the brain, which basically enhances the brain's ability to learn and adapt to your golfing changes. So, Halo Sport helps your brain tell your muscles what to do more 'easily,' whether that's increase in swing speed, specific swing technique changes and even putting skills.
Now, I'm no scientist. You may have gathered this already. For people like you and I, this works on the basic theory of repetition and muscle memory; the more repetitions you do, the more likely it is to stick. So, by putting your brain into a state of 'hyperplasticity', it works faster meaning the muscle memory happens in a shorter period of time. Bingo.
Using the Halo Sport headphones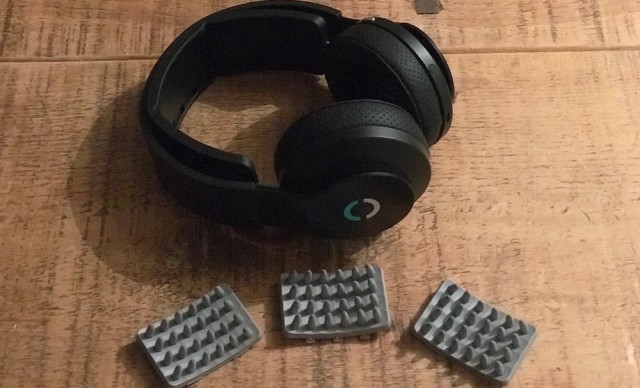 Setting up Halo Sport is super simple. You download iOS or Android app, pair the headset with your phone via Bluetooth and you're ready to get started.
Before each session, you need to wet the nodules on the three foam primer pads with the supplied spray bottle (I have found you have to really soak them the first few times). Once wet, clip them into the headset and put them on. Once a good contact with your head is established (takes a bit of jiggling about!), the app will tell you you're ready to begin your 'neuropriming' session.
For golfers, there are two main neuropriming session settings to choose from: Legs, Core and Arms Session (geared towards larger muscle groups, so swing work) and the Hands and Fingers Neuropriming Session (for working on grip / wrist motion actions such as putting).
Once you've chosen your session, adjusted the strength (from 0-10; I found that anything higher than 7 was a touch uncomfortable) you can hit start and your 20 minute session will begin.
During this 20 minute period, you go through a warm up session. Once the 20 minute session is completed, your brain is ready to fire into supersonic action and you're good to get to work!
It's also recommend using Halo Sport 3-4 times per week, with a suggested two days focused on swing mechanics, power and control and two days focused on putting (unless you are trying to improve one of these skills in particular, in which case you can focus on that one skill).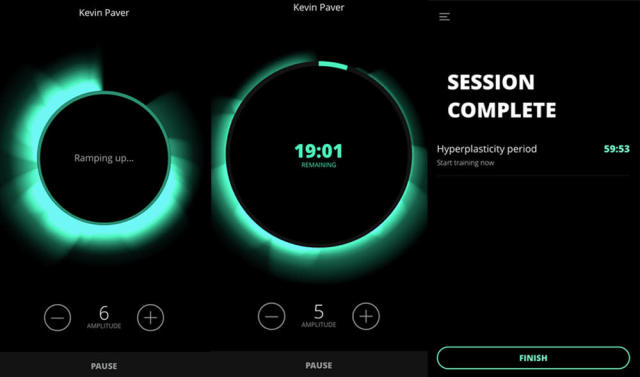 And the results…?
I'm planning on making some significant changes to my swing over the next three months as we approach the start of the season, so will be using the Halo Sport headphones throughout this period to try and engrain this faster.
As well as the mechanical changes, I will also be looking to increase my club head speed… so these changes will be measurable. After that period, I will be able to give much more conclusive results, rather than during a shorter period of time. I also figure this would be how most people would be using it so it makes more sense to test it in this way.
So far, the signs are positive. During the range sessions where I have used the headphones, the changes I have been trying to make have felt much easier to make, and my ball striking was significantly improved.
Should I buy a Halo Sport?
Ok… let's get into the nitty gritty… the cost. The Halo Sport headphones have an RRP of around £500. Yes, they are not cheap. That said, these are for the very serious amateur and elite golfers. Also, I think to get real benefit from them, you need to have some very clear goals that can be measured.
They can also be used as headphones for music… and the quality is very good. However, they are quite big and bulky, so you may opt for something a little more discrete down at your local gym.
And finally…
If you are serious about becoming the very best golfing version of you, then perhaps the Halo Sport headphones could help you unlock that extra potential that often gets missed. If you're quite happy with your game, and just enjoy a social round of golf with your friends, probably not.
As for me, I will report back in three months with the full results of my testing. Will they deliver the same results as some of the other athletes that have used them, or will it be another training aid destined for the garage?
For more information on Halo Sport, including case studies as well as store to purchase, visit their website - www.haloneuro.com/
To follow my golfing journey in 2018, subscribe to my YouTube channel here: @hackertosinglefigures
To watch my initial review below
---
What do you think? leave your comments below (Comments)
---
Tags: halo sport golf tech
---
PLAY MORE PLAY BETTER - LATEST TUITION TIPS
---
Leave your comments below
comments powered by

Disqus