20 Players to Watch on Tour in 2018
---
As the curtain comes down on another fabulous golfing year, it is as good a time as any to look forward to 2018. Sergio Garcia, Brooks Koepka, Jordan Spieth and Justin Thomas won the majors in 2017 and Thomas won five times in a little over 10 months and claimed the FedEx Cup and Player of the Year honours in the United States, while Tommy Fleetwood finally fell over the line to claim the Race to Dubai. Here we look at 20 golfers we expect to be making the headlines in 2018.

Rory McIlroy

Do you really think that McIlroy is going to put up with another season to compare with the one he endured in 2017? Not a chance. He has already announced a busy schedule and his first target will be to win The Masters in April to complete the full set of majors. Whether he achieves his goal or not is anybody's guess, but you can bet your house on the fact that he will win tournaments again in 2018 and that his world ranking will be heading in the right direction – and soon. Look out for a big year from Rory.


Paul Dunne

The Irishman is hugely underrated. Nobody leads The Open after 54 holes as an amateur unless they can play a bit. And nobody holds off a charging Rory McIlroy
in the final round of the British Masters
without being able to draw on some world-class golf. Dunne won that tournament with an astonishing final round of 61 in the face of a magnificent onslaught from McIlroy. He is the real deal, and will be winning plenty more golf tournaments.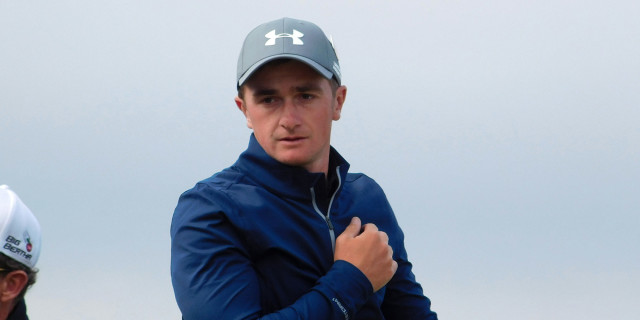 Melissa Reid

The Englishwoman has suffered more than her fair share of injuries and personal heartbreak, and did not enjoy her time on the LPGA Tour in 2017. But she is a magnificent golfer who is obsessed with the history of the game. Reid spends most of her spare time studying the swings of the best golfers on the planet. She should actually spend a little more time watching her own magnificent swing. Expect her to start contending in the women's majors.

Lexi Thompson

One of the biggest hitters in the women's game, Thompson struggled to shake off the bitter disappointment of that four-shot penalty at the 2017 ANA Inspiration when she was coasting towards the title. She gathered herself brilliantly and somehow managed to make a playoff, which she subsequently lost to Ryu So-yeon. Thompson is still only 22 and has already won nine times on the LPGA Tour. She will surely add to her solitary major victory in 2018.


Jon Rahm

The brilliant young Spaniard has rocketed up the world rankings, winning once in America and twice on the European Tour in his first full season as a professional. He is an extraordinary player who hits the ball a mile. Rahm's swing is short and sweet – the sort of action that cannot really go wrong. He will make his Ryder Cup debut in France and he will surely mount a challenge for his first major. Could easily finish the year as the world's top-ranked player.


Tyrrell Hatton

With two wins on the European Tour in successive weeks, Hatton finally proved to himself and to the world that he can handle the pressure. The next thing he needs to do is to find a way to stop being so impatient and so hard on himself. Nobody can play perfect golf week in, week out, but Hatton expects to do precisely that – and for that reason his stellar progress seems certain to continue.


Tommy Fleetwood

It will be fascinating to see how Fleetwood follows his Race to Dubai success. He won twice in 2017 and contended at the US Open and nearly won a WGC event going head to head with Dustin Johnson. Despite his status as Europe's number one, the Southport golfer is hugely underrated. He is a terrific ball striker with an uncanny ability to get the ball in the hole when it really matters. He is a new father, has recently married his long-time partner and is walking on air. Long may it continue.


Daniel Berger

Not yet a prolific winner, but the former rookie of the year is man who has a better chance than most Americans of winning The Open in the future. He can move the ball both ways and thrives in windy conditions. His swing is reminiscent of Sergio Garcia's – and the Spaniard hasn't done too badly, has he? Likely to be a mainstay of the US Ryder Cup team in Paris in 2018.
Xander Shauffele
Shauffele was the surprise package on the PGA Tour in 2017, culminating in an imperious performance on his way to victory in the Tour Championship. Shauffele could well turn out to be the pick of the PGA Tour's young guns. He is blessed with the touch of an angel on and around the greens, and also has a wonderful temperament.
Thomas Pieters
The Belgian is a highly impressive specimen who was Europe's best player in the forgettable Ryder Cup defeat in 2016. He hasn't really kicked on in 2017 although he did finish fourth at The Masters and enjoyed top-five finishes at the WGC Bridgestone Invitational and WGC Mexico Championship, proving that he is a big-time player. Did not play enough competitive golf in 2017 but will surely put that right in 2018.


Li Haotong

We were always going to have to keep an eye on China as a potential golfing superpower of the future. The law of averages suggests that because the population is so large then at some point they would produce a world-class golfer or two. And make no mistake about it, Li Haotong is a world-class golfer who will win golf tournaments all over the world. Don't be surprised to see him make his breakthrough on the PGA Tour in 2018.

Ollie Schneiderjans
Comfortably retained his PGA Tour card after a decent rookie season in which he enjoyed five top-10 finishes, including a runner-up placing at the Wyndham Championship, where his worst score was a 66. He finished 60th in the FedEx Cup standings. Schniederjans, who is a former World No 1 amateur, has a magnificent golf swing and will win on the PGA Tour in 2018, after which the floodgates could open.

Tapio Puikkanen

Keep an eye on the young Finn, who won the Challenge Tour order of merit. He does not have an entirely conventional golf swing and he will be inconsistent, but Puikkanen could well turn out to be the real deal. He loves to attack flags and is capable of scoring really low on any golf course. His game is made for links courses – if he makes it to Carnoustie, do not be surprised if he plays his way into contention.

Jordan Smith

Brilliant rookie season by the Englishman, who secured his card early in the season and then went on to win the Porsche European Open in sensational fashion. Smith has now raised his sights and is determined to make Thomas Bjorn's Ryder Cup team. He has two real strengths – his temperament and his short game.

Matthew Fitzpatrick

Speaking of the perfect temperament and a wizard short game, Sheffield's Matthew Fitzpatrick added another title to his CV in 2017 and continues to impress almost every time he tees up the ball. He is not a bomber, and never will be, but he is arguably the best putter on the European Tour. Will be looking to win in America as the year unfolds.


Justin Rose

The former US Open champion finished 2017 in sensational fashion, two late tournament victories giving him a real chance of catching Tommy Fleetwood in the Race to Dubai. In the end, Rose ran out steam, but he will be desperate to come out of the gate quickly when the new year gets under way. Came within a whisker of winning The Masters, only to be pipped by an inspired Sergio Garcia.


Hideki Matsuyama

It is time for Matsuyama to shed his nearly-man tag, and he can only do that by winning his first major. The bad news for Rory McIlroy is that the Japanese golfer's best opportunity to do that is almost certainly at Augusta National. If Matsuyama has a weakness it is that he is a streaky putter. Spieth putts well week after week, while Matsuyama has weeks on the greens when he looks distinctly ordinary. A prodigious talent nevertheless.

Justin Thomas

No matter what the rankings may say, Thomas is currently the best golfer on the planet. He had an astonishing run in 2017, shooting a 59, winning tournaments for fun and landing his first major at the US PGA Championship. And he has begun the new season in the same manner. He hits the ball into the middle of next week and is a terrific putter. In short, he has no weaknesses, and he is not going away any time soon.

Jordan Spieth

Have you ever in your life seen a golfer who putts as well as Spieth? What makes him stand out from all his rivals at the top of the world rankings is that he doesn't hit the ball terribly far and misses a lot of fairways but still keeps winning. Like Woods in his prime, when Spieth really needs to hole a putt, you can be sure that he will. And he just seems to keep getting better and better. Don't be surprised to see him win another major in 2018.


Tiger Woods

And last, but by no means least, it's THAT man. Can Tiger remain injury-free for the whole of 2018? Can he find a cure for his chipping woes? One thing is for certain, if the answer to both of these questions is 'yes' then we will see him winning golf tournaments again and, whisper it, perhaps even contending for his 15th major. His best chance will be The Masters at Augusta, a course that is still made for him. If the answer to either of the questions is 'no' then we – and he – may have to finally accept that the ride is over.
---

Be part of the action with a selection of unique golf tournament experiences, from playing in a pro-am with the stars to watching the action at golf's most illustrious events. Whether it's the Masters or The Open, The Ryder Cup or WM Phoenix Open, build your own bespoke package with the experts at Golfbreaks.com.
---
What do you think? leave your comments below (Comments)
---
Tags: PGA Tour european tour
---
comments powered by

Disqus