When Tiger Says Golf Ball is Going Too Far We Should Pay Attention
---
THINGS you thought that you would never hear: "We need to do something about the golf ball." Nothing unusual in that, you may think. Jack Nicklaus has been saying it for years.
But this wasn't the Golden Bear talking. It was Tiger Woods, talking to UConn women's basketball coach Geno Auriemma on the 'Holding Court with Geno Auriemma podcast.
He went on to say: "I just think it's going too far, because we're having to build golf courses, if they want to have a championship venue, they've got to be 7,400 to 7,800 yards long. And if the game keeps progressing the way it is with technology, I think the 8,000-yard golf course is not too far away. And that's pretty scary because we don't have enough property to start designing these type of golf courses and it just makes it so much more complicated."
Woods said the USGA is now looking into the technology of the ball and the potential of reducing it by up to 20%.
"I can't believe how far I'm hitting the golf ball," Woods said. "I'm back to hitting it my full numbers and not really trying to do that. I didn't realise how much I had dropped off because of the pain in my back and from me going at it and hitting it normal just because I just lived it from day to day and I really couldn't tell the difference. But now I can tell the difference."
It should be remembered that Woods initially made his name because of the incredible distances he hit the golf ball when he first emerged on the scene in the 1990s, so to hear him talking about the ball travelling too far is something of a surprise.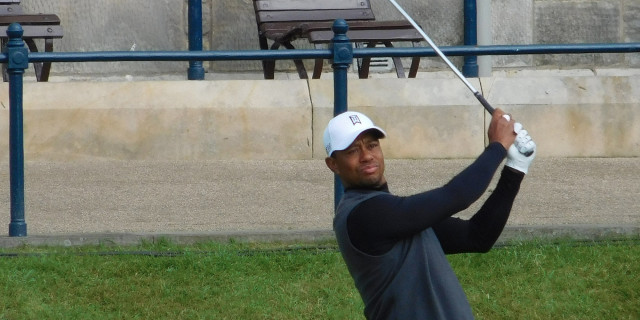 But he has a point. The likes of Dustin Johnson, Tony Finau, Justin Thomas and Jason Day routinely smash the golf ball distances in excess of 350 yards. We regularly watch Johnson hitting nine irons and wedges into par fives - with his second shot.
The Deeper Questions Behind Rory's Long Drives
And it is not just drives that are being struck obscene distances. Tour pro regularly hit their five iron 200 yards. Just stop and think about that for a minute. Not so very long ago, the accepted average distance for a seven iron was 140 yards, for a five iron it was 160 yards. Now these guys hit a five iron 200 yards.
Of course, huge steps forward have been made in club design. We have graphite shafts, huge driver heads made from titanium, boasting enormous sweet spots. We all now play with cavity-backed irons that are more forgiving than ever. Even off-centre shots still fly straight and true. Hundreds of millions of pounds have been spent by club manufacturers in the search for more distance and more forgiveness - and that is not going to change anytime soon.
Every manufacturer claims that its latest driver hits the ball further, higher, straighter than the model it replaces. Well, they would say that, wouldn't they? After all, why would you buy a new driver if you hadn't been convinced that it would hit the ball further than the model you already have in your bag?
There may be some cynics out there who believe that Woods is calling for golf-ball technology to be reined in because he knows that he can no longer keep up with the young tyros who currently dominate the game. Rubbish! Like Nicklaus and Gary Player before him, Tiger is talking common sense when he says that if something isn't done then 8,000-yard golf courses will become the norm. How many weekend golfers would genuinely want to play on a course measuring 8,000 yards? It would nothing more than a slog.
Most of us struggle on any course that extends beyond 7,000 yards - just think about adding a further 1,000 yards to that. And then ask yourself if you would really enjoying tackling a layout where the average length of hole would be in the region of 450 yards.
The 10 Longest Courses in the World
Perhaps the time really has come for action to be taken. There are already restrictions on the size of driver heads. It would be a simple and straightforward matter to tackle golf-ball compression. And, of course, the changes could be made in such a way that they could be applied only to professional tournament golf, so the rest of us mere mortals could carry on having fun with the golf balls we use today.
There are some who will question Woods' motives and who may even ask if he is still relevant and should be listened to. Tiger Woods is the greatest golfer of his generation, arguably the best ever to play the game. He won 14 majors and would have collected many more had he not been afflicted by injury, so when he talks about the future of the game, we should all sit up and take notice.
More important, the men and women who run the game should sit up and take notice. Justin Thomas recently hit a drive that was measured at more than 400 yards and finished so close to the putting surface that he could have thrown the ball onto the green - this is not the way the game was meant to be played.
Woods, Nicklaus and Player cannot all be wrong. It is time to act, and it is time to act NOW!
---

Be part of the action with a selection of unique golf tournament experiences, from playing in a pro-am with the stars to watching the action at golf's most illustrious events. Whether it's the Masters or The Open, The Ryder Cup or WM Phoenix Open, build your own bespoke package with the experts at Golfbreaks.com.
---
What do you think? leave your comments below (Comments)
---
Tags: tiger woods Golf Ball
---
PLAY MORE PLAY BETTER - LATEST TUITION TIPS
---
Leave your comments below
comments powered by

Disqus