How Putting Yips Changed Careers and Methods Golfers Used to Overcome Them
---
I was at Hintlesham Hall in Suffolk with a friend with whom I hadn't played for about eight months. He has always had a putting stroke that I admired immensely. I once told him that his stroke was the best I had ever seen outside professional golf. He'd had to take about six months away from the game because of a back injury. He has now fully recovered but when he started playing again he discovered that he had developed a horrendous twitch with his putter.
No matter what he tries, he is now incapable of making a smooth stroke with the putter when he gets on the course. Bizarrely, the stroke is as good as ever on the practice green and when he takes his practice stroke, but when it counts he suffers the screaming heebie-jeebies and has had to turn to the claw grip. Watching my friend's struggles got me thinking about ten of the best professional golfers who suffered the dreaded yips, an affliction for which there is apparently no cure, but many have nonetheless persevered and found success despite facing this crisis within their game.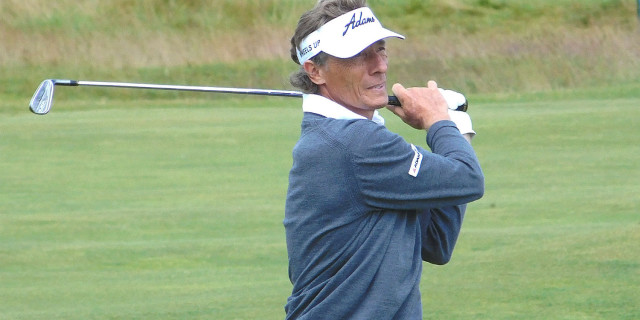 Bernhard Langer
Has anybody suffered more agonies on the greens than the stoic German? Almost certainly not. He burst upon the scene in 1980 and quickly became a serial winner despite possessing possibly the worst putting stroke in professional golf. He persevered until things got so bad that he had to go left hand low. That didn't work either. Next came a grip that saw him hold his left wrist with his right hand. That kind of worked. But not for long. He was saved by the broomhandle putter and is still winning lots of titles on the Champions Tour.
Sam Torrance
When you watch the Scot holing the putt that won the Ryder Cup for Europe at the Belfry in 1985 it is easy to understand why he later came to dread short putts. Torrance always had a long backswing and followthrough. When he was a young man, there were no problems, but as he got older and the pressure began to tell he clearly attempted to steer the ball into the hole. Torrance followed Langer's example and his career was revived.
Billy Mayfair
The American's practice putting stroke was a joy to behold. Straight back, straight through. Perfection. But something happened when the golf ball got in the way. All of a sudden his putter went outside the line and he cut the blade across the ball. But he holed putts. Lots of them. And then somebody made Mayfair aware of his idiosyncrasy. He went to see Dave Peltz, the world-famous short-game guru. Peltz told him to leave well alone, but Mayfair was now unable to hole short putts. He was another who turned to the broomhandle.
Ernie Els
Watching a world-class golfer toil on the greens is painful to watch. Els still has one of the best golf swings professional golf has ever seen. Sadly, the same cannot be said of his putting stroke. With a driver or a long iron in his hand, Els makes the game look so easy. Nicknamed the Big Easy because of his effortless technique and his wonderful temperament, all of a sudden it began to go wrong for Els when he got with a couple of feet of the hole. There are many examples of his travails, but the worst of all came at the first hole at The Masters in 2016. He was two feet from the hole for a par and narrowly missed. Then he missed again. And again. And again. And yet again with a one-handed swipe. It all added up to a nine.
Adam Scott
Like Els, Scott has a swing to die for. It is one of the great mysteries of golf that he has only one major to his credit, The Masters in 2013. But then you watch him on the greens and you realise why. Scott worked out early in his career that he had problems and quickly turned to the broomhandle, which he used to great effect at Augusta and everywhere else around the world. But then the broomhandle putter was banned and Scott went back to a normal putter. Initially, it was painful to watch, especially on anything under 10 feet. To his eternal credit, Scott seems to have worked out a way to do it.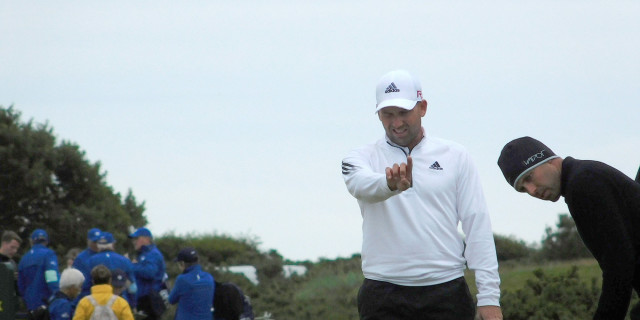 Sergio Garcia
The Spaniard finally won his first major at the 2017 Masters, aged 37. He should have won a bucketful of majors before that and he came agonisingly close on several occasions, but he suffered horribly on the greens from a fairly young age, especially from six feet and in. He tried going left hand below right and eventually won the Green Jacket using the claw grip. Astonishingly, by the time he arrived to play in the Italian Open later in 2017 he was back to holding the putt in the traditional manner.
Sam Snead
Slammin' Sam had a fabulous golf swing. It was all rhythm and it generated a huge amount of power. But by his own admission, he had the yips for more than 50 years during his extraordinary career. Despite that, Snead won a record 82 times on the PGA Tour. He won The Masters, The Open and the US PGA Championship. His putting got so bad that he eventually came up with something called a side-saddle putter that was immediately outlawed. He once said of his putting: "You get to the point where your mind can't figure out how hard to hit the ball."
Ben Hogan
Ben Hogan won each of the golf's four major championships and is widely regarded as one of the very best ever to play the game. He suffered a horrendous car crash in 1949 that nearly killed him but fought his way back to the peak of the game, only to succumb to a dose of the yips that drove him to flee the golf course rather than suffer the embarrassment of his putting struggles. When it came to his putting woes, Hogan couldn't cope and walked away from the game.
Tommy Armour
From 1927 through to 1931, Tommy Armour won The Open, the US PGA Championship and the US Open. It is possible that the Scot could have been the best player ever to play the game. Sadly, his putting stroke ensured that was never likely to be the case. He won all those majors despite suffering from possibly the worst case of the yips ever seen. It first showed itself at the Shawnee Open in 1927 when he took 23 shots to complete the par-five 17th - and almost all of them were putts.
Mark O'Meara
O'Meara suffered from the yips for most of his career, but still managed to win both The Masters and The Open in 1998. At that time, he was actually regarded as one of the sport's better putters, but he was already struggling with the short ones. When things really started going wrong for him, O'Meara tried multiple variations of stance, stroke and equipment to solve his issues. At the 2004 Bay Hill Invitational, he said: "If you told me to go around the corner and stand on my head for five minutes and then come over and putt, I would have tried it. I was desperate." He eventually came up with his own solution - the Saw Grip.
---

Be part of the action with a selection of unique golf tournament experiences, from playing in a pro-am with the stars to watching the action at golf's most illustrious events. Whether it's the Masters or The Open, The Ryder Cup or WM Phoenix Open, build your own bespoke package with the experts at Golfbreaks.com.
---
What do you think? leave your comments below (Comments)
---
---
PLAY MORE PLAY BETTER - LATEST TUITION TIPS
---
Leave your comments below
comments powered by

Disqus