Getting into golf: Stay & Play at Luton Hoo
---
In this continued series from Kim Dowsing, partner of regular Golfshake contributor Derek Clements, about getting into golf, following her first forays on to the course Kim visits Luton Hoo for a stay and play.
---
Opulent adj: luxurious, magnificent, sumptuous, plush (informal), deluxe, well-appointed

THUS, in one word, is the perfect description for Luton Hoo, one of the most glorious golf resorts in Europe. We will get to the golf course and facilities later as there is so much else to tell you about.

Having only started playing golf earlier this year, this was my first golf break, and I was so excited at the prospect of it all.

So, where to start? As you will probably know by now, I have been bitten by the golf bug. Hard. Very hard! And I just love it.

I was particularly excited when I discovered that we were going to spend a night at Luton Hoo. I work as a carer and one of the ladies I help to look after once worked at the Mansion House, long before it was acquired by Elite Hotels. She had worked for the Wernher family, who owned the magnificent building and the 1,000 acres in which it sits, while her husband was employed on the farm, looking after the horses that were once such an integral part of the estate.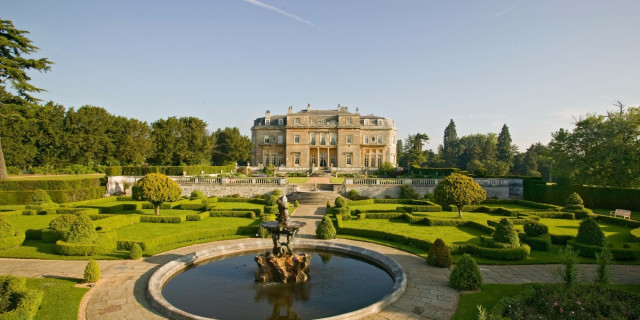 She had described the Mansion House in great detail, telling me about the beautiful, sweeping staircase and the magnificent bedrooms. She did not exaggerate. It was built in 1767 by Robert Adam for the Earl of Bute but was partly destroyed by fire in 1843 and rebuilt by Robert Smirke, whose new design added a grand entrance portico. Julius Wernher acquired it in 1903 and decorated it in the French style, filling it with paintings, jewellery, porcelain and countless objects d'art.

Millions of pounds have been spent updating the Mansion House,with great care being take to recreate Wernher's style and opulence. Luton Hoo comprises a grand total of 228 bedrooms and suites, split between the Mansion House, the Parklands and the Flower Garden. The main house is located at the heart of more than 1,000 acres of listed parkland.

It is one of the more spectacular wedding venues in this part of the country. On a sunny day, there can be no more spectacular setting for wedding photographs than the gardens that are overlooked by the Mansion House.

Himself and I spent a night in the Lady Butter room in the Mansion House. Our room featured a huge double bed, sofa, easy chairs, writing desk, massive TV, and a glorious bathroom filled with Molton Brown accessories. Behind a door in the bedroom is a vanity unit in which Hugh Grant was trapped while the happy couple consummated their marriage in the film Four Weddings and a Funeral. The wardrobes were enormous - a nice touch was that when you open the door an internal light comes on. Then again, there are LOTS of nice touches here. Next door is the Queen Elizabeth room, where the Queen and the Duke of Edinburgh spent part of their honeymoon in 1947.

Over the years, the Mansion House has featured in many films, including Stanley Kubrick's Eyes Wide Shot, the James Bond movie Never Say Never Again and Vanity Fair, starring Reece Witherspoon.

To get to our room we had to climb the staircase, and it was everything I had imagined and hoped that it might be. It was easy to imagine Lady Zia Wernher sweeping her way down those marble stairs, ready to make a dramatic and showstopping entrance when the Mansion House hosted balls. And when we headed off for dinner at the Wernher restaurant, I don't mind telling you that I stopped for a moment on those stairs and felt like a million dollars.

The restaurant encompasses the original state dining room and the Grinling Gibbons dining room, with high ceilings, paintings and stunning tapestries hanging from the walls. Of course, the heartbeat of any hotel is its food, and the quality of the menu was spellbinding, featuring a combination of traditional British classics and adventurous dishes. Himself opted for beef that melted in his mouth, while my seabass was to die for.

The restaurant is formal, with male guests encouraged to wear a jacket or tie, but the attentive staff quickly put guests as their ease. Restaurant manager Ashley Green, who recently joined the staff after spending several years at Celtic Manor, was both friendly and knowledgeable and went out of his way to make us feel at home. Naturally enough, the wine list is extensive and caters for all tastes.

If you want to go from the Mansion House to the spa, you can of course walk the short distance. Alternatively, you can use one of Luton Hoo's small fleet of Hackney cabs, identical to those you see in London other than the fact that they are liveried in green. This is a complimentary service and tells you everything you need to know about the way they do things here. When we arrived there was a name-board in the car park with Himself's name emblazoned upon it, and it remained there for the duration of our stay. This is a very special place.
The Country Club
The Country Club is located in the Robert Adam Grade II Listed stable building and features the clubhouse used by golfers and a world-class spa. And what a spa it is, offering treatments using specially blended organic products, a relaxation room and a gym. There is a heated 18-metre infinity pool and jacuzzi located within a beautiful oak-framed building with sliding doors that open along one side onto a garden area, along with a vitality pool with steam room, sauna, saunarium and showers.

The atmosphere at the Country Club is relaxed, with all-day dining available at Adam's Brasserie and Adam's Bar. It is the perfect location for a quiet drink before dinner. The Country Club also features 12 bedrooms and suites, ideal for those visiting Luton Hoo on a golf break.
Warren Weir
Elite Hotels took great care in modeling Warren Weir on the arts and crafts era. It is surrounded by a lake and tributaries of the River Lea and is a fairytale wedding venue. It contains 84 bedrooms and suites, which all offer views of the lake, weir, landscaped gardens (much of which was designed by Capability Brown) and water meadows. This is a wildlife haven, with ducks, swans, pheasants and squirrels meandering through the grounds.

There is a hospitality lounge on the first floor, with views of the river and woodland. Leisure facilities include an indoor pool and whirlpool, fitness studio and snooker room.

The Warren Weir Suite, which overlooks the beautiful River Lea, comprises five function rooms, perfect for business conferences, weddings or product launches. Luton Hoo takes pride in the fact that it tailors packages specifically for the individual. They say: "Great importance is placed on meeting the flexibility, comfort and support required for every guest at Warren Weir, whether it be for a product launch, an annual conference with syndicate meetings or a memorable civil ceremony and reception."

The facilities at Warren Weir are special. The Lea Suite, for instance, is a columned room featuring a large open fireplace and terrace, and can accommodate up to 280 people for banqueting and 340 for a straight reception, while the Ravensbourne Suite can seat 330 people. Cobbins Brook can seat 160 people in a theatre-style environment.
The Golf Course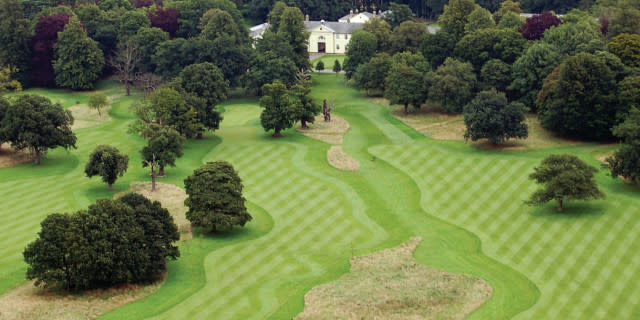 And now we come to the reason for our visit. At the very heart of Luton Hoo is a championship golf course that measures 7,107 yards from the championship tees and a formidable 6,143 yards from the ladies' markers - considerably longer than anything I have tackled before. But Himself had some good news for me before we stepped onto the first tee - the course does not contain any bunkers. Not a single one. Apparently this has something to do with the rules laid down by English Heritage when the land was first turned into a course and is due to its listed status.

You may think that a golf course without bunkers is not going to be much of a test - try telling that to the professionals who played here with both the Challenge Tour and EuroPro Tour in 2017. And try telling it to me.

The course is located within some of the most picturesque scenery I have come across. It was only the sight of planes taking off and landing at nearby Luton Airport that brought home to me just how close it is to both Luton and to London. All greens and tees have been built to confirm to USGA standards so are free draining and allow play all year round. Vast areas of wild flower pastures have been created to give the course a natural feel, taking away the over-manicured appearance of some modern courses.

There are plenty of trees and beautiful sweeping fairways, but you need to hit the ball straight because the fairways are narrow and the rough is thick and punishing. I am thrilled to be able to report that I started and finished with the same golf ball. Result!

So if you have greens that are not guarded by sand, you need to find other ways of making them challenging - at Luton Hoo the surfaces are protected by humps and hollows and the greens themselves feature some wicked slopes and breaks. I loved it. It helped that Himself had bought me a shiny new putter and that I somehow managed to wield it like a magic wand.

Let me tell you about some of my favourite holes.
The first is a par four measuring 444 yards. It sweeps gently from left to right, with trees right and left. The green, like so many on the course, has some pretty severe slopes and it pretty quick, so the key is to make sure you leave yourself an uphill putt.
The second is a par five that measures 540 yards from the championship tees, and features some thick rough, so you need to keep the ball in the fairway. The third is a 388 yard par four with water left and right and an approach played uphill to one of the flatter greens at Luton Hoo. The fourth is a stunning par three that measures 185 yards - you have to clear a pond to find a narrow green that slopes from back to front. A stunning looking hole.
The seventh is 188 yards, another par three, and another visual treat to the eye. Like the fourth, you need to clear a pond if you want to attack the flag, located on another severely sloping green.
The ninth hole is a par four measuring 375 yards. It is a gentle dogleg from right to left, and offers big hitters the chance to smash a drive over the trees on the left. A great risk and reward hole - clear the trees and find the fairway and you are looking at a birdie; fail to do so and you may never see your ball again.
The 13th measures 271 yards and Himself tells me that it is a par three. Blimey! It is played through an avenue of trees, with little or no margin for error. The green is long and narrow.
Go left at the 201-yard 15th and you will have your work cut out to save par.
The closing hole is a 385-yard par four. It is a dogleg from right to left with mature trees protecting the right of the fairway. The approach is played through two giant trees to a green guarded by even more trees on the right.
---
Full the full series of articles with Kim on her quest to play golf visit: www.golfshake.com/news/tag/2017-getintogolf/
Secret Fairways: Golfshake Luton Hoo Stay & Play Feature
---
What do you think? leave your comments below (Comments)
---
Tags: 2017 getintogolf
---
PLAY MORE PLAY BETTER - LATEST TUITION TIPS
---
Leave your comments below
comments powered by

Disqus