Bridgestone Winners Chasing Their Dreams to the British Masters
---
Chase your dream, no matter what. A motto for golf, and a motto for life.
Bridegstone Tyres' Chase Your Dream concept has definitely inspired golfers to get out their clubs and play more golf, with a packed out Pro-Am and large crowds watching the Challenge Tour's Bridgestone Challenge at Luton Hoo Golf Club.
During Wednesday's Pro-Am, qualifiers from the Bridgestone Tyres Chase Your Dream Trophy final played alongside a Challenge Tour professional, with each team battling it out for a money-can't-buy place in the Pro-Am of the 2017 British Masters hosted by Lee Westwood at Close House Golf Club.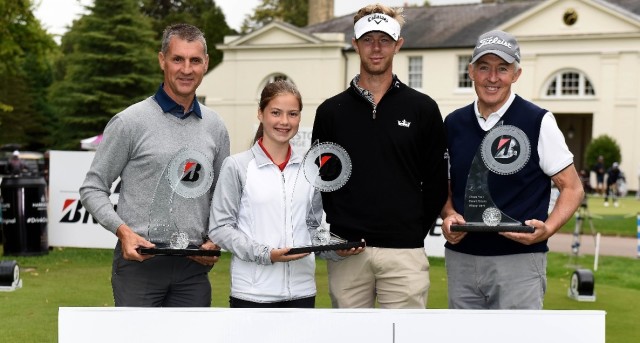 Hannah Golding, Mike Durkin and Neil Garbutt teed it up alongside professional Ben Evans, only to beat every other finalist team to the secure the silverware.
The winners will play alongside one of Europe's best golfers at Close House in October, as they are successfully chasing their dreams.
For Hannah it will be a chance to meet her idol – Charley Hull. The young golfer spent most of her summer progressing through regional and national finals, and will now get the chance to meet her hero and pick up some tips in the process.
The Brocton Hall member said: "It was an incredible experience and I am thrilled to have won the competition. It is the biggest event I have ever won and it means so much to me to have done so well.
"I first picked up a club aged seven because my Dad played golf and I'm so happy I did. It has been an incredible journey so far and I can't wait for it to continue.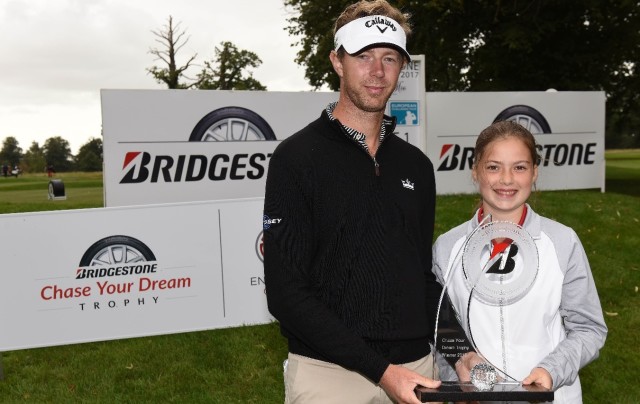 "I might have been one of the youngest golfers to take part but I know I'm good enough to play with anyone. I'd like to turn professional one day and if I do, I will look back on the Bridgestone Chase Your Dream Trophy because that is exactly what I am doing now.
"I would love to meet Charley Hull too. I had my photo taken with her four years ago, so to meet her again would be special."
Hull was present at the Bridgestone Challenge during the Friday and, in an interview with Golfshake, had this advice for the young golfer: "Chase your dream, no matter what. But also go out there and just have fun as well. You've got to have fun while you're doing it.

"If you want to be what you are, just go out and do it. If you want it that bad you're going to get there."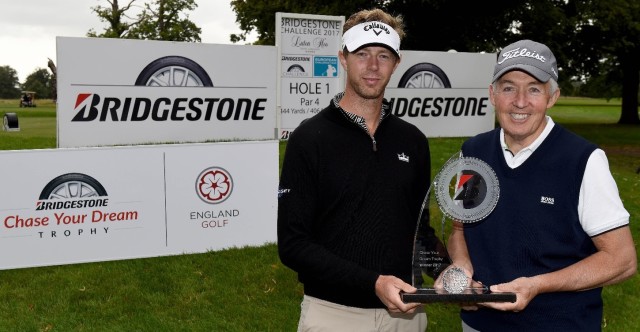 After suffering a heart attack in 2013, Southport golfer Mike Durkin thought his golfing days were over, which makes his triumph in the aptly named trophy all the more remarkable.
The 63-year-old Hurlston Hall member said: "I really have chased my dream to win this, so the trophy couldn't have been better named.
"Four years ago, I was a gonner. I thought the heart attack was going to finish me off. My wife was with me all the way and vowed she'd get me back, and here I am. I honestly never thought I would experience anything like this, so I am savouring every second.
"We were supposed to be on holiday in Spain, so I could have got a clip around the ear for being here, but I wouldn't have missed this round of golf for anything. It really is all about chasing your dreams and that is what happened out there.
"Bridgestone has been brilliant in creating an event like this, and giving amateurs like us a chance to play on the biggest stages."
Bridgestone Tyres' consumer sales and marketing director Farrell Dolan added: "I don't think we heard a story as memorable as Mike's from the moment the very first tee shot was hit back in May.
"We want to empower people to believe that they can do things and that nothing is impossible. Mike has been a living endorsement of this and we are all absolutely thrilled for him."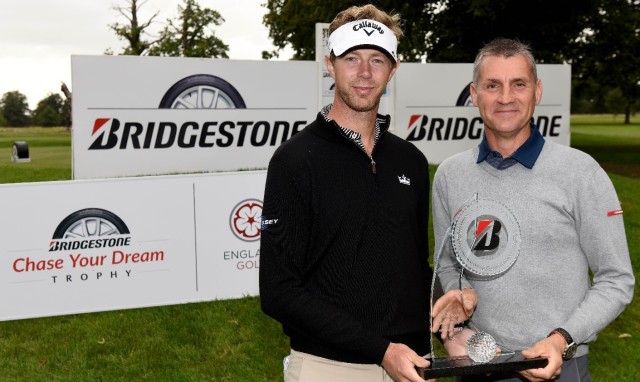 Finally, Masham golfer Neil Garbutt has been on an incredible journey dating all the way back to May and couldn't thank Bridgestone and his teammates enough for the opportunity.
"We got some good momentum going out there and we knew we had put ourselves in contention of winning but to actually be crowned as the Bridgestone Chase Your Dream Trophy winner is something else," Neil said.
"It is easily the biggest event I have ever won and it doesn't stop here, as we have a round with a star of the European Tour to look forward to at the end of the month.
"I can't compliment Bridgestone enough. They have given us all a glimmer of what professionals feel like in the big league. The facilities, the golf course and organisation makes you feel special.
"Every amateur dreams of opportunities like this. It makes such a difference at our level to have a global brand like Bridgestone on board."
For amateur golfers wanting to chase their dreams, the Bridgestone Tyres Chase Your Dream Trophy is the perfect opportunity to do so. The annual event is open to members of England Golf's 1,900 affiliated clubs and features separate competitions for men and women.
The winners now move onto Close House where they could play with the likes of Lee Westwood or Sergio Garcia at the pro-am of the British Masters supported by Sky Sports on September 27.
---

Be part of the action with a selection of unique golf tournament experiences, from playing in a pro-am with the stars to watching the action at golf's most illustrious events. Whether it's the Masters or The Open, The Ryder Cup or WM Phoenix Open, build your own bespoke package with the experts at Golfbreaks.com.
---
What do you think? leave your comments below (Comments)
---
Tags: British Masters bridgestone
---
PLAY MORE PLAY BETTER - LATEST TUITION TIPS
---
Leave your comments below
comments powered by

Disqus