Getting into golf: My first round of golf
---
If you have read the other features in this 'getting into golf' series you will have followed Kim Dowsing, partner of regular Golfshake contributor Derek Clements, on her quest to take up this great game and her first 5 lessons. Now time for the course!
---
I have joined Dunston Hall Golf Club, on the outskirts of Norwich. I did so for a couple of reasons - it is local and joint membership with Himself, including membership of Dunston's amazing spa and gym, came to about £600 per head, which represents pretty good value in anybody's book.
An added bonus is that the course is beautiful. It is tree-lined and it features several beautiful lakes upon which ducks and swans paddle. One of them even contains several huge carp - and THOUSANDS of golf balls. The course is attached to Dunston Hall Hotel, so that means it can get pretty busy on Sunday and Monday, but we were told that getting a tee-time would not be a problem.
Himself had also played the course several times and told me that he was certain that I would love the place. It isn't terribly long, measuring about 6,300 yards from the championship tees - let me tell you that this seems plenty long enough to me!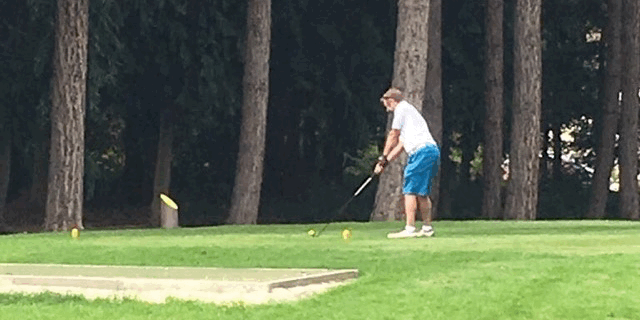 Most of the holes are framed by trees, the quality of the sand in the bunkers is excellent and the greens are terrific. Listen to me sounding like I know what I am talking about.
Dunston has suffered drainage problems in the past, especially during the winter, but Q-Hotels, who own the course, hotel and spa, have spent a lot of money addressing the issue. There is also a driving range with covered bays. It is where I have been putting into practice everything that I have been learning with Caroline Grady, who has been teaching me how to play this wonderful, totally addictive game. And we have already been in the pool for a swim. More accurately, I have been in the pool for a swim, while Himself has been doing is best Titanic impressions.
"Right then Kimmy, I think it is time to take the step from the driving range to the golf course," Himself said. And with that, he had booked us a tee-time, a couple of days after my fifth golf lesson with Caroline.
"Am I ready for this?" I asked him.
"Kim, the weather is beautiful, the trees are in full leaf, you know the basics of the golf swing and you just KNOW that you are chomping at the bit to get out there." He was right, of course.
So off we went. I wanted to head to the driving range and hit some golf balls. Instead I was pointed in the direction of the putting green and told to hit some practice putts to various holes. I am not going to lie - I have struggled on and around the greens, not so much with the technique, but with getting the feel for how hard I need to hit the ball. Himself keeps telling me that this will come, and I have to believe that he knows what he is talking about.
After a few minutes on the green, it was time to head to the first tee. Naturally enough, he hit his opening shot straight down the middle of the fairway. Now it was my turn - and I felt a little better about what lay ahead after watching the pair in front of us (a husband and wife) hack their way down the hole.
Anyway, guess what? My opening drive was a peach. It came right out of the middle of the club and it flew exactly where I wanted it to. OK, so it didn't exactly all go to plan after that and I walked off the green with a nine on my card after taking four putts. The second is a par five and to my utter astonishment I had covered more than half the distance in two shots. Getting the ball onto the green and into the hole was another battle and once again I recorded a nine. At the third I had to clear a pond to reach the green. And I did it. Another nine though.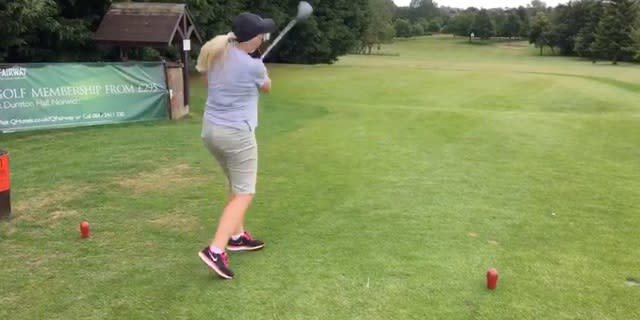 The fourth is 200-yard par three, all played uphill. I was just short of the green with my tee shot, but then finished up in a bunker and marked a seven on my card. But I was loving it, just loving it. As the round went on, the thing that surprised both myself and Himself was the quality of my driving. I couldn't believe how far the ball was travelling. And I managed a couple of double-bogeys, which made me feel even better.
My big moment came at the eighth, a short par four. I almost holed my third and my putt for my first ever par came up just short. I managed another bogey later in the round, and there were several more sixes, sevens, eights and nines, and a couple of fives on par threes. Oh, and an 11. But that was all down to getting in a bunker and flying the ball straight out into another one and leaving myself with a horrible downhill lie. Even Himself admitted that it was a very difficult shot.
I came to the 18th, a 155-yard par three with the green located at the other side of a large pond. I hit another cracker, over the water, onto the green and into the bunker at the back. It took me five more to get down. And then it was time for Himself to add up the scores. I took 68 shots on each nine for a grand total of 136. I know it sounds a lot - and it is. But if I had managed to take two putts on every hole then I would actually have come pretty close to scoring 100.
It was a fantastic four hours. I loved every minute of it and I played some PROPER golf shots. I cannot wait to get out there and do it all over again. I just LOVE this again.
And his verdict? "Kimmy, you have been playing golf for what seems like five minutes. You should be so proud of yourself. I know that I am."
Yippeeeeee!
PS: We have since played another nine holes, and I managed to negotiate them in 62 blows. Now, where is that practice putting green?
---
Full the full series of articles with Kim on her quest to play golf visit: www.golfshake.com/news/tag/2017-getintogolf/
---
What do you think? leave your comments below (Comments)
---
Tags: 2017 getintogolf
---
PLAY MORE PLAY BETTER - LATEST TUITION TIPS
---
Leave your comments below
comments powered by

Disqus