The Daunting Challenge of Erin Hills
---
The US Open heads to Erin Hills in Wisconsin for the first time in its 117-year history. Erin Hills, located just northwest of Milwaukee, is certain to provide the world's best golfers with a terrific test but there are already concerns that it might turn out to be another Chambers Bay.
Lest you have forgotten, Chambers Bay was the monstrosity that staged the tournament in 2015 and featured greens that were so poor that the USGA had to instruct the greenkeepers to mark the edge of the putting surfaces so that golfers and spectators could work out where they started and the fairways finished. The putting surfaces were mottled and bumpy and on one hole it was impossible for the galleries to get anywhere close to the action. In other words, it was a shambles, summed up perfectly by Dustin Johnson's inability to take two putts from no more than ten feet on a disgraceful final green to force a playoff with Jordan Spieth.
And 12 months ago at Oakmont, it all kicked off again. And once more, Johnson was at the centre of it. He played almost the entire final round with the threat of a penalty hanging over his head because his ball had allegedly moved as he addressed it. Johnson had to wait until completing his final round to learn his fate. Thankfully, he played so well that he had put the tournament to bed before the USGA could take it away from him.
So you would have thought that this time we would be heading to a venue that provided a tough but fair test, a course that would allow the players to make the headlines. Not a bit of it.
Let's start with the fact that it only opened in 2006, two years after construction began.
Robert Lang, a Wisconsin developer, bought 600 acres (about twice the amount of land occupied by most championship courses) bringing in designers Michael J. Hurdzan, Dana Fry and Ron Whitten to sculpt a course designed to host a U.S. Open. Lang made many changes over the years to the course and eventually ran into financial difficulties, forcing him to sell it before his dream was realised. In 2009, investment manager Andy Ziegler bought Erin Hills for $10.5m and worked with the USGA to renovate the course and host the 2011 U.S. Amateur, won by Kelly Kraft.
It measures a ridiculous 7,812 yards and is a par 72 that lies at the southern end of Kettle Moraine. Its designers made a point of building the course to make the most of the landscape's natural slopes, shaped by glacier activity tens of thousands of years ago. For the US Open, it will play to 7,693 yards - plenty long enough even for the likes of Dustin Johnson, the defending champion.
There are two potential problems, and they are linked. The first problem is that the rough is ferocious. Drop a ball from, say, waist height, and it will disappear from sight. Problem two is that wind is a fact of life in Wisconsin. Combine wind and thick rough and...well you know the rest. Back in 1999, the R&A thought it would be a good idea to let the rough grow at Carnoustie - what they failed to take into account was the impact that would have if the weather closed in. And it did. As a spectacle, the 1999 Open Championship was about as exciting as watching paint dry, notwithstanding Jean Van de Velde's mental meltdown on the 72nd hole.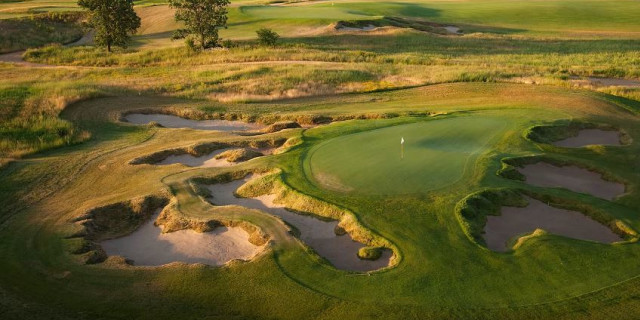 Additionally, there is something known as "erosion bunkers" at Erin Hills - sand traps that are irregularly shaped, some with wide spots and some with narrow passages just a foot across. The pros will have their hands full navigating everything from shallow, narrow lies to deep, sloping beaches.
Many people will argue that the best golfers on the world should be challenged, and they would be right. But the test they face should be a fair one, and all the noises coming from and around Erin Hills suggest that this US Open could be another fiasco.
It is what the Americans laughingly call a public golf course, which means that anybody can play it - provided they are prepared to fork out £250 per round to do so. The US Open has a history of taking this tournament to public courses, including such iconic layouts as Pebble Beach, Pinehurst, Bethpage Black and Torrey Pines. Oh yes, and Chambers Bay!
For the sake of sanity and spectacle, we should all hope that the wind does not decide to bare it teeth.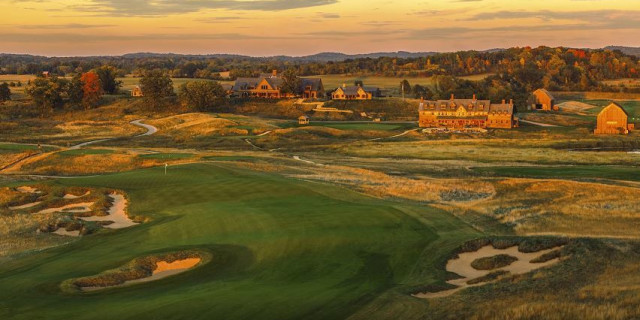 Adam Scott, the 2013 Masters champion, hopes that the course will offer a fair test. "Let's just have something that's a challenge and interesting, not just playing brutal," he said. "The ball is in the USGA's court. Hopefully they get it right this time, just from a playability standpoint. If their major pinnacle event requires courses to be the way they are, it doesn't set a good example. They've really dropped the ball with where the game is at over the last 20 years."
The USGA believes that a score around level par should be good enough to win the US Open. Fair enough, but not if it means making greens impossibly fast and rough ridiculously thick. For the sake of golf, we should all hope that the USGA decides it does not need to make the world's best golfers look like hackers. A tough test is one thing, an unfair test is something entirely different.
---

Be part of the action with a selection of unique golf tournament experiences, from playing in a pro-am with the stars to watching the action at golf's most illustrious events. Whether it's the Masters or The Open, The Ryder Cup or WM Phoenix Open, build your own bespoke package with the experts at Golfbreaks.com.
---
What do you think? leave your comments below (Comments)
---
---
PLAY MORE PLAY BETTER - LATEST TUITION TIPS
---
Leave your comments below
comments powered by

Disqus