Callaway Unveils EPIC Irons and Hybrids
By: Golfshake Editor | Tue 23 May 2017 |
Comments
---
Callaway has launched what has been described as its most advanced and technologically refined irons and hybrids to date, with the official unveiling of its EPIC and Epic Pro Irons and Hybrids.
All created from the same DNA as the GBB Epic Drivers, these products bring together a wealth of ground-breaking technologies and industry-first engineering processes that optimise every important performance ingredient - ball speed, distance, forgiveness, accuracy, control and feel.
Epic and Epic Pro Irons: 'Project Alan's' Iron
Boasting a host of premium, precision-milled and robotically laser-welded components to give pin-point control over CG location, COR, MOI and vibration control, Epic and Epic Pro Irons are the result of an exhaustive 'innovation without boundaries' R&D project involving 70 Callaway design and engineering specialists.
Chip Brewer, CEO, Callaway Golf, said: "A few years ago I challenged Dr Alan Hocknell, our Head of R&D, to design the very best Iron that he would play, seeking maximum performance without any limits to the cost or engineering process. Epic is that iron."
At the heart of each head is a high-grade, lightweight and strong cast-steel Exo-Cage construction that stiffens the body, particularly in the top line and sole, allowing the face to take on more impact load, in turn generating faster ball speeds, more distance and enhanced performance.
A next-generation 360 Face Cup – just 1mm thick at its thinnest point – is another key ingredient to unlocking extra yards throughout each set. Featuring an ultra-thin rim around the perimeter of the inner side of the face, at impact it flexes and rebounds to add ball speed on centre-hit shots, while minimising loss on off-centre strikes.
The CG position in each head is precisely and individually managed via a new Metal Injection Moulded (MIM) process that utilises a dense, and heavy, tungsten powder baked into intricate Internal Standing Wave shapes that are unique to each iron.
This ground-breaking, industry-first process allows the CG to be exactly positioned from club-to-club, (in the 3- to 8-iron 30% of the total head weight is located in the Internal Standing Wave alone) making long irons easy launching and high flying, and shorter clubs more controllable.
The Epic Pro Iron benefits from all the technologies of the standard Epic Iron in a slightly smaller head, slimmer top line, and less offset to promote a premium forged-like feel and workability that better players desire, without any loss in performance.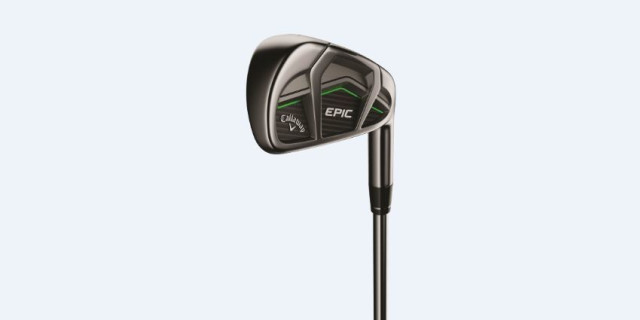 Epic Hybrids:
These products represent the most precisely engineered, fully adjustable and versatile utility clubs the company has ever released.
Borrowing proprietary Triaxial Carbon Composite technology from the revolutionary Great Big Bertha Epic and Epic Sub Zero Drivers, the crown on the Epic Hybrids is the thinnest and lightest material – weighing just 5g - Callaway has ever used.
This substantial weight saving is then re-distributed into strategic locations within the ultra-premium body frame to dramatically increase MOI and lower the CG, making the Epic Hybrids exceptionally powerful, forgiving, accurate and easy to launch.
Distance has been dialled up courtesy of Callaway's industry-leading 455 Forged Hyper Speed Face Cup Technology. The thin and flexible rim around the inner side of the face flexes and releases more uniformly and efficiently at impact, increasing ball speed across the face, especially towards the bottom, where most miss-hits occur.
Mirroring technology in Epic Irons, a Metal Injection Moulded (MIM) process that utilises a dense and heavy tungsten powder, 1.8 times heavier than steel, creates intricate 35g Internal Standing Wave shapes that are precisely and robotically laser-welded into each head. This helps maximise MOI of the hybrid and, with CG positioned extremely low and deep in the head, increases its forgiveness and power.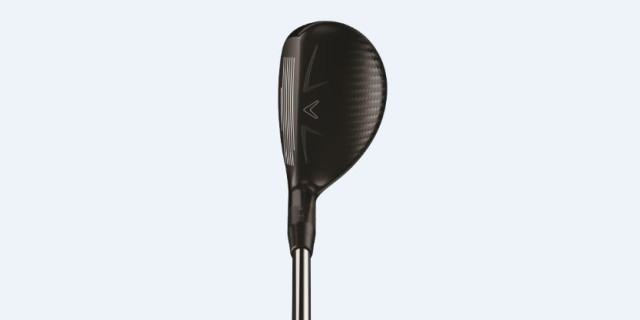 Specifications & Availability:
• Epic Irons are available 3-PW, with optional AW and SW, right and left-handed, Rifle Project X LZ 95 steel shafts or UST Mamiya Recoil 760/780 EX graphite shafts, and Golf Pride New Decade Platinum grips.
• Epic Pro Irons are available 3-PW, with optional AW, right and left-handed, Rifle Project X LZ 105 steel shafts, and Golf Pride New Decade Platinum grips. Irons will be in store from June 16, 2017.
• Epic Hybrids are available 2H (18°), 3H (20°), 4H (23°) and 5H (26°), right and left-handed. The stock graphite shaft is UST's new ion-plated Recoil 760/780 ES, engineered to promote great feel, long distance and tight dispersion, accompanied by a Golf Pride New Decade Platinum grip. Epic Hybrids will be in store from June 16, 2017.
For further information about the complete Callaway product range, visit www.callawaygolf.com.
---
What do you think? leave your comments below (Comments)
---
---
comments powered by

Disqus