Feature Interview: Brendan McCartain
---
Brendan McCartain has spent 23-years on tour and was carrying for José Maria Olazabal during the 1999 season and on a Masters Sunday he watched his man put his arm in a green jacket for the second time.

We caught up with Brendan to talk about the feeling of coming down Magnolia Lane, Amen Corner, the "Tour Caddy Experience" and just how his man won the 1999 Masters.
Experiencing Augusta for the first time
Having missed the cut in Atlanta the week before, Brendan and Jose Maria arrived at Augusta on Sunday – the day before Masters week.

Brendan said: "I was just excited to go in and see it all, see the holes and go out on the course. That's all I was thinking about.

"We went up there on the Sunday morning and played the par 3 course, which is the only time I've been on the par 3 course. We played nine holes with Seve on the par 3 course, which was great and then we went and played the back 9,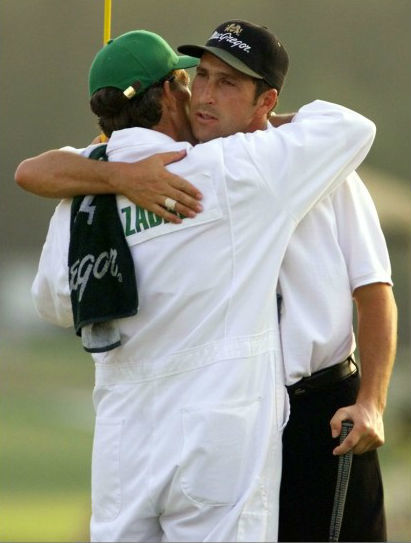 and that was really cool"

"Then I had a little look around and you're just starting to try and take it all in really. It's very different to what you imagine it to be when you actually get there. It's all so different and is such a big place. There are so many buildings there and obviously how much slope there is and how hilly it is - the TV always kills the contours."
Amen Corner
Amen corner is maybe the most famous stretch of holes of golf in the world, so what are they actually like to play for the pros? Brendan explained that it is really quite a dangerous run of holes:
"It's easier for you to make a big number on the holes because obviously there is more danger around.

"If you go in the water on 11, with the second shot, you're probably making a double. So obviously, that hazard you avoid at all costs.

"You're aware of more danger and there are certain places where you play away from the flag. If the pin is anywhere on the left on 11 then you're playing up the middle or up the right of the green, assuming you hit the fairway off the tee that is. It's an extremely hard hole.

"The 12th isn't a long hole but it is very, very tricky because it's a shallow green and the wind is at times consistent and at other times completely inconsistent. It often changes strength and changes direction in a matter of seconds.

"It has happened to a lot of players many times. I've seen three guys who all hit the ball similar distances and all three guys have hit a different club. The wind has changed from into, then downwind and then no wind.
"So it's your radar, your instinct. The thing with that course is that from a caddying point of view, and I think it's probably the same to most the guys, is that it drains you mentally more than almost any other course you go around. You're working so hard to just try and get everything right. This is because your margins are much, much smaller between right and wrong, good result and bad result. There is no part of the golf course that is not demanding, it is difficult all the way round"
Sunday at The Masters
Heading into the final round of the 1999 Masters tournament, Olazabal held a one stroke lead over Greg Norman and a further shot lead over Davis Love III and Steve Pate.

For any Tour Professional leading the Masters going into the final round would be a dream, but with that comes tremendous pressure, as Brendan recalls what Jose Maria had said to him after a tournament once – "It's a very lonely place when you're leading a golf tournament because everyone is chasing you. It's kind of where you want to be, but it's not an easy thing."

So just how did the pair cope with the pressure?
"He never said much at all," Brendan added. "He was a very cool customer. Even the previous night, we'd played the last group on the Saturday, and we'd practiced on the Saturday evening when we got done, and he didn't really say much at all about anything. We both knew what we were trying to do. I suppose it is nice that he felt he didn't need to say anything.

"But the last day, I went up there in the morning and went for a walk. You're looking at a few pins and just try to take in the atmosphere a little bit. When you get there, there are a lot of people there early. And then the time went by very, very quickly, up until when we went to the first tee.

"I remember it was the usual routine, usual everything with what he did, how he did it and how long he did it, it was all exactly the same. But obviously there's that bit of expectation. It was a windy day, it was a tough day, the course was very firm and bouncy, and it was very tricky. The lowest score on the last day was 70 (-2) and Jose Maria shot a 71 (-1)."
The tough start
Although Olazabal went on to shoot one under par, he didn't get off to the best of starts with bogies at 3rd, 4th and 5th holes.

For many, this could be the ruin of their tournament and it takes a mentally strong golfer to bounce back from this. Standing on the 6th tee, Brendan told us what was going through his mind.

"You're starting to wonder what's going on and you need to get something going quickly in the right direction because, clearly, you're heading in the wrong direction"

"I remember Jose Maria said to me when we were on the 4th green: 'we're starting to lose this tournament a little bit here. We need to get going here.' And then we bogied the 5th hole!"

"He hit a wonderful shot on the 6th hole to the back right pin. It was a six iron to about 8ft, It was a fantastic shot. He holed the putt and everything changed from that point really. You know, a player makes a birdie and it gets him going in the right direction again, it helps a player mentally an awful lot. That first birdie on a big day, it always helps."

"He's so good around Augusta. He'd already won it once before and there's been a lot of times where he's been involved. His short game was one of the best in the world and he was one of the best putters in the world and he was one of the best iron players in the world. He knows he's got a lot of things going for him"

"He just stayed in the present all the time and he kept giving it his best on every single hole and every single shot. As he did for every tournament he ever played"
The back 9 battle
On the back nine, Jose Maria Olazabal was still battling Greg Norman and Davis Love III, with the leaderboard changing almost every hole.

Olazabal birdied the 10th, only to be answered back by a tremendous birdie from Norman on the 11th. However, a wonderful up and down from the Spaniard on 12 would see him gain one back after a Norman bogey.

Norman then eagled the 13th to briefly hold a one shot lead over Olazabal and a brief lead it would be, as Jose Maria then followed him in for birdie to be all tied once again. Brendan recalls a nice moment after that birdie putt dropped:
"Norman looked over at Jose Maria and just nodded his acknowledgment and Jose Maria nodded back, it was a lovely sporting moment"

However, for Norman things would start to unravel and he would go on to bogey 14 and 15, leaving Davis Love III the next nearest competitor and Brendan recalls watching the American holed his chip shot on the 16th.

"I remember we were walking down the 15th hole and you can see through the trees down towards the 16th green. We saw Davis Love chipping in from the left of the green. We saw him do that. Which then brought him into the equation.

"Jose Maria then hit a fantastic shot on the 16th. That swing he made was a s good as you could possibly hope for in that situation. He made the birdie putt and then on the 17th he hit a duck hook off the tee and hit the tree, 'Ikes' tree. He played a wonderful shot under the tree and ran it up onto the green. He had about a five or six foot putt for the second putt. A very tricky putt but he made it, it was a great two putt!"
"He didn't three putt the whole week. I mean in any normal week on tour if you don't three putt, you're probably going to be up there, but to do it when the greens were that quick, that was pretty strong"

"Following the 17th Jose Maria has a two shot playing the last. He hit a 1 iron off the tee, then a nine iron second shot to pin high right edge of the green.

"Once we arrived at the last green he said to me one of the nicest things I ever heard from him.

"The leaderboard was next to the green and when we get to the ball he looks round at the board and he has a proper look. He says to me: 'we have three for it then?' I said" 'yes you do, you have three for it.' and he replied back "well we make two putts from here" I was like wow, what a wonderful thing to hear. You've got three for it, and the guy hadn't three putted all week and he ends up with three for it anyway."

Olazabal won the tournament by two shots over Davis Love III and the victory would see him put on his second Green Jacket.
The Tour Caddy Experience
Have you ever wondered how much a caddie may improve your game? Well, the "Tour Caddy Experience" can help you find out - an organisation that Brendan is a part of along with other Tour Caddies. Brendan explained more about what they offer:
"The Tour Caddy Experience is where you can employ a Tour Caddie on the golf course, either at your club or their club in order to give you the benefit of their experience from watching and learning from tour professionals over the years. This is all designed to help you as a club golfer wether you are a 24 handicapper, a budding pro, man, woman or junior.

"Put it this way, most of us spend hundreds and hundreds of hours stood behind or next to tour professionals. You gain an understanding for golf. You're around it all the time. Not only are you watching your own guy, you're actually seeing a lot of people practice and play and see how they do things.
"I caddied for Jose Maria for three and a half years. He was a hard practicer. I watched him hit thousands of shots and I mean thousands. So I'd like to think over that period of time that actually I learned quite a lot too. I learnt a lot that can passed on to club golfers to help improve their games as can be said for the group of caddies involved in the Tour Caddie Experience"

"We want to give amateurs a valuable and enjoyable experince and help them improve their game in some aspect, so when they come off the course they want to do it again. That's is key for us"
To find out how you could spend time on the course with Brendan or any of the Caddies that are part of the Tour Caddie Experience, then visit the Tour Caddy Experience website here.
You can also find out how Golfshake's Andrew Picken got on under Tour Caddie Experince's Steve Brotherhood's watchful eye here.
Image credit - http://brendanmccartain.com
---

Be part of the action with a selection of unique golf tournament experiences, from playing in a pro-am with the stars to watching the action at golf's most illustrious events. Whether it's the Masters or The Open, The Ryder Cup or WM Phoenix Open, build your own bespoke package with the experts at Golfbreaks.com.
---
What do you think? leave your comments below (Comments)
---
Tags: Tour Caddy Experience Masters
---
PLAY MORE PLAY BETTER - LATEST TUITION TIPS
---
Leave your comments below
comments powered by

Disqus