Why Aren't More British Women Playing Golf?
By: Golfshake Editor | Wed 22 Feb 2017 |
Comments
---
Guest post from Golf Support - written and researched in association with Journalistic.
---
A lot can be said about women and golf – and unfortunately most of it seems to be along the lines of; it's not for them; women are far too distracting; they can't hit the ball in quite the same way as men. In fact, more often than not, women are side-lined from the game, or in some cases banned entirely. Take the Tokyo 2020 Olympics as an example. Kasumigaseki Country Club, a private golf course, which is due to host the male and female golf tournaments, is at risk of losing the event entirely if they do not make changes to their current, discriminatory rules, whereby women are forbidden from becoming full members and banned from playing on a Sunday completely.
Certainly, after more than 500 years of golf, why do such tired clichés still manage to crop up time and time again? It's not just Japan's problem either. Today, the European region is home to 22% of the world's total golf supply. Yet, whilst the UK is known to be the birthplace of golf, we are desperately lagging behind every other European country when it comes to female participation in the sport.
In fact, despite the UK playing host to an approximate 3,000 golf courses and clubs, where 678,372 people play the game – just 14% are women. An astoundingly low percentage, particularly in comparison to other European countries. A healthy 35% of Germany's 639,137 recorded golfers are female and elsewhere Austria (35%), Switzerland (33%), Slovenia (32%) and the Netherlands (32%) follow suit – each surpassing the UK's feeble female count with ease.
Remarkably, as recent as last year, the Honourable Company of Edinburgh Golfers based at Muirfield was told it will not host the Open Championship after members chose to vote to continue its men-only policy. The result was narrow – just 3% short of the number needed – but nonetheless determined that some are simply not ready for women to make their mark. Consequently, the last time Muirfield hosted the Open Championship in 2013, Scotland's First Minister Alex Salmond refused to attend, and current First Minister Nicola Sturgeon went on to echo the sentiment – describing the course and its position as "simply indefensible."
It appears quite probable that we – or 'traditional' golfers more generally – approach female players with suspicion; as if fully committing to equality would be one step too far for a sport steeped in such masculine history. Undeniably, debate and limitation breeds animosity and perhaps one of the reasons why the UK has limited female golfers is the simple fact that they just do not feel as though they belong or that they're welcome.
It's true to say that there could be any number of reasons why women choose not to play, including career, commitment to family and genuine lack of interest. However, inescapably, 1 in 4 women have claimed that they have experienced ill feeling and poor treatment by men on the course at one time or another.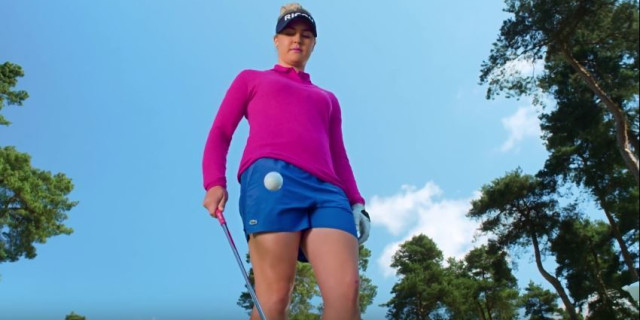 What Men Can Do
There is no escaping the fact that golf remains a male-dominated sport. Therefore, it will require the efforts of both genders to make needed change. In fact, a recent report has claimed that men can play a huge role in encouraging female participation in golf - if only they do so. As one of the top reasons for female golfers to take up the sport is due to influence from a male peer. However, currently, it does not appear to be in active practice.
A recent report found that only 25% of male golfers are interested in playing casual golf with female counterparts and an extremely high 78% claimed that their partners do not play. Perhaps due to lack of interest or lack of encouragement altogether. Evidently there is a missing link in action somewhere, as it has been noted that more than 1 in 2 male golfers have sons who play golf – but just 12% have daughters who play. Are fathers taking the time to take their daughters to the course alongside their sons? Or are they simply being overlooked?
The Next Generation
Undoubtedly, it has never been more important to encourage our young girls and boys to actively pursue sports. In fact, despite the UK holding an approximate 56,205 junior golfers, it is reported that just 8% of children are actively participating in the sport and unfortunately it seems our junior girls are most at risk of falling by the wayside altogether.
Last year, England Golf released statistics stating that the average golf club in England has 25 members under the age of 16, but less than 3 of these will be female. Again, despite having a golf market fit for mass junior participation in the UK, we fall behind numerous European countries – with Turkey achieving the best results for junior golfers at 45%.
Top 5 junior golf countries **:
Turkey 45%
Greece 32%
Serbia 27%
Slovakia 24%
Latvia 23%
The editor of Women and Golf goes on to add: "In most other European countries golfers join as a family and more often than not, they play golf as a family" – a tactic that markedly increases not only junior golf rates, but female junior golf rates too – and an example that the UK should definitely look to follow.
** % of membership being junior golfers from the 2015 KPMG Golf Participation in Europe report.
How Can We Effect Change?
Certainly, organisations across the UK are working hard to increase female participation in golf. For example, the Golf for Girls campaign set up by Hays Recruitment and #ThisGirlGolfs – a campaign inspired by Sport England's #ThisGirlCan campaign that aims to breakthrough stereotypes; to show the world that golf is a game for all. There are also flagship initiatives like 'Girls Golf Rocks' which place emphasis on creating safe and fun environments through which girls can make friends, gain confidence and learn to play the game.
We also need to educate course owners and staff on how better to encourage and support female players, in order to remove animosity and normalise the appearance of women on the course. A positive sign that we're on the right track comes from the County Golf Partnership (CGP) who have reported that 54,000 people were inspired to get into golf in summer 2015 – 35% of which were women. However, though this information shows an increase of 47% on past summers, the key is to actually get those potential new players hitting the course.
Ultimately, we all have to recognise that sport isn't gender specific, but a personal preference that many girls – and boys – will favour.
---
What do you think? leave your comments below (Comments)
---
Tags: industry insider grow the game golf survey golf data
---
PLAY MORE PLAY BETTER - LATEST TUITION TIPS
---
Leave your comments below
comments powered by

Disqus