8 Items to Make Winter Golf More Enjoyable
---
Playing golf in the winter can often not be enjoyable and the majority of us will refuse to even go near the course during the cold and wet winter months. But, there are a small minority that keep on teeing it up no matter what time of year or what crazy weather conditions they may have to battle.
For those who love playing in the winter, here are eight items that will help make your winter golf that little bit more enjoyable.
Waterproofs
This sounds pretty obvious doesn't it? But I know a few people who don't own a proper waterproof top and have often been caught on the course when the rain starts pouring.
Nowadays, the technology in waterproof tops allows them to do much more than just keep you dry. In fact, they will also keep you warm and allow for extra mobility in the swing due to new, breathable materials. There should be no excuses about refusing to wear a waterproof because you can't swing properly in one, now. A great waterproof top will keep you warm and dry, as well as potentially lowering your scores through consistent swings.
Of course, waterproof trousers follow the waterproof top. In the winter months, it will more than likely rain at some point and having a quality pair of waterproof trousers will save you a lot of hassle on the golf course. There's nothing worse than owning a pair that only cope with showers because once you've been out in the rain for a good half hour, then you may as well be wearing a pair of shorts.
You don't just have to wear these in the rain either. Waterproof pants come in handy when the course is boggy and muddy and will save you having to wash your actual trousers after your round. They also work well in cold conditions, as that extra layer can really go far in keeping you warm and toasty on the course on a cold day. Take a look at Golfshake's handy 2017 waterproof trouser buying guide here.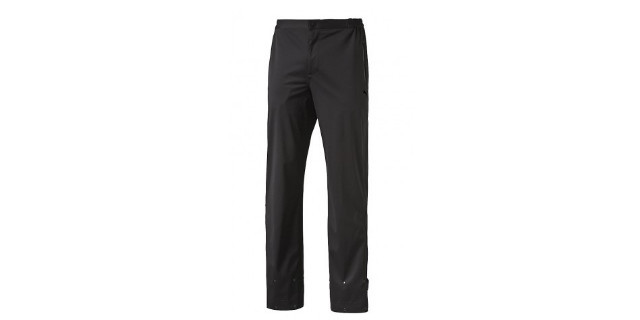 Mitts
A pair of mitts are perfect for winter golf as they will keep your hands warm between shots. It can often to be hard to grip the club properly when your hands are cold and if you end up thinning a shot, the pain seems 10 times worse than it really is. Nowadays, mitts provide complete protection from the cold, wind and rain making them perfect for winter play. If you buy a pair with an elasticated wrist to keep the heat in, you will more than likely learn how to hit the ball with them on they are that toasty.
Hand warmers
Hand warmers are a crucial game changer in winter golf because they, as you guessed it, keep your hands warm in the cold. For ultimate warmth, why not put your hand warmers inside your mitts? As mentioned earlier, keeping your hands warm is vital to shooting a good score during the winter months. If you don't have a pair of mitts, hand warmers will still go a long way, even if you have to use them out in the open cold air.
Take note that there are several different types of hand warmer and those traditionally sold in pro shops tend to last around 20-30 minutes so you will need a few sets to see out your round. Others, which are available online, can last for 24 hours, which is more than enough time to complete your round.
Thermals
If you don't like wearing thick layers as it affects your swing, then you should consider purchasing a set of thermals to keep you warm. By transferring moisture through wicking, these thermal base layers help regulate temperatures and keep you warm on the course. They tend to be tight to the skin so you won't be able to blame your thermal on a bad score as it won't change your swing at all.
Thermal golf gloves
Some people don't like playing in a glove and think they make no difference, but for the majority of us that do wear one, thermal golf gloves for the winter may be of interest to you.
A thermal golf glove performs like a normal golf glove, while also keeping your hands warm from the cold. They are often knitted or made from thermal material and come in a pair so you don't have to worry about your other hand getting cold. The dark colour adds to the ability to retain heat, which is essential in cold weather.
Turtleneck jumper
Most golfers wouldn't consider a turtleneck jumper or a buff to wear on the golf course, but other than being a fashion item, they will also help you retain heat on the golf course. The raised collar will help stop cold air circulating around your neck and keep more heat in. So next time you're playing on clear but cold day during the winter, consider wearing a turtleneck for that extra bit of warmth.
Wet glove
A wet glove is also an essential for the winter months because you never know when a torrential rain shower may hit you. The funny thing about these is they offer better feel, the wetter they are. They are made from a light synthetic material that is breathable and when it gets wet, the fibres on the palm of the glove stand up to create more friction.
They are also covered in a warmer, thicker material to help keep your hand warm and they are without a doubt the best option for golf in the rainy winter months.
Hip flask
The hip flask is possibly the most important item on this list. As you stand on the cold and foggy first tee, it can often be nice to take a swig of bourbon from your hip flask and warm your throat. For a brief moment the feeling of cold will leave you and you will, hopefully, smash your first drive straight down the fairway.
Alternatively, you can purchase a flask and fill it with coffee. Not only will this wake you up and keep your insides warm, but you can also use the flask to keep your hands warm throughout your round.
Think we've missed something? Let us know in the comments what items you take on the course with you in the winter months to make your round more enjoyable.
---
What do you think? leave your comments below (Comments)
---
Tags: winter golf
---
comments powered by

Disqus