The Best New Game Improvement Irons of 2017
---
The 2017 golf season is just around the corner and you may be wondering what the best new game improvement irons are on the market for 2017. To help, we've created this game improvement iron buying guide including the Callaway Steelhead XR, Cobra KING Oversize, Mizuno JPX900 HOT METAL, Srixon Z 355, TaylorMade M2, Titleist 716 AP1 and Wilson Staff C200.
Callaway Steelhead XR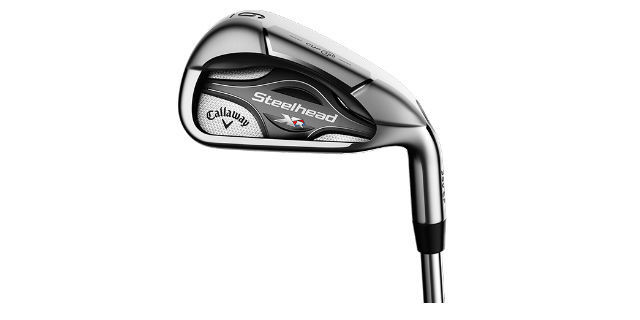 The Steelhead XR irons feature a whole host of new technology and are where a signature shape meets breakthrough performance, with Callaway's industry-leading, next generation 360 Face Cup. The longer irons are designed to launch higher for more carry and distance, and the scoring irons to launch lower for more control and accuracy.
The 360 Face Cup technology increases ball speed with greater efficiency on both centre hits and miss-hits for more distance on every shot. A bar of steel-infused soft urethane layer has been positioned behind the lower portion of the face to serve two functions. It absorbs unwanted vibration and adds weight, which lowers the head's centre of gravity for faster ball speed on low hits.
The hollow Bore-Thru hosel saves significant weight and allows that weight to be repositioned in strategic places for more forgiveness and easier launch. Finally, the CG is positioned strategically in each iron to promote an easy launch and long carry in the long-irons, easy launch and key control in the middle-irons and lower and high-spinning shots in the short-irons.
Golfshake View:
Coming soon
Specification
Loft: Available 4 – PW
Shaft: Steel - True Temper XP 95 Stepless (R and S flex)
Graphite – Matrix F15 Graphite (R and S flex)
Grip: Callaway Universal
RRP: £649.00
Learn more on Golfshake by clicking here, or visit the Callaway website here.
---
Cobra KING Oversize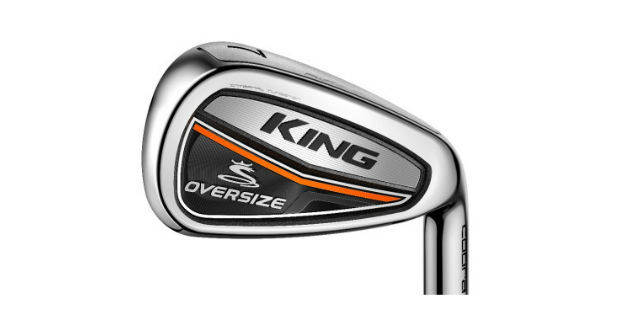 For some, hitting the dead centre of an iron is a struggle but do not worry, as Cobra have designed their KING Oversize iron to help you get more from your iron play. The Sweet Zone uses a thin, high-strength L-Cup face construction to allow the weld to be moved out of the topline and down to the sole, which creates a Sweet Zone that is 12% larger than the previous F6 model. This means more ball speed and controlled distance.
The iron also features a larger iron profile that has increased the Moment of Inertia and in turn providing more forgiveness to make it easier to hit the centre of the club face more consistently. The CG has also been centred lower in the club head to deliver more forgiveness and precision. This also produces a higher launching, more powerful feeling iron.
When you add to this the Pwreshell Face, 100% CNC Milled Grooves, Progressive Spin Technology, Multi-Material Construction, Zone Weighting and Tungsten Toe Weighting you get an iron that will offer greater initial launch with more forgiveness and precision than ever before.
Golfshake View:
Coming Soon
Specification
Loft: Available 4 – PW (GW and SW also available)
Shaft: Steel – True Temper XP (R and S flex)
Graphite – UST Recoil 460 ES (R, S and Lite flex)
Grip: Cobra Lamkin Ace Crossline Black
RRP: Steel - £699.00 (4 – PW or 5 – SW)
Graphite - £799.00 (5 – SW)
Find out more on Golfshake here or visit the Cobra website here.
---
Mizuno JPX900 HOT METAL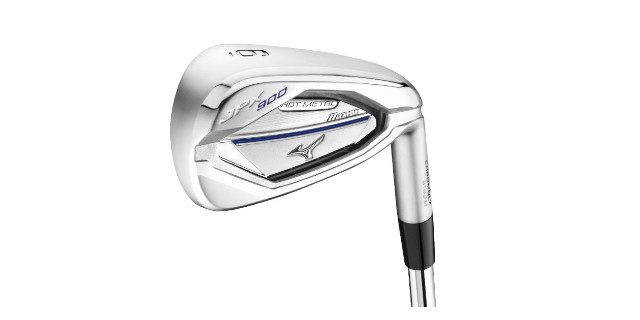 The new JPX900 HOT METAL from Mizuno combines offensive ball speeds with the adjustability of a forged iron. This in turn creates the ultimate in customisable performance. The versatility of Chromoly 4140M gives both the strength for a distance enhancing cup-face, and the softness for a moveable, bendable neck.
On top of being incredibly thin, the JPX900 HOT METAL also incorporates a multi-thickness face to take ball speeds to a whole new level. The new one piece 360 Cup face design to make sure your miss-hits still fly to target and offer the same, consistent feel. Although the JPX900 HOT METAL is incredibly forgiving on miss-hits, it is achieved within a manageable, playable iron head that is designed to look just right over the ball. Finally, the strategically engineered Power Frame is optimised for rigidity while allowing the ultra-thin face to flex, making it more solid at impact.
Golfshake View (Owen Davies):
If you are looking for a iron with a larger head that can offer you some forgiveness and great distance, but at the same time offer feel and feedback from you shots, this could be the one for you! I love the shape of the head and the fact that you could even mix and match in with the other heads of JPX900 range.
The head is maybe not as confidence inspiring as others in the category, but Mizuno have made a brave move in mixing in the requirements of better player with a game improvement iron. They carry a heftly price tag, but one worth paying in my opinion!
Specification
Loft: Available 4 – PW (GW, SW and LW also available)
Shaft: Nippon NS Pro Modus 3 (R and S flex)
Grip: M-31 Mizuno
RRP: £840.00
Visit the Mizuno website here for more details, or head to the Golfshake review here.
---
Srixon Z 355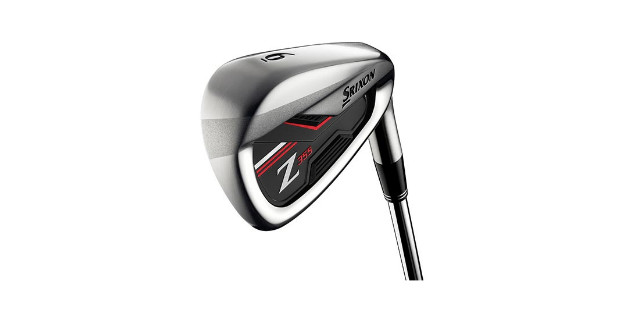 The main aim of the Srixon Z 355 was consistency and by packing this iron with technology, its design delivers incredible distance and accuracy more often. The set has been optimised with a two-piece construction in the 4-7 irons (a powerful HT1770 maraging steel face and resilient steel body) and a one-piece, softer 431 steel construction in the 8-iron through Approach Wedge to offer full set playability and versatility.
The Action Mass Technology offers a heavier head weight plus an ultra-high balance point shaft combine to deliver incredible consistency with maximum distance and forgiveness. The Tour V.T. Sole is redesigned to help tighten shot dispersion with less turf resistance through impact. The Z 355 irons also feature a higher hosel section that allows for an expanded face area, which in creates a larger sweet spot.
Golfshake View (Owen Davies):
Srixon have employed an unusual technology in this iron. Action Mass is tech that you can really feel in action. I found it a strange senstation at first, but after several goes it becomes the norm and I felt the iron actually worked really well. All in all a good solid offering from Srixon and different from the norm. Well worth getting down to your local range or pro shop to test as it will be different to anything you have swung before!
Specification
Loft: Available 4 – PW (AW also available)
Shaft: Steel - Nippon N.S. Pro 950GH DST (R and S flex)
Graphite – Miyazaki Jinsoku (A, R and S flex)
Grip: Srixon by Golf Pride
RRP: Steel - £499.00
Graphite - £549.00
Learn more on Golfshake here or visit the Srixon website here.
---
TaylorMade M2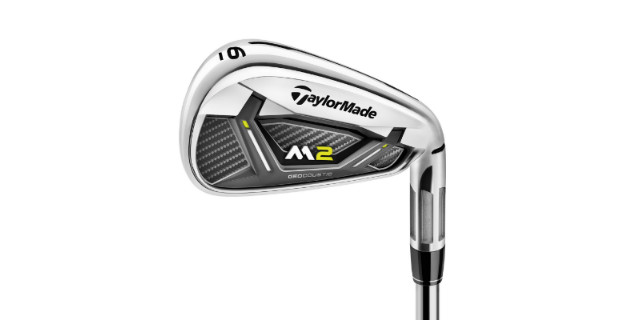 The new M2 iron from TaylorMade puts together the culmination of several years developing key technologies to offer more distance, peak trajectory and forgiveness in a more consistently performing iron. The engineers have utilised technologies that were first developed in the RockeyBladez irons (Speed Pocket) and the FaceSlots that were introduced in the RSi irons, with an ultra-low centre of gravity. All this adds up to produce an iron that is remarkably long and forgiving, while maintaining playability.
Overall the club has a 33% thinner overall topline, 7% shallower blade height and 20% deeper Speed Pocket with 33% thinner front wall for even more flexibility. One of the key aims of the engineers was to improve the fluted hosel introduced in last year's M2 and so TaylorMade have developed a new thinner, wider, six-sided fluted hosel that saves 5g, allowing for the repositioning of 2g of discretionary weight lower in the clubhead.
Similar to the M2 fairway woods and hybrids, the new M2 irons were designed employing the new Geocoustic engineering techniques. The acoustics are tuned through geometry in order to provide a better feel and better sound through 3-D damping and an optimised rib structure to create ideal frequencies for pleasing sound and feel.
Golfshake View
Coming Soon
Specification
Loft: Available in a 4i to LW (Offered in a seven piece set)
Shaft: REAX HL 88 Steel (R and S flex) or M2 REAX Graphite (L, A, R and S flex)
Grip: Lamkin UTx
Price: £699.00 (Steel) or £799.00 (Graphite)
Available at retail on 27 January. Learn more at Golfshake here or visit the TaylorMade website here.
---
Titleist 716 AP1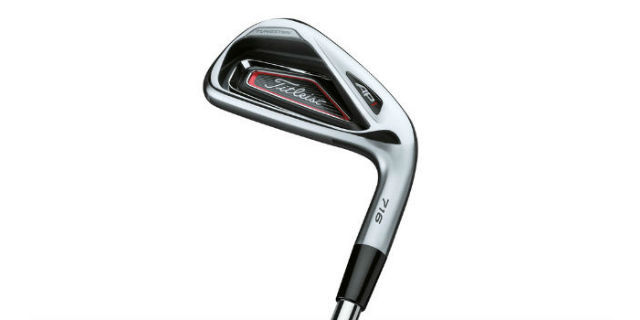 The new Titleist 716 AP1 iron is perfect for golfers seeking maximum distance and maximum forgiveness. In fact, Titleist claim that the new AP1 is their longest, most forgiving iron ever.
This claim is backed up by the extreme 360° undercut cavity that creates a large, thin unsupported face that increases both speed and launch for more distance. The high-density tungsten drives the centre of gravity low to allow for stronger lofts to create even more speed and more distance. The use of extreme high-density tungsten moves weight to the perimeter, which increases moment of inertia on off-centre hits. It is for these reasons that Titleist believe they have created their longest, most forgiving iron yet.
Golfshake View (Owen Davies)
Titleist have been producing the AP1 irons for a few years now and with each launch they seem to find a good way to improve performance (maybe it is the two year life cycles). The 716 AP1 is set apart from others in the market by it's use of tungsten, something I really like, in fact the use of tungsten in the TMB is a bit of a game changer in my opinion.
I certainly gained yardage with these irons, in fact a lot of yardage, this is down the the strong lofts, but the use of tungsten definitely delivered a nice high ball flight by lowering the centre of gravity. While the technology used is quite simple and definitely not flashy the 716 AP1 is a super solid offering from Titleist. and despite the game improvements characteristics, it has a traditional shape meaning it will appeal to not just improvers but also some single figure handicap players!
Specification
Loft: Available 3-PW
Shaft: True Temper XP90 (R and S flex)
MRC KUROKAGE TINI 65 (A, R and S flex)
MRC JUROKAGE TINI 50 (L flex)
Grip: Golf Pride Tour Velvet 360
RRP: Steel - £93 per iron
Graphite - £107 per iron
Read Golfshake's full review here, or visit the Titleist website here.
---
Wilson Staff C200
The Wilson Staff C200 has been designed for Crossover players seeking distances that you cannot obtain from traditional irons, while still possessing the best-in-class feel. At the core of the C200's design is the proprietary FLX Face Technology, which minimizes the contact points between the body and the thin face. These minimized contact points, combined with a series of Power Holes around the entire perimeter of the face, maximize face flex upon impact, resulting in increased ball speed and distance. Finally, the Power Holes are filled with TE031 Urethane to provide improved sound and outstanding feel.
Golfshake View
Coming Soon
Specification
Loft: Available 4-PW
Shaft: KBS Tour 90 (S) or Aldila Rogue Pro (Graphite)
Grip: Lamkin Crossline Black
Price: £525.00 (Steel) or £609.00 (Graphite)
Find out more on the Golfshake website here or visit the Wilson Staff site here.
---
Tags: wilson staff Titleist taylormade srixon mizuno Cobra Golf cobra callaway
---
PLAY MORE PLAY BETTER - LATEST TUITION TIPS
---