Titleist introduce 917 Fairway Metals
By: Golf Shake | Wed 07 Sep 2016 |
Comments
---
Setting the standard for complete performance from both the tee and turf, new Titleist 917 fairways provide more distance and forgiveness with the most precise customisation available to dedicated golfers of all skill levels.
Titleist 917F2 and 917F3 models, like their 917 driver counterparts, are designed using new patented Active Recoil Channel 2.0 and SureFit CG technology to produce an uncompromising combination of distance, forgiveness and trajectory control with tour-preferred looks, sound and feel.
---
https://www.youtube.com/watch?time_continue=1&v=wI5pAdAiKyI
---
"The most important attribute in designing a Titleist golf club is absolute performance, it's at the core of what we do," said Dan Stone, Vice President, Titleist Golf Club R&D. "We put performance at the top of the pyramid and are constantly driven by the expectation that every new product we launch to the market will be the best we've ever made. That's a tough challenge that can only be conquered by innovations and unique ways of doings things, by taking the time to iterate and test over a longer period of time. But it's because of that commitment that we are able to develop products like 917 and confidently say that they are the longest, most forgiving, best performing and easiest-to-hit Titleist metalwoods ever."
Titleist 917 fairways deliver increased ball speed for more distance with superior forgiveness, industry-leading adjustability with optimised trajectory control, and tour-inspired sound and feel through the following key technologies:
Active Recoil Channel (ARC) 2.0 actively flexes and recoils at impact to launch the ball off the face with higher speed for more distance. The improved sole channel design, featuring a unique elastomer insert with a hollow core, produces greater face flexibility for a more consistent deflection that increases speed across the face.
A Variable Thickness Face Insert is tuned with ARC 2.0 to deliver greater off-centre ball speed for more overall distance across the face. The high-speed, forged insert is thinner around the perimeter, increasing flexibility for more distance on off-centre hits.
A precise, High-MOI Design, with a low centre of gravity location, delivers stability and forgiveness by preserving off-centre ball speed for more distance, more often.
Titleist's industry-leading SureFit Hosel and new SureFit CG weight system deliver the ultimate in precision fitting for every player.
The proprietary 16-setting SureFit Hosel allows golfers to set loft and lie independently to optimise ball flight for improved shot control and maximum distance.
New SureFit CG provides precise customisation through a highly efficient interchangeable weight system, optimising spin and launch conditions for a more consistent trajectory and tighter shot dispersion. The unique orientation of SureFit CG, positioned at an angle on the sole, enables the centre of gravity to be moved from Neutral to a back, heel position (Draw) or forward, toe position (Fade). Each SureFit CG position affects dynamic face closure and gear-effect sidespin, enabling golfers to enhance their preferred ball flight and shot shape through more consistent impact and spin. The streamlined design of SureFit CG – which provides significant weight savings versus competitive "track" systems – allows the CG to be manipulated while preserving 917's high-MOI properties for distance with forgiveness. SureFit CG also provides the flexibility for headweight adjustability (+/- 4 grams).
---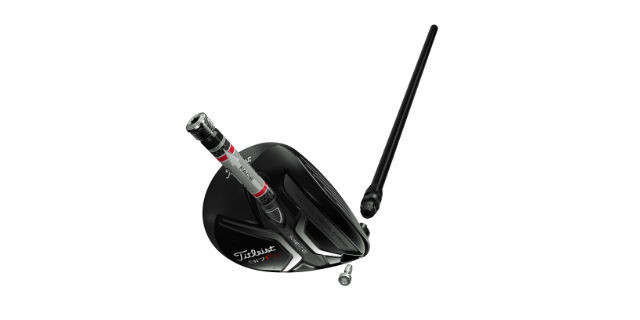 ---
917's adjustable technologies offer the same type of customisation available on the Titleist Tour Van. A Titleist authorised fitter will utilise SureFit Hosel and SureFit CG, coupled with interchangeable shafts, to determine a player's optimal setup so they are playing a 917 fairway that is fit precisely to their swing.
Two models (917F2 and 917F3) provide distinct performance choices, particularly in spin and trajectory, for greater fitting flexibility and precise flight and shot shape optimisation.
917F2 provides all-around playability with forgiveness and more distance in a larger profile fairway. 917F2 offers more spin and higher launch versus 917F3 for a higher trajectory. (Available in 13.5º, 15º, 16.5º, 18º and 21º lofts.)
917F3 provides versatility with shot control and more distance in a compact profile fairway. 917F3 offers less spin versus 917F2 for a more boring trajectory. (Available in 13.5 and 15º lofts.)
In player testing, golfers properly fit for a 917F2 or 917F3 fairway experienced gains in ball speed and higher launch compared to 915F or Fd – for an average of 3 to 7 yards more carry distance. With both 917 models, players experienced more consistent speeds and higher launch than their 915 fairways. Players' SureFit CG position preferences were similarly distributed between Neutral, Draw and Fade.
Optimised head shapes and structures, designed to produce specific acoustic frequencies, deliver a tour-inspired sound and feel that the world's best players demand. SureFit CG, by aligning the centre of gravity with the impact position, also contributes to a more solid feel.
The new Titleist 917 fairways will be available in golf shops worldwide from 21st October (RRP to be confirmed).
Titleist: Golf's Symbol of Excellence.
TOUR TALK - 917 Fairways on Tour
Titleist 917 fairways have earned overwhelming validation and success with tour players around the world. Since the seeding and validation process began at the PGA Tour's John Deere Classic and the European Tour's Made in Denmark in August, more than 75 new 917 fairways models have been put into play across the worldwide pro tours.
"I think the new 917 fairway metal is Titleist's best yet," said Jimmy Walker, who has new 917F2 15º and 917F2 18º models in the bag. "I played with the 3-wood at home after the PGA Championship and loved it. I then confirmed my numbers on Trackman on the range at Firestone, where I put it in the bag the first chance I got."
"The 917F is the newest club in my bag and I absolutely love it," said Justin Thomas of his new 917F3 15º. "I gained significant ball speed and used SureFit Hosel to increase loft from 14.25º to 15º. I now carry it from 270-280 and it can roll out to 290-300, depending on conditions. It also has a great feel to it."
Other players currently gaming new 917 fairways include Scott Piercy (917F2 13.5º), Webb Simpson (917F2 15º), Geoff Ogilvy (917F2 16.5º, 917F2 21º) and Soren Hansen (F2 13.5).
TOUR-PROVEN SHAFT MATRIX:
The 917's high-performance stock shaft matrix features four new aftermarket options from the three most played shaft families on the PGA Tour to fit a wide range of players and swing speeds. Each of these shafts will be making their market debut with 917 fairways.

The stock lineup includes the Aldila Rogue M*AX 75 (mid-launch); Fujikura Speeder Pro TS 84 (mid-launch); Mitsubishi Diamana Limited S+ Blue 70 (mid launch), and Mitsubishi Diamana Limited M+ Red 60 (high launch).
In addition, Titleist offers an industry-leading number of custom shaft choices.
---
What do you think? leave your comments below (Comments)
---
Tags: Titleist
---
PLAY MORE PLAY BETTER - LATEST TUITION TIPS
---
Leave your comments below
comments powered by

Disqus