Chipping Pro Review
---
New to the market in 2016 the Chipping Pro is a training aid designed to help you improve your chipping focusing on the chipping arc. With the average 18 handicap golfer only hitting an average of 3-4 greens in regulation per round improving your short game with the use of a training aid like this could be the perfect way to lower your golf handicap and the Chipping Pro could have you chipping like a pro in no time.
This small, 29x22x5cm (around the size of a sheet of A4 paper), handy device can be used both indoors and outdoors, will easily fit into your golf bag or work bag and you don't even need to use a proper golf ball, it is all about making the correct swing.
Simply place place the Chipping Pro on a flat surface with enough room to swing and pick a target. You must make sure the flap on one end is set to a 35°, which is the maximum angle allowed. When you make your swing, you should avoid hitting the obstruction block at the back and you must make sure you strike the indicator flap with your club as you follow through. If the flap ends up flat, it is the sign of a well-executed chip.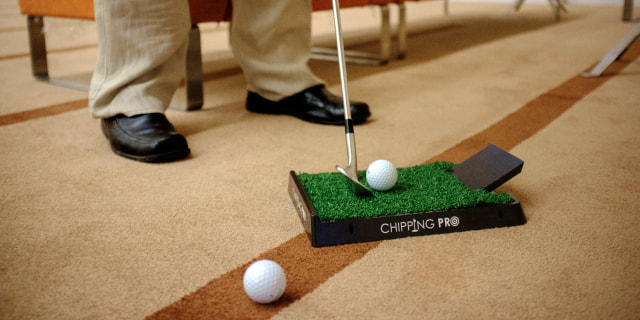 The Chipping Pro is extremely easy to set up both indoors and outdoors, all you have to do is place it on the ground facing your target, lift up the flap and away you go. You don't even have to use proper golf balls if you're practicing indoors, air-flow balls will do the trick just as well.
Remember this is about creating the right chipping arc and producing the perfect impact. There is no need to worry about the flap damaging your club either, I hit numerous chips with this aid and had no damage to my wedges whatsoever.
This handy training aid will help you instil a repeatable chipping action and have your ball finishing nearer the target with every single chip shot you play. You'll soon be on your way to becoming the next Phil Mickelson!
https://www.youtube.com/watch?v=pD4AU_wqwrs
For more information visit www.chippingpro.com or to buy online in the UK, priced £39.99, visit: u4golf.com


---
Related Content:
---
---
Comments