How to Prevent Golf Injuries
---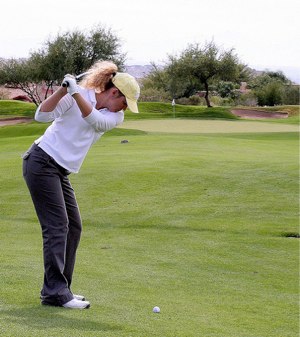 As in any sport, golfers are susceptible to a wide range of injuries that threaten to take them away from the activity that they love. If you aren't playing at the professional level, then you probably don't have access to a personal sports doctor, but don't worry—this article will cover the most common golf-related injuries and offer you tips on how to prevent them.
Golfing Injuries Most Often Affect Four Body Parts
As you can imagine, golfing injuries mostly revolve around the upper torso; however, if you followed Tiger Woods this year, you know that lower back injuries are common, as well. In general, there are four body parts that are most disposed to injury: shoulders, elbows, back and hands.
Shoulder tendinitis is perhaps the most common golf-related injury. Tendinitis develops after a motion is repeated vigorously and for a prolonged period of time.
Everyone's body is different, so there is no set limit to how many swings lead to tendinitis. A full 18 holes might hurt one golfer, while another golfer could spend all day at the driving range without inflammation. To prevent tendinitis, listen to your body; if your shoulder aches, then take a break. Other shoulder injuries include torn rotator cuffs, separations and instability.
Back injuries also are fairly common among golfers. Muscle strains and lower back pain can develop after overuse, while awkward follow-throughs can cause herniated disks. Likewise, repeated use of the elbow joint can lead to golfer's elbow, bursitis and tennis elbow. Your hands and wrists also can feel strained from overuse, leading to sprains, finger fractures, trigger finger and wrist tendinitis.
3 Golf Tips That Can Help You Prevent Injury
Mayo Clinic provides an overview of basic rules of safe golfing. The top three ways to ensure that you enjoy an injury-free day are:
Warm up with a brisk walk or jumping jacks
Ease into your training by pacing yourself
Stretch your back and arms regularly
Following those three rules will keep you in good shape and prevent your body from feeling overworked after a round of golf.
It's also important to choose your footwear properly. You'll be standing throughout most of the day, so wear shoes that are comfortable. Also, consider leaving the long cleats at home; opting for shorter cleats can provide you with more maneuverability and can prevent knee and ankle strain.
How to Adjust Your Swing to Prevent Injuries
If you are experiencing fatigue in your back, elbows, shoulders or wrists, then you should consider adjusting your swing technique or your equipment. If you are experiencing back pain, focus on keeping your spine vertical as you follow through during the downswing.
For shoulder pain, try shortening your backswing by a few degrees. If you are feeling pain in your wrists or elbows, you might be using equipment that isn't suited to your body. Experiment with larger and softer club grips, try a different club length or find a club that doesn't vibrate.
As with any other physical activity, it's important to exercise regularly and follow a proper diet. Exercises should focus on both strength and flexibility, and your diet should incorporate all necessary nutritional groups. Take care of your body, and you'll be playing golf well into your later years.
Photo Credit: D.Holgart via Flickr - www.flickr.com/photos/david-hilgart/
---
Melinda Bailey is the blog manager for 9 & Dine Ladies Golf Apparel and focuses on providing golf instruction and fashion tips for women. You can read her Women of Golf blog or connect with her via Twitter @9Dine.

---
Related Content:
---
---
Comments