999 Updated Questions on the Rules of Golf 2012 – 2015
---
"The easiest and most enjoyable way to absorb and understand the Rules"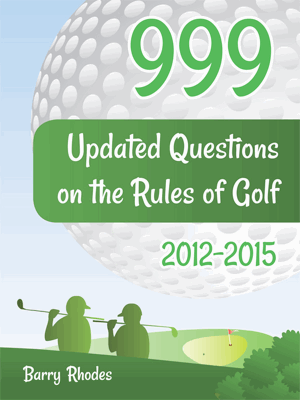 Most golfers would like to know the Rules of Golf better and Barry Rhode's ebook the '999 Updated Questions on the Rules of Golf 2012 – 2015' is the smart way to learn the Rules.
'999 Updated Questions' is delivered in two downloadable, standard file formats; an Adobe Reader file (.pdf), which can be read on all computers, and a Mobipocket file (.mobi) for eReaders, tablets, smart phones and other personal digital assistants.
Readers can easily dip in and out of the content which contains interesting scenarios, many of which readers will recognise and relate to.
Barry provides a selection of questions, answers and explanations to the various situations encounted on the golf course. Answers are conveniently located immediately beneath each question and are directly referenced to the applicable Rule of Golf, or Decision on the Rules.
Questions are tiered into three knowledge levels:
There are 333 simple questions that every golfer should be familiar with
There are 333 more difficult questions relevant to both casual golfers and Golf Club members
There are 333 advanced questions for those seeking to expand their knowledge of the Rules
For variety, the questions are further subdivided into three formats; true or false, open answer and multiple choices. A detailed index provides an easy and convenient way for readers to reference specific situations as they arise.
Barry commented '999 Updated Questions on the Rules of Golf 2012 – 2015' will assist all golfers, whatever their level of ability, to enjoy their sport more, improve their scores and help preserve the integrity of the fantastic game of Golf.
To buy online visit: glfs.hk/999-rules-of-golf
Testimonials received on the book: '999 Questions on the Rules of Golf'
"I love your practical examples, and your "999 Questions on the Rules of Golf" is a great read. I was struggling to find a good resource for the interpretation of the rules of golf....now I have your web site, your book, and your emails. They're awesome, thank you." DB
"Barry has come up with a way of explaining rules situations that will not only entertain the reader...it will educate him or her and help make them a better golfer. Keep a copy in the grill room at your Club...in fact purchase two or three...they will get worn out from use." DS
"Thank you so much, the ladies think this book is fab. I bought 3 for 2 of my friends & one for myself and low and behold somebody else took mine, so I am having to buy another one. Let's hope I can keep this one for myself." FC
"I am a member of the book club at my golf club and was at your talk last year – very interesting and really enjoyed it. You will be glad to hear that I bought 4 of your books as prizes afterwards and the winners loved them!" NM
"Your book is G-R-E-A-T!!!" MF
Barry Rhodes writes a regular blog of miscellaneous content on the rules of Golf at www.barryrhodes.com plus www.RhodesRulesSchool.com which provides low-cost, downloadable products that are ideal for Golf Clubs to spread knowledge on the Rules of Golf to their members (quizzes, notice board content, newsletters, PowerPoint presentations, etc.)
---
To read the rules articles on Golfshake visit: www.golfshake.com/improve/rules/
---
Related Content:
---
---
Comments