Putt Pad - Focus on the Target Line
---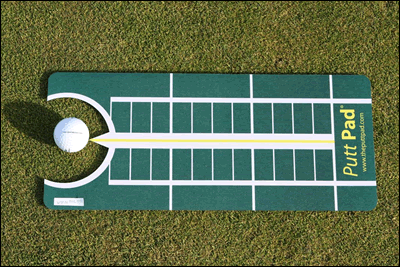 The Putt Pad is a new putter training aid designed to help golfers accurately identify and hit their putts on a specific line. With additional measuring marks the Putt Pad can be used on the backstroke to assist with hitting the ball with the desired speed.
Similar to the Putt and Groove and to some degree the Aim-Mate the Putt Pad aims to help golfers establish the initial target line plus with the measurement markers provides feedback on backstroke and ball speed.
The Putt Pad lays flat on the ground at only 1/8 in thick. You can practice your putting stroke over the Pad while aligning your putter up with the guidelines. This will help you achieve square impact at the point of contact between the ball and the putter. There are three guidelines in which you can choose to follow. The outer guidelines are intended to align the edge of the putter. Since most putters have an established mark to show the ideal point or "sweet spot" of the club, the center guideline can be used to align with the center mark of your putter.
To help you understand how far a putt will travel, the Putt Pad has distance markers spaced at one inch intervals. Being able to actively measure the length of the backstroke allows the you the ability to establish how far a putt will travel for various conditions on the putting surface. Since the Putt Pad is made of porous cellulose rubber, it can lay flat on a contoured surface.
More information is available via shop.theputtpad.com and will be available in the UK very soon.
---
Related Content:
---
---
Comments