Aim-Mate
---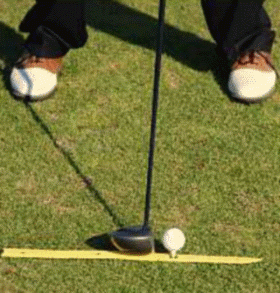 Golf is fun, but can also be frustrating, sometimes in the same round. Consistency is probably the element of the game that most golfers are looking to improve. Simple to use, intuitive, versatile, and value for money, Aim-Mate has been crafted to help golfers achieve this goal.

Aim-Mate will help to improve the golfer's directional alignment and understanding of the swing plane. This portable and multi-purpose product enables you to perfect your skills on the driving range, practice green and on the golf course in non-competitive games.

Aim-Mate has been designed to help the golfer with their alignment, long game, short game and putting also. To achieve this, both faces of the Aim-Mate are used. Below we describe the basic modes of use for Aim-Mate, but you may find other ways that meet your golfing needs.

Aim-Mate Features

* Reversible product, the two faces each have very different uses. Use the long play face and the putting face to help improve multiple elements of your game. Multiple aids in one.
* Simple to understand and use
* Suitable for all levels and age of golfer
* Suitable for left and right handed players
* Compatible with all woods, irons and putters
* Soft rubber construction so no scratch damage to your clubs when using it
* Accommodates most styles of Tee so you can use in a practice round or down on the range

Aim-Mate Benefits

* An effective alignment aid that you can carry in your pocket
* Increases directional accuracy through improved target alignment
* Assists with your set up routine.
* Use the putting channel to help you improve your reading of greens
* Aids understanding of the swing plane
* Reduces divot damage on a grass Tee
* Will help to reduce your handicap and so you can enjoy your golf more
* Lose less balls and save money

Golfshake will bring you a more in depth feature review shortly, for more information visit www.aim-mate.com



---
Related Content:
---
---
Comments