Know your yardages and the importance of gapping!
---
Post by Cambridgeshire County Golfer, Ed Dimambro
---
I am positive that somewhere along the line we have all encountered someone at our golf club that likes to tell you he hits the ball a lot further than they actually do, now is this based on the belief that they can genuinely hit it this far or just simply a lack of actual statistical evidence to back up these claims?
Whilst hitting the ball further would benefit us all, it might not be attainable to most, so it is important to find other ways to increase our chances of improving our scores. I think that knowing exactly how far you are able to carry each club is undervalued by most, which on face value is complete madness.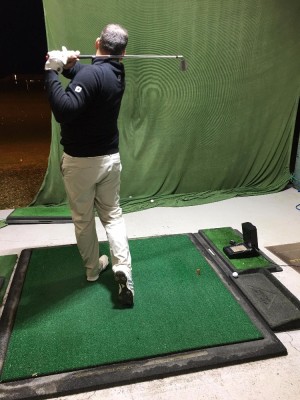 Can you imagine a tour player or elite amateur being able to compete in their respective events without knowing exact distances?
Notice how I have pointed to how far the ball carries and not total distance, this is because for me the carry distance is far more important than the total distance. I want to know, just how far through the air I can hit each of the clubs in my bag which in theory will be fairly consistent before we take into account how the ball is sitting and wind etc. What I cannot control is how the ball reacts when it lands as this will vary from golf course to golf course and as such you can adapt to that on the day; i.e. soft greens/fairways or firm and bouncy.
So I will now go one step further than the title and say – know your carry yardages! This information will have a significant impact on your course strategy, such as:
Off the tee – to take on the trap or not to take on the trap, that is the question! Will help you when considering the various hazards lying in wait.
Laying up – what club do I hit to leave me the yardage that based on my skill set gives me the best chance to save par?
With the wonders of our ever easing access to information, getting in a session with your local PGA pro to get your numbers is affordable and of great benefit.
What I have included below are my stats from a session I had with David Cox at Cambridge Golf Driving range, to show you the sorts of information that you can get. I was obviously pleased with the driver stats I had which has been down to a winter gym routine my coach helped with.
For this session we were using Foresight Sports GC2 and the ball I currently use, the Titleist Pro V1x and I had a willing assistant in Matt 'Boom Boom' Holbrook who helped set up the gapping session. Hopefully the images from the day give you an idea of one of many ways you can get it checked.
With the first competitions I will be competing in starting in April, getting up to date distances to use will be extremely helpful for me this year and is something I will feedback to my coach.
For me the carry numbers came out as follows:
| | | | |
| --- | --- | --- | --- |
| Club | Carry (yards) | Club | Carry (yards) |
| Driver | 315 | 7 iron | 185 |
| 3 wood | 270 | 8 iron | 172 |
| 2 iron | 250 | 9 iron | 160 |
| 3 iron | 235 | Pitching wedge | 147 |
| 4 iron | 225 | 50 degree | 131 |
| 5 iron | 212 | 58 degree | 116 |
| 6 iron | 201 | | |
The session cost just £25 and took about 30 minutes to complete. Now I have a very good base to build on going into competitions with the firm knowledge of just how far I can carry the golf ball.
What this can also do for you is highlight any areas where the gap between clubs is either too big or too small. I was really happy with my gapping, but in the past I have seen big differences between clubs.
From what I have been able to establish from reading online a gap between 10-15 yards per club is about average, when you stray too far either side of that range it could be time to change up your equipment to get the most out of your 14 club allocation.
A quick summary of the benefits:
Cost and time effective
Help with course management
Can identify gaps in club yardages
I recommend you get booked in with your local pro ahead of a busy summer of dream chasing and handicap bashing, to find out just how far you do hit it so you can manage your way around the course better.
It is information you could write down and keep in your scorecard holder or attached to your golf bag. Look forward to seeing you tweeting @Golfshake with your gapping session data soon.
Happy golfing y'all!
---
Have you ever undertaken a session to understand your yardages and gapping? Did you feel it made a difference?

---
Related Content: top tips Ed Dimambro
---
---
Comments