Esker Hills Golf Club Review
By: Andrew Picken | Thu 27 Jul 2023 |
Comments
---
Around 10,000 years ago, the retreating glaciers of the Ice Age created the stunning landscape of sweeping valleys, natural lakes and free draining soil on which Esker Hills is built.
Previously used as agricultural and grazing land it was handed to Christy O'Connor Jnr for him to create a golfing layout of a unique and interesting form. Each hole has its own character and style to suit the terrain.
Located in Tullamore, County Offaly in the heart of the island of Ireland, Esker Hills was the childhood golf course of Shane Lowry. He progressed quickly from the local pitch and putt to the club as a member with several of his family already present.
There is a clear and justified pride in his links to the course, club and the town, as his achievement as Champion Golfer in 2019 was an immense thing for Irish golf as a whole. For this to be achieved at Royal Portrush made it even more special.
There are pubs featuring murals of his image; there is signage all over the club itself acknowledging its support. They even have special posters attached to the tee markers wishing him luck in forthcoming major events.
He is a local man with many of his close family still heavily involved in the administration and promotion of the course. It is absolutely right to celebrate the work of the club as he developed through the junior ranks.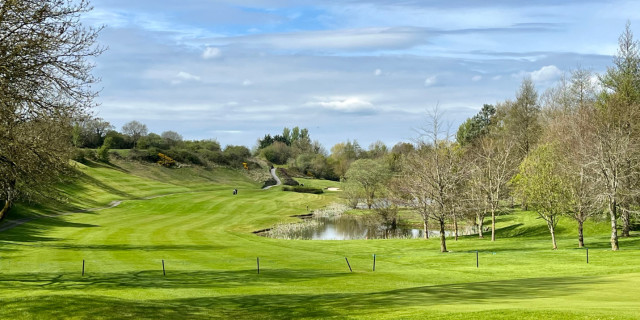 We were lucky as our playing partners included a local representative who could offer a deep insight into the venue and its history and links directly to Shane.
Many thanks Ray Molloy for your company and hospitality and ball spotting abilities that were unfortunately needed on a day when my golf became hard but still very enjoyable.
Lowry's Open Championship achievement is celebrated still and all whom I met was able to share the stories of what this event meant to them.
There is no doubt in my mind that starting his golfing journey at Esker Hills led to him becoming one of the very best short game players in the world. Shane has provided a legacy for this area that will last forever.
During the round I was able to play the game of 'what would Shane do here?' and then comparing it to what I was capable of copying in my golf game.
The Golf Course
I can give no better example of this concept than the very first tee box. The first hole has a 90-degree dogleg right with a forest and out of bounds at the shoulder of the dogleg.
Every player in our group played forward to the required distance, playing the opening par 5 in a conventional manner. This included single figure and highly competent golfers.
This compared to Shane, who as a junior was prone to compete in club events by hitting a drive directly over the forest area, cutting the corner and negotiating the well-established trees. Allowing him to attack the green with his second shot.
It would have never entered into my head to play this hole in that manner and I know of few who would have the skills to carry it off.
This was a perfect illustration of the abilities of the current professional compared against a club standard golfer.
The second hole has its own piece of local history with a hole in one being recorded on this 326-yard par 4 by a man of 74 year's of age called Johnny Flaherty. Sir, I tip my cap to you. A Hurling champion and local legend.
The third hole requires a drawn tee shot to allow access to a well-defined green complex. The ground has a series of elevation changes and a variety of lies are part of the challenge given the swales and runs that protect it.
The 4th hole is all about placement off the tee to a plateau in the fairway allowing a flat lie. This looks stunning visually off the tee box. The 5th hole is an elevated short hole protected by water and sand and the ever-present mounds for the errant approach shot.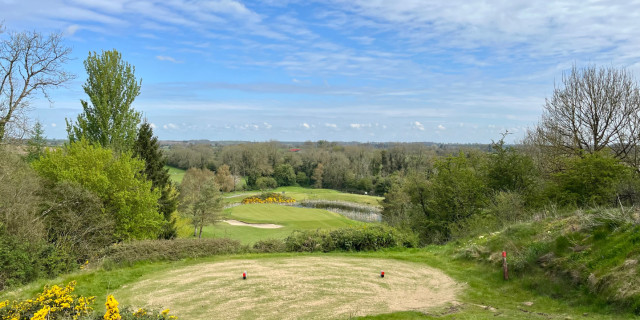 The 6th is a beautiful golf hole played from an elevated tee box requiring accuracy and a sensible approach to enable the next shots to be played with any likelihood of success. The water's presence becoming more evident the closer you get to the green.
The 7th hole is a cracker. This is the layout and view from the tee box:
There is no respite as the front nine is brought to a close with a great short hole that has mounded protection from every quarter.
The 10th hole is the easiest hole on the course. A great risk or reward par 4 with a green protected by lake and sand. A simple 303-yard carry avoid the water and bunkers. Pop it on the green. Great fun.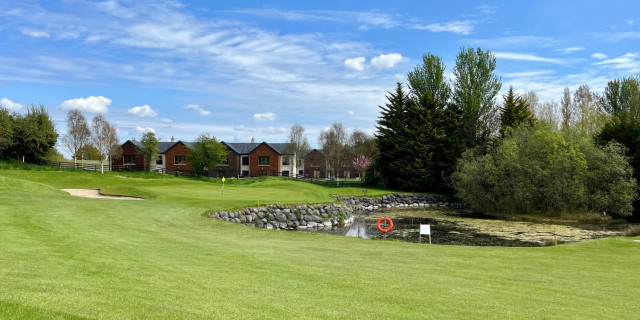 The course then returns back towards the clubhouse offering the chance to replenish supplies for the next holes. This is a course that could be walked but I certainly enjoyed it more by using a buggy given the sloping terrain and gradients. You will be tested sufficiently from a golfing standpoint without bringing exhaustion into the equation.
The 13th hole is a stunning short hole. Accuracy off the tee paramount. This is repeated at the 15th that is another gem of a short golf hole.
On many holes it felt like the best line would be that taken by the glacial water 10,000 years ago as it carved its way to form the land.
Summary
Esker Hills is a welcoming, progressive, fun course with 18-holes of challenging championship golf where every single hole has its own character and style.
Unusually it feels like an inland links due to the wide-ranging elevation changes. The greens were superb, sand based and immaculately true. Each afforded extra protection by the runs, swales and swoops of the ground itself.
Christy O Connor Jnr is quoted as saying:
"Designing Esker Hills gave me enormous satisfaction, plotting the course through nature's own sand-hills and valleys. Esker Hills is the only inland links type course I know of, which makes golf a pleasure all year round."
I was told a story of how Shane Lowry would visit a different green in turn with a bag of balls and would practice 'getting up and down' from every conceivable lie in between the other members playing the hole.
Having now played and enjoyed the challenge that the runs and swales provide, I can clearly see why Lowry is so good.
This is a fantastic golfing experience that I would highly recommend. I intend to return but this time bring with me my best game as it was unfortunately missing on this day.
Shane and his business partners have acquired a local mill and warehouse that has been converted into an excellent restaurant and bar. His business ventures have even extended to the creation of his own brand of Irish Whiskey.
Our group were presented with a sample of said whiskey on the day of our departure. Carefully packing the treasured liquid, I covered it in newspapers and dirty clothing as there was no room left in my case and it had to travel in the golf bag. Airport check in revealed the weight at 20.7 kg requiring a tidy supplementary fee. Once landed and reunited with my kit I checked that the bottle was unbroken and all was well. Unpacking at home I soon realised that my water bottle carried in the golf bag was still full of water and it weighed 0.8 kgs. What a plonker!
The signed, limited-edition whiskey will remain untouched and unopened until Shane Lowry obtains his next major win. It will then be enjoyed with glee. I hope to be drinking it very soon and would I love to be a fly on the wall at Esker Hills when it happens.
Every time I see the box I smile as it brings back great memories of yet another superb trip to the wonderful island of Ireland.
---
Related Content: travel review Ireland Hidden Heartlands golfshake Golf Courses Courses
What do you think? leave your comments below (Comments)
---
Leave your comments below
comments powered by

Disqus
More Golf Course & Travel Features
Plan your next golf break with Golfbreaks.com