5 of The Best Golf Resorts in Turkey to Visit
By: Liam Moore | Thu 11 May 2023 |
Comments
---
When we think of international golfing hubs; Spain, Portugal, Thailand and America are countries that are associated with first-class facilities. However, Turkey has gained popularity in recent years and through the introduction of several impressive golf resorts, the country now headlines the list of desirable golfing locations to visit.
Perhaps the most enticing feature about Turkey is its resorts; with virtually everything needed located on site, there is little reason to leave the premises. Despite Turkey - and the area of Belek in particular - being home to a wide range of outstanding venues, we have selected five of the greatest golf resorts to be situated within the country.
Have you managed to experience any of them?
---
Gloria Golf Resort
Gloria Golf Resort isn't just one of the best resorts located in Turkey - it's one of the greatest golf resorts in the world. This fabulous 5* resort boasts a collection of 511 rooms, suites and villas, with each offering designed luxuriously to mirror the resort's general atmosphere. The wide range of facilities means that the Gloria Golf Resort is ideal for golfers and non-golfers alike; this is a fantastic base if you are travelling with those who have no intention of golfing.
There are plentiful options when it comes to dining, where guests can choose from varied cuisines such as seafood, buffets, Turkish menus, Italian and Ottoman cuisine. For those who are looking for lively entertainment in the evening, Gloria Golf Resort provides a standalone nightclub that features direct access to the beach.
When it comes to golfing in Belek, visitors will be spoilt for choice as the pristinely kept golf courses benefit from the perfect Turkish climate. If you play the Old and New courses at Gloria Golf Club, you will benefit from resident green fee rates, but there are also alternative options. The Faldo Course at Cornelia Golf Club is a fantastic choice, whilst there are other offerings situated at Sueno Golf Hotel.
Cornelia Diamond Golf Resort & Spa
Cornelia Diamond Golf Resort & Spa is another superb accommodation option for golfers journeying to Turkey. The magnificent rooms match the hotel's rating of 5* and there is plenty on offer to keep you and your party occupied throughout your stay. There are a whopping 571 stunning rooms available - which have been divided into Standard, Garden Family, Lake Family Rooms, Diamond Suites, Golf Suites, Blue Suites and Presidential Suites.
Nine á la carte restaurants are dotted around the premises, ensuring no guest will go hungry with the sheer number of eateries attached to the resort. Visitors can indulge in Mediterranean and traditional Turkish cuisine, amongst many other offerings. As the sun dips, the resort bursts into life with 13 bars providing fantastic night time entertainment as you dance the evening away - including two that are operational 24 hours a day.
Cornelia Golf Club is located a mere 10-minute walk away, which means travelling to and from the venue is simple and stress-free. There are three brilliant loops of nine situated at Cornelia - the Faldo King, the Faldo Queen and the Faldo Prince - all of which will demand the attention and respect that they deserve. If you would like to explore courses further than this, then Belek is littered with tremendous layouts just waiting to be experienced.
Sueno Golf Hotel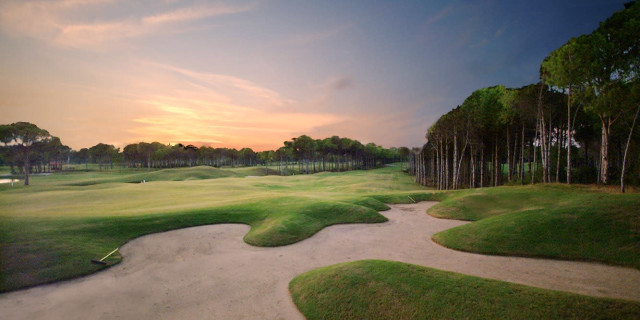 Set in the centre of Belek lies Sueno Golf Hotel, another unbelievably stunning 5* Turkish golf resort. Whilst the previous resorts certainly cater to golfers, Sueno was seemingly constructed with the golfer in mind - it is only a five-minute walk from your room to the first tee. Furthermore, Sueno Golf Hotel is one of the only hotels to proudly boast two golf courses attached to the premises. It is smaller, however, as there are only 174 rooms available, split into Standard Rooms, Senior Rooms, Junior Rooms, King Suites, Royal Suites and Jacuzzi Suites.
All dining options provide a relaxing atmosphere, whilst the food on offer is simply majestic. There are three restaurants in total - two of which are á la carte - and eight bars dotted around the resort. The sublime views on offer at each restaurant highlights the quality of holiday that you can expect to experience.
As previously noted, Sueno Golf Hotel is one of only a few Turkish resorts to have multiple golf courses attached to the facility. Golfers can choose between two fantastic options - Dunes and Pines - with both offering stern tests of golf. Additionally, there is a pro shop and brilliant practice facilities to help you dial in your game before you venture to the first tee.
Lykia World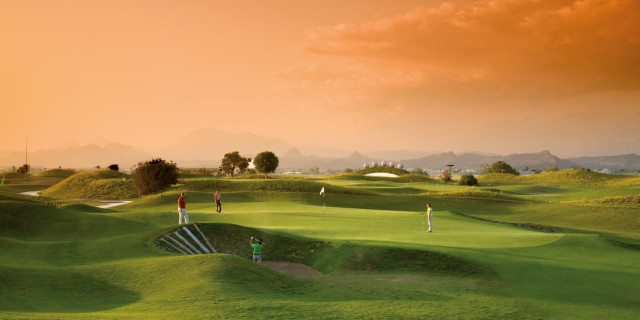 Lykia World is located just outside the international golfing hub of Belek and it is yet another fantastic option for travelling golfers. Generally, Lykia provides plenty of entertainment throughout the day, with guests enjoying spa and recreational activities - including Turkey's leading golf course, Lykia Links. Considering the 5* rating, it should come as no surprise that there are 11 different room and villa types available.
Lykia is another resort that features a 24-hour bar and generally, there are plenty of areas to unwind with a drink as you relax in the glorious sunshine. Additionally, there are four restaurants located on site and Rapsodi is the main offering, serving guests a wide variety of food on a daily basis. For anyone who would like to sample the local cuisine, head to the Turkish Restaurant that has been decorated to celebrate the local culture.
Whilst Lykia has many enticing benefits, there is no denying that Lykia Links - one of the greatest golf courses to be located in Turkey - is within easy access. It is a true European gem, from the expansive sea views to the gorgeous greens, and it will leave any golfer with a beaming smile as they vacate the premises.
Maxx Royal Golf Resort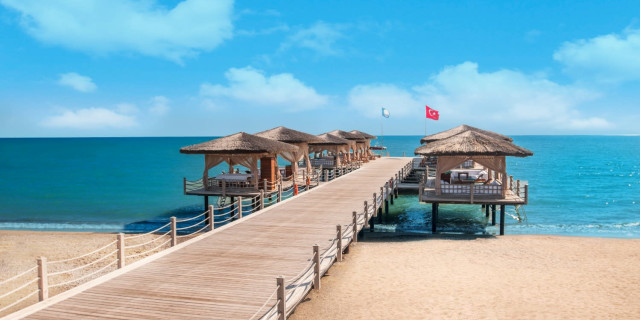 Maxx Royal Golf Resort is a fantastic choice for golfers who will be travelling in larger parties, as room upgrades are available - including the two-storey Albatross golf villas. Everything associated with the resort is dipped in quality and the impressive Montgomerie Maxx Royal Golf Course is located close to the hotel. The large selection of rooms will cater to all guests, with each hotel suite decorated in a luxurious manner.
Maxx Royal Golf Resort is another option that can cater around the clock, with food and drink available throughout all 24 hours of a day. The eating options located at the resort are tremendous and varied, with one main restaurant, five á la carte restaurants and 14 bars to relax and unwind in.
The resort is home to the Montgomerie Golf Course, which was designed by the iconic golfer Colin Montgomerie. It was the result of a multi-million-pound investment that saw the construction of the hotel and the glittering golf course alongside it. Considering the resort is located in Belek, you can always visit the other courses, although we advise researching travel time between venues.
---
Turkey continues its rise in prominence with international golfers who are drawn to its wide selection of championship-standard golf courses. The area of Belek is swarming with golfers from across the globe and the luxurious hospitality options match the sublime golf facilities. Adding the final layer of delight is the enticing climate, making Turkey a must-visit for travelling golfers!
For more, please visit our Golf Guide to Turkey.
---
Related Content
---
Related Content: Turkey travel golfshake golfbreaks Golf Courses Courses Belek
What do you think? leave your comments below (Comments)
---
Leave your comments below
comments powered by

Disqus
Plan Your Next Round
Ardglass Golf Club
County Down
from £22.00
Save 50%
Castlerock Golf Club
County Londonderry
Galgorm Castle Golf Club
County Antrim
from £13.00
Save 23%
More Golf Course & Travel Features
Plan your next golf break with Golfbreaks.com