Plan Your Costa Brava Trip: Find the Best Places to Stay and Play Golf
By: Golfshake Editor | Wed 28 Dec 2022 |
Comments
---
The Costa Brava, located on the northern coast of Spain, is a popular destination for golfers due to its excellent weather, beautiful landscapes, and high-quality golf courses.
Golfers can enjoy a wide range of courses with different challenges and scenic views, from seaside links courses to mountain courses with panoramic views of the surrounding countryside, typically between 10 to 15 minutes of each other. Costa Brava is home to several revered courses including PGA Catalunya, Emporda Resort and Golf de Pals.
The region is easily accessible, with several airports serving the area and Barcelona is only an hour's drive to the south making the Costa Brava an escapism for not just avid golfers, but those who like to explore local history, indulge in the rich cultural heritage, visit beautiful beaches, and access a variety of other recreational activities.
Below we explore 5 places to stay and play if you are planning on a golf trip to the region.
PGA Catalunya
PGA Catalunya is not only the best resort within the Costa Brava, but also one of the best throughout Spain as a whole. The site boasts two accommodation options during normal travel times: their marvellous 5* hotel or luxury villas. For the latter, expect to find a contemporary design that has been styled by award-winning architects and interior designers. Hotel Camiral is the ideal place to unwind and relax after a tiring afternoon golfing in the glorious Spanish sun. It offers family activities, sports experiences and friendly staff.
Now to the important part: the golf. PGA Catalunya have two exceptional golf courses to choose from – Stadium and Tour. The former was completed in 1999 and designed by Angel Gallardo and Neil Coles, both golf professionals. It has hosted the Spanish Open on three occasions – 2000, 2009, 2014 – and it is a frequent stop off for the European Tour. The Tour course opened in 2005 and while it shares the same par of 72 as its sibling, it plays slightly shorter and a tad easier. Regardless of what course or accommodation option you choose, there aren't many more luxurious options than PGA Catalunya.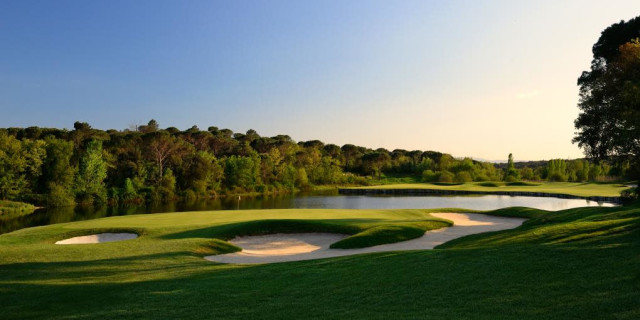 Our golf travel partner Golfbreaks.com offer a range of packages for booking a trip to stay at the PGA Catalunya resort.
Emporda Resort
Emporda Resort is often overlooked due to it being situated closely to PGA Catalunya. However, if you're looking for a resort-based holiday, there are seldom more premium options than the stunning Emporda. Similarly to Catalunya, it boasts two golf courses that are strikingly different. The Links' vision was to emulate British and Irish seaside courses and the facility will require you to formulate the best strategy as you battle your way through dunes, lakes and well-placed bunkers. Measuring at 6,746 yards, it demands excellent striking of the ball and creativity if you are to score well, par 71.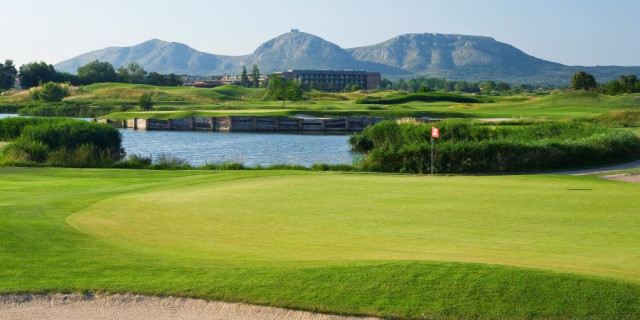 The Forest is a completely different animal and reflects the local culture more as it is a traditional Mediterranean pine forest course. Players will be forced to steer their way through multiple rolling fairways – that have been carved through trees. However, it is vital you retain your mental composure for the duration of the round as the expansive lakes have the ability to wreck a card at any given moment. It measures 6,165 yards and has a par of 72.
Considering that Emporda Resort has been hailed as one of the greatest golf resorts in Spain for quite some time, the recent refurbishment that took place has only enhanced its appeal. The general setting of the resort, nestled amongst the stunning landscapes of the Emporda region, supplements the visit while some of Spain's finest beaches are also local to the complex. In addition to this, there are several historic villages that line the perimeter of the Emporda region.
8 Reasons to Stay & Play at Emporda Golf
Golf de Pals
While you won't get accommodation at Golf de Pals, you will get a superb golf course with pine forest surrounding the course that was planted over seventy years ago. Baltasar Parera Vilar and his wife provided the land for the facility to be built upon, as well as funding the construction of the original nine holes and clubhouse. It initially played as a nine hole course for two years, prior to the extension in 1968 before being completed in 1970.
It is located on the farmland of Arenals de Mar and has held numerous professional events. It hosted the 1972 Spanish Open, which was the first official event in European Tour history. Since its creation, it has been considered as one of the greatest golfing venues in Spain, thanks to its creative design. The site continues to host professional events and it has seen many famous faces walk through its doors and play its splendid golf course. It is a long course at 6,882 yards and par is 72.
To stay here and access accommodation visit our golf travel partner Golfbreaks.com
---
If you're looking for something a little different or would like to explore the surrounding area of the popular tourist district, then there are two courses that should pique your interest. However, they are located one hour away from Girona, so be prepared to arrange transport requirements. Alternatively, both of the sites are resorts and therefore offer accommodation.
TorreMirona Relais
TorreMirona Relais offer incredible lodging options and you have the choice between the fabulous 4* hotel or the sumptuous apartments at the Aparthotel TorreMirona Vila Birdie - the hotel also has a golf course and a luxury spa. At the hotel's restaurant, El Canigo, you will enjoy the tastes of the Mediterranean with a varied mix of fresh fish, meats, fruits and vegetables dependent on the season of your visit. The complex is located near the French border and provides an alternative setting away from the brimming and busy Girona.
Visitors who have booked accommodation at the hotel will receive discounted prices for greens fees and additional practice facilities. The 18-hole golf course is welcoming to newcomers of the sport yet will still provide a challenge to those who are more experienced with the game. The weather all-year round is typically excellent and therefore, this resort becomes viable throughout the 12-month cycle. It measures at 6,792 yards and has a par of 72.
Find out more and how to book with our golf travel partner Golfbreaks.com
Hotel Golf Peralada
Hotel Golf Peralada doesn't just offer an impressive array of golfing facilities but supreme accommodation suites that will suit all types of party sizes. There are 64 rooms to choose from and each room's interior has been designed for ultimate relaxation. The theme of the rooms is peace and that's exactly what you'll get when you're ready to unwind from the blistering sun for an hour or two. The rooms available are: presidential suite, suite heritage, junior suite, premier superior room and a premier room.
Tucked between the Pyrenees and the Costa Brava, while enjoying all of the benefits of the Mediterranean climate, is where this stunning golf course lies. The main course is an 18-hole layout with four tees on every hole. Its distance is 6,638 yards and it plays as a par 71. However, if you're looking to finetune your short game or approach play, then Peralada also offers a short 9-hole course with the holes ranging from 48 to 118 yards. This is a fairly flat course with no water hazards but be careful to avoid the few bunkers that are dotted around the playing surface. Every hole is supplied with two tees and it is 1,438 yards in total.
To book online visit our golf travel partner Golfbreaks.com
---
Related Articles
Travel Guide to the Costa Brava
The Best Golf Courses to Play in The Costa Brava
---
Related Content:
What do you think? leave your comments below (Comments)
---
Leave your comments below
comments powered by

Disqus
Plan Your Next Round
Ardglass Golf Club
County Down
from £22.00
Save 50%
Castlerock Golf Club
County Londonderry
Galgorm Castle Golf Club
County Antrim
from £13.00
Save 23%
More Golf Course & Travel Features
Plan your next golf break with Golfbreaks.com