Belton Woods Hotel, Spa And Golf Resort Stay & Play Review
By: Derek Clements | Mon 14 Nov 2022 |
Comments
---
LINCOLN is one of the most beautiful and historic cities in England, and just 20 miles away you will find Belton Woods Hotel, Spa and Golf Resort, a magnificent golf resort boasting a stunning hotel and two golf courses.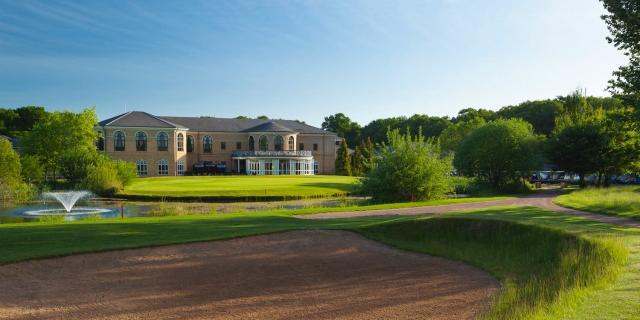 It is unusual to find a two-course resort where both courses are outstanding. Belton Woods is that rare exception. But more about the courses later.
Part of The QHotels Collection, Belton Woods is located on the outskirts of Grantham and is easy to get to from most parts of the country.
The Accommodation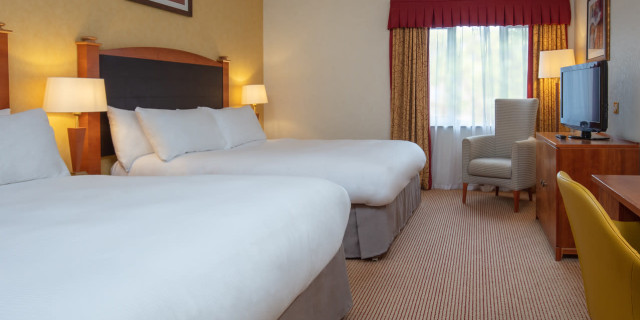 Belton Woods is a four-star hotel offering a variety of accommodation. Classic Rooms offer everything you could possibly want, while the Deluxe Rooms are even larger. All rooms feature an en-suite bath and shower, flat-screen TV with some Sky channels, a radio, work desk, coffee and tea facilities, and complimentary Wi-Fi. Unlike many hotels, the Wi-Fi use is unrestricted and works in all parts of the building.
If you are looking for a bit more luxury, Belton Woods also offers Superior Rooms, Feature King Rooms and Suites, including complimentary drinks and Elemis toiletries. Some rooms feature a private patio or balcony with views over the golf courses and surrounding countryside.
The rooms are spotlessly clean and well appointed, with modern furniture and fittings.
Spa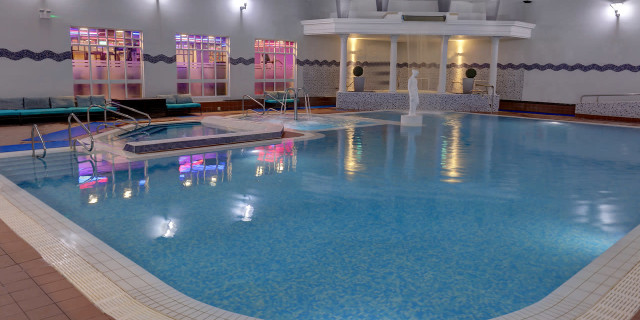 The spa at Belton Woods is the perfect place to unwind and features an indoor swimming pool and offers a wide range of treatments. There is also a fully-equipped gym, sauna, steam room and jacuzzi.
Bars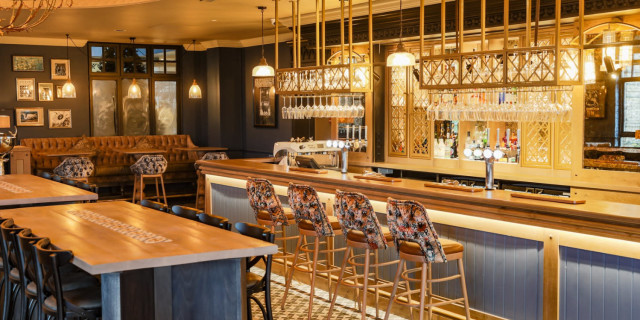 The Claret Jug is a spacious sports bar overlooking the courses and offering a wide range of drinks and snacks with Sky Sports. The large main bar, staffed by friendly, helpful staff, is a delight. There is a wide choice of beers, wines and spirits on offer.
Food
The dining experience is superb. The Belton Woods Bar & Grill serves classic English meals made with fresh Lincolnshire ingredients. My rump steak melted in my mouth and the Belton burger is to die for. Alternatively, after playing 18 holes you can relax in The Claret Jug, which boasts great views of the Lakes Course, offers Sky Sports and homemade food. Breakfast is self-service and, again, the bacon, eggs, sausage and mushrooms are all locally-sourced. You can also opt for cereal, yoghurt and a mouthwatering selection of fruit.
Places to Visit
Make sure you take a look at the magnificent Belton House, owned and run by the National Trust. It is about half a mile away and is a magnificent Manor House set in fabulous grounds, with deer roaming wild. And you can't come here without a trip to Lincoln, where you should visit the cathedral and castle, which was built in the 11th century.
The Golf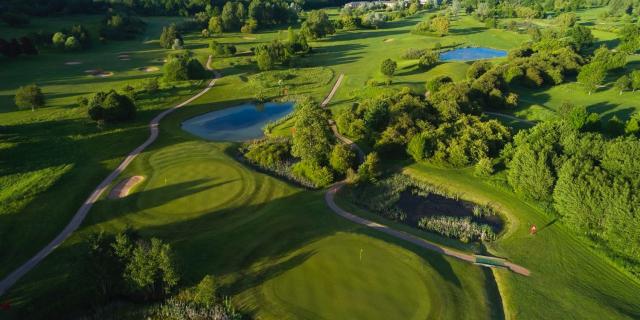 Before we get to the specifics, you need to know that when I visited there had been torrential rain and I was concerned that the fairways might well be waterlogged. Not a bit of it. Both courses were in terrific condition, with greens like snooker tables.
The courses were established in 1991.
Lakes Course, Par 72, 6,776 Yards
If you regularly watch golf on Sky Sports you will already know all about the Lakes Course, which hosted the EuroPro Tour in July 2022 and provided a real test for Europe's up-and-coming professional golfers. As the name implies, the course features a lot of water.
Let's take a look at some key holes:
1st, par five, 505 yards. A challenging opening hole with trees on the left and bunkers left and right waiting to catch a wayward drive. There are two further bunkers some 50 yards short of the green, which is well protected by two more bunkers. A par here is a good score.
4th, par four, 404 Yards. Bunkers and a ditch bisect the landing area - a carry of 253 yards is required to avoid the water but a bunker to the right will catch a slightly miss-hit shorter ball. A ditch runs down the left, with bunkers protecting the green complex short right and left.
6th, par four, 424 Yards. Bunkers placed opposite each other from 200 to 220 yards will focus the mind. The approach is to a small well protected green.
8th, par 4, 358 yards. A birdie chance but the approach is played to a small green with water left and right.
9th, par five, 608 yards. A monstrous hole with a lake and bunkers to be avoid from the tee. The fairway is narrow and tree-lined with plenty of bunkers and a ditch be cleared in front of the putting surface. A brute of a par five.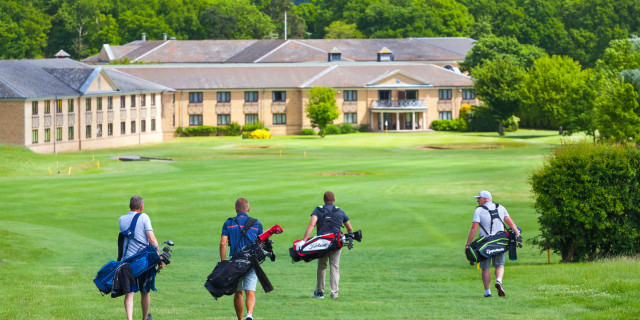 10th, par four, 364 yards. A wide fairway but then the challenge really begins as you face an approach to another small green that is surrounded by water on all sides.
13th, par four, 422 Yards. The landing area from the tee is narrow so calls for an accurate drive to avoid a large bunker to the right. The green is protected by swales and banking and a bunker short right.
17th, par three, 219 Yards. A challenging hole played to a yet another green that is surrounded by water - avoid that and a large bunker awaits at the back of the green. Oh yes, and there are also trees to the right.
18th, par five, 486 Yards. The 18th on the Woods Course runs parallel. The tee shot needs to be accurate to have any chance of reaching a small green protected by more water.
Woods Course, Par 73, 6,623 Yards
The Woods envelopes the Lakes Course with plenty of out of bounds to be avoided, and the good news is that there are far fewer water hazards to be negotiated.
Here are some of the highlights:
1st, par four, 405 yards. The opening hole is pretty straightforward as long as you find the fairway. There is a swale to the right and a bunker to the left. Avoid these and you are left with an approach to a small green protected by two bunkers.
2nd, par four, 374 Yards. Proof that a good par four doesn't have to be 470 yards long. There is out of bounds all the way down the right, bunkers left and a sloping fairway. Your approach is to a long, narrow elevated green protected by two bunkers.
4th, par three, 169 Yards. A beautiful short hole played to a tiered green - the key is to make sure you don't go beyond the flag and leave yourself a downhill putt.
7th, par five, 482 Yards. A great par five. It is a dogleg that demands an accurate drive to avoid a bunker on the corner of the dogleg. The second shot is the real challenge - if you can reach the green in two you need to avoid the seven bunkers that protect the green.
11th, par three, 202 yards. A cleverly-designed par three that appears narrower than it actually is. You play to a narrow green that is surrounded by sand. A challenging short hole.
14th, par five, 543 yards. Another great par five, with out of bounds all the way down the left. The fairway is pretty narrow, with trees and shrubs on both sides. There is a bunker at about 250 yards that has to be avoided and another 70 yards short of the green, which is protected by a further three sand traps.
15th, par three, 177 yards. Choosing the right club here is vital, with a bank at the rear of the green and deep bunkers left and right.
17th, par 4, 384 Yards. Perhaps the best hole on the course. Hit a five wood or hybrid to keep the ball in the fairway - go too far and you could end up in the water. You are then left with a short iron that requires you to clear two water hazards to reach a small green protected by two bunkers. The fact that it is stroke index two tells you everything you need to know.
18th, par five, 475 Yards. Avoid the bunker to the left, which sits at about 200 yards, and then you are faced with one of those decisions - do you go for the green in two or lay up? If you decide to have a crack you need to make a perfect connection to avoid the water, ditch and bunker. An excellent finishing hole.
There is also a state-of-the-art driving range, as well as a golf academy and well-stocked professional's shop.
For further details, please visit www.beltonwoods.co.uk or check out our travel partners Golfbreaks.
---
Related Content: travel review golfshake Golf Courses England Courses
What do you think? leave your comments below (Comments)
---
Leave your comments below
comments powered by

Disqus
Plan Your Next Round
Ardglass Golf Club
County Down
from £22.00
Save 50%
Castlerock Golf Club
County Londonderry
Galgorm Castle Golf Club
County Antrim
from £13.00
Save 23%
More Golf Course & Travel Features
Plan your next golf break with Golfbreaks.com