Pennard Golf Club Feature Review
By: Melvyn Davies | Thu 27 Oct 2022 |
Comments
---
Located near Swansea and boasting incredible views over Three Cliffs Bay on the Gower Peninsula, few courses enjoy a better setting than the magnificent Pennard Golf Club, which has welcomed golfers to its links for well over a century.
The layout today was largely created by the great James Braid and later C.K. Cotton, with the holes situated over undulating and characterful land, full of humps and hollows. But what makes this place unique is that the terrain is 200 feet above sea level - granting Pennard the nickname The Links in the Sky.
Golfshake Ambassador Mel Davies grasped at the chance to experience it for himself.
Pre-Round Thoughts
With Pennard being ranked 4th in the Golfshake Wales Top 100 and 83rd in the Overall Golfshake Rankings this was a course I've been looking to play for a good while.
My cousin has played here numerous times and has always said it's a course I needed to play.
Upon arrival we headed for the club shop and had a look round. We then headed upstairs for a coffee and a seat overlooking the course and its views - this only whetted my appetite to get out there even more.
We hit a few balls on the range, had a chip and putt then headed out towards the first tee.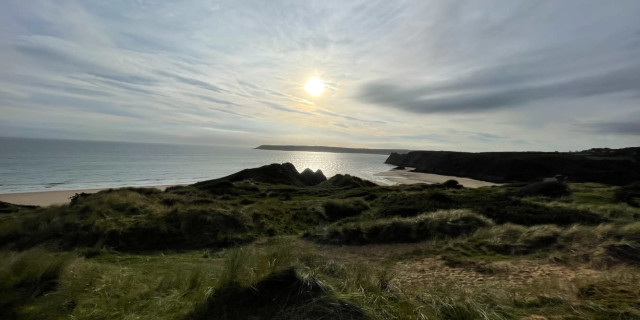 Front 9 Overview
The first hole really sets the scene for what awaits with dunes either side of the fairway and the road and out of bounds to the right. A good tee shot will leave a long approach shot which will be blind to most and a large green is nestled in amongst the dunes. A great yet playable hole for all to start the round.
Holes 6-9 are all par 4s of varying yardages where a good tee shot will set you up for approach shots that will offer up a variety of distances and club choices. This is the thing I enjoyed most about Pennard in that it gave you the chance and also challenge of hitting most clubs in the bag.
The 13th hole is yet another great par 3 heading back out towards the bay and the sea with a tee shot over the dunes to a green perched in amongst yet more dunes. A typical links pot bunker is short awaiting any tee shot not quite reaching the green.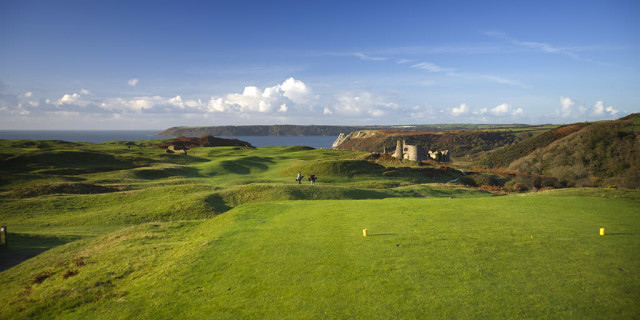 Back 9 Overview
The back 9 starts with a great par 5 that is a risk and reward off the tee - I opted for the safe route - and the approach shot is all uphill so don't under club or you'll find your ball coming back to you.
A mid to long iron par 3 is up next and getting the right club is paramount here as the green is so shallow. Next up is a driveable par 4 for the big hitters.
The 13th is a really tough par 3 at around 200 yards. You do get a great look at Three Cliffs Bay here though, so it's not all bad.
The 14th is not the longest but you really have to get your drive in the right place or you'll struggle to get to the green. The final par 3 follows which again requires a well struck mid to long iron. You then have two par 5s with 16 being a lot more straightforward than 17. To walk away with two pars or better from these will set you up nicely for the tough final hole.
The 18th takes you back to the clubhouse and is a great finishing hole. Two well struck shots get you onto yet another tricky green that will take all your green reading skills to get down in two.
Post-Round Thoughts
Well I can honestly say I was not disappointed one bit. Great course, wonderful clubhouse, friendly staff and views that will stay with me for a long long time.
The back 9 definitely gives you some views to die for but the whole course really lives up to its name The Links in the Sky.
The 16th hole gives you probably the best views on the course, so this for me was my favourite hole but there really isn't a poor hole to the eye here.
The course will be playable all year round as the drainage is A1.
Verdict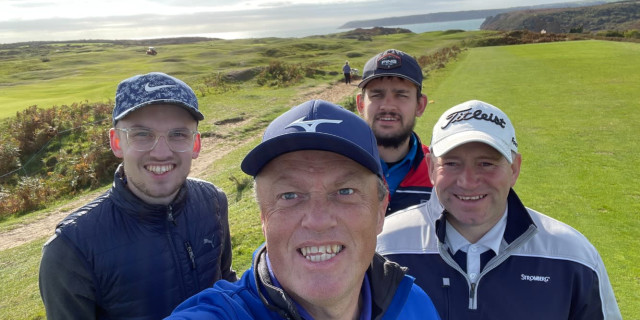 Pennard is a course you really must play, especially if like me you are a links fan. Great mix of holes, tough but great greens and the one thing I really like is that the holes don't just run one way then back the other like some links courses. This makes every hole a challenge which I really enjoy.
Thankfully for us we had my cousin playing so he was able to direct us where to go and more importantly where not to go. Saying that I believe Pennard is playable for everyone. It's well worth a visit for all golfers.
Overall Rating - 10
Course (Conditions) - 10
Course (Hole Variety/Layout) - 10
Course (Green Condition) - 10
Course (Challenge/Difficulty) - 9
Club Facilities & Clubhouse - 9
Practice Facilities - 10
Friendliness/Hospitality - 10
Pace of Play - 10
Value For Money - 10
---
Related Content: Wales travel review golfshake Golf Courses Courses
What do you think? leave your comments below (Comments)
---
Leave your comments below
comments powered by

Disqus
Plan Your Next Round
Ashburnham Golf Club
Carmarthenshire
from £24.00
Save 40%
Garnant Park Golf Club
West Glamorgan
from £8.00
Save 20%
Glynhir Golf Club
Carmarthenshire
from £10.00
Save 20%
More Golf Course & Travel Features
Plan your next golf break with Golfbreaks.com