Kington Golf Club Feature Review
By: Melvyn Davies | Fri 11 Sep 2020 |
Comments
---
Review by Golfshake Ambassador Mel Davies
---
Kington is the highest 18-hole course in England and stands at 1,284 ft above sea-level at its highest point, but as the website states; "do not be deterred though as the majority of any climbing is done in the car on the way to the Clubhouse!"
The golf-course was designed in 1926 by Major Cecil Hutchinson (who helped to create Gleneagles) and is set in glorious National Trust property. The course overlooks the rich agricultural land of Herefordshire and the Welsh borders and offers unrivalled panoramic views of the Brecon Beacons, the Black Mountains, the Clee Hills, the Shropshire Hills and the Malvern Hills. The terrain at Kington Golf Club has been described as an inland-links and it offers well-draining, springy moorland turf that is often playable when other local courses are waterlogged.
Pre-Round Thoughts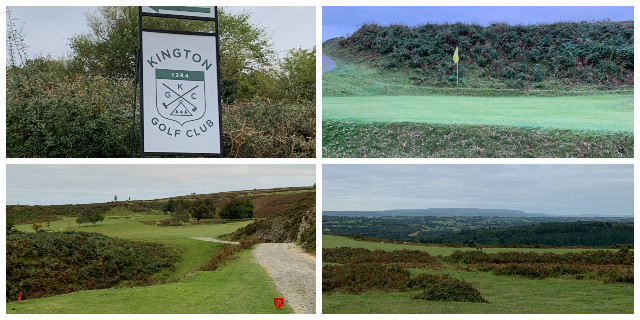 I have numerous friends that have played here over the years and all have said it's a course I needed to play. With this in mind, I was very excited about the prospect of this latest course review. Situated about 75 minutes away from where I live, the drive was quiet and pleasant, but when I reached the road towards the course it was then apparent how high I was going to be spending my morning's golf. Upon arrival, I was greeted by a member who gave me some much needed tips and advice, and after spending a few minutes taking the views in (along with some pictures) we headed off to the first tee via quick warm-up putts on the practice green.
On the walk to the first it was already abundantly clear that this was going to be a truly spectacular morning for golf on a course that looked about as natural as you could expect.
Front 9 Overview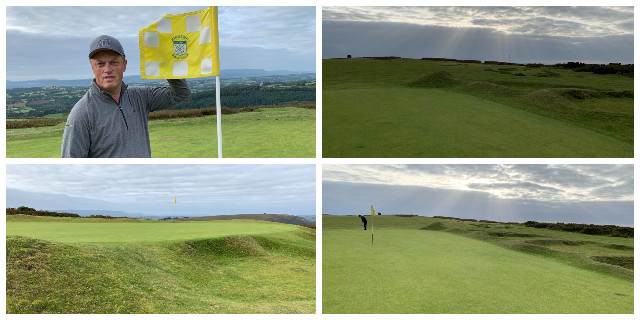 The 1st at Kingston has a fairway that seems as wide as the 1st looks at St Andrews, get a decent tee shot away and you're only left with a pitch into the green. The 2nd again is not a long hole and another decent drive just leaves a short shot into a relatively small and fast green with grass bunkers and bumps, run offs and hollows, all round which is a common theme on all of the greens. The first par 3 awaits next up and then the proper challenge starts with a tough par 4, where a good drive is needed to allow a mid/long iron into another small green. With another par 3 after and shortish par 4 following you really can get a score going if you avoid the heater/ferns and gorse.
The fairways are all very links like with barely a level stance which is a great challenge to achieve a good strike on the ball. Next up is the only par 5 on the front 9 and at under 500 yards this is a real birdie opportunity if again you can avoid the hazards lining the fairway. The 8th is stroke index 1 and a real tough hole. The front 9 finishes with a relatively short par 3, but don't be fooled as hitting any green on this course is no mean feat.
Back 9 Overview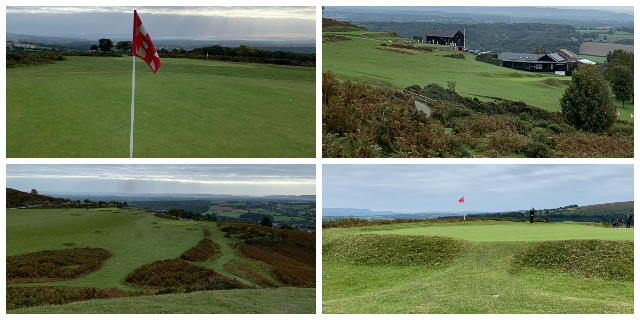 The back 9 starts with a nice easy par 4 but a tight par 5 follows and then a long par 3. Next up is a really tough par 4 before the third and final par 5 on the course - this hole was my personal favourite. A small and very tough green to hit awaits and a par here is not easy to come by.
A long but downhill par 3 is next up followed by two par 4ss that run alongside each other, again offering up possible birdie chances if the ball is kept away from the constant trouble awaiting offline tee shots. Last but by no means least is a truly great finishing hole. The hole is in front and below you, and a straight tee shot taking into account the sloping fairway can make the green easily reachable and eagles and birdies can be gobbled up, but like every hole here if you are wayward, big numbers can easily be run up.
Post-Round Thoughts
The course was in fantastic condition and can be playable for all levels of golfer. The better players would bring the hazards lining each fairway into play more but if avoided a score really could be found. I feel you need to be able to play every shot in the bag to record a good score, especially if the wind was up, but fortunately for us it was as benign as you could wish for.
There is a great clubhouse with views looking out to the 18th green which makes it the perfect setting in my eyes. This would make Kington an ideal venue for societies and golf days.
Everything about this course smacks of pure quality with views that at times can literally take your breath away. The greens were a standout feature. The size reflects the length of holes and the speed of them were fast without being silly as when the wind blows it would make putting nigh on impossible.
It's hard to pick out one specific hole as each tick every box. Amazing views, challenges and hazards all round.
Verdict
With the course being an inland links it is playable all year round, making Kington a very attractive venue. Greens are as good as you're likely to find, top quality fairways and some of the best if not the best views you'll see. At £25 for a weekday round, you will struggle to find better value anywhere.
This really is a must play course - Highly Recommended on Golfshake - and is definitely one I will be visiting again!
Overall Rating - 10
Course (Conditions) - 10
Course (Hole Variety/Layout) - 10
Course (Green Condition) - 10
Course (Challenge/Difficulty) - 9
Club Facilities & 19th/Clubhouse - 9
Practice Facilities - 7
Friendliness/Hospitality - 10
Pace of Play - 10
Value for Money - 10
---
Related Content: travel review England Courses
What do you think? leave your comments below (Comments)
---
Leave your comments below
comments powered by

Disqus
Plan Your Next Round
Kington Golf Club
Herefordshire
from £12.00
Save 30%
The Herefordshire Golf Club
Herefordshire
from £12.00
Save 15%
Leominster Golf Club
Herefordshire
More Golf Course & Travel Features
Plan your next golf break with Golfbreaks.com