10 Reasons to Stay & Play at Close House
By: Will Trinkwon | Wed 22 Jul 2020 |
Comments
---
Google any variation of 'best golf courses in Northumberland' and you'll see Close House alongside the likes of Dunstanburgh Castle, Berwick-on-Tweed and a few other favourites. Or rather, Close House's, since there are actually two full-length courses on the property, both of which are championship level tests.
The newer of the two, the Colt Course, is the site of the 2020 British Masters, weaving its way between the banks of the River Tyne and the remains of Hadrian's Wall. Then, as if one top-tier track wasn't enough, you also have the Filly, which is shorter but needs nous to score well. And, of course, you have Close House itself, a beautiful eighteenth-century mansion which is a feature of both courses, not to mention luxurious on-site accommodation: it's easy to forget that Close House doesn't just do excellent golf courses, it's a hotel as well.
All this adds up to a spectacular product, with many reasons to book in for a visit. From the splendour of the courses to the sumptuous No.19 clubhouse and attached restaurant, below are 10 reasons why Close House is consistently hailed as one of Newcastle's top golf resorts and why, when you have the time, you should book a trip.
The Excellent Colt Course
Let's start with the courses first, the meat and two veg of every respectable resort, and in the spirit of starting with the greatest positive, the first one to talk about is the Colt. As has already been mentioned, this is the longer and tougher of the two tracks at Close House. It's endorsed (as is the shorter Filly) by Lee Westwood, also Close House's touring professional, which immediately gives you a sense of its quality. It's an excellent design, characterised by upturned greens with subtle undulations and plenty of water hazards. Steep elevation changes add another layer of difficulty, as do bunkers, which are also plentiful. Views are stunning. It's no wonder that the course broke into the Top 100 list in the UK almost as soon as it was born.
The Shorter But Treacherous Filly Course
The second course at Close House is another stunner, and another great reason to plan a visit. Though it doesn't have the same cache as the Colt, the Filly is still an excellent course in its own right. Its number one appeal may be its amazing views, spanning the River Tyne Valley, while USGA specification greens and impeccable conditioning mean that this is every bit as high a quality experience as its big brother, the Colt. Length isn't a challenge, but don't think this means it's benign. It's a thinker's course, with plenty of rough, ancient trees and crafty doglegs that need to be negotiated soberly to make pars.
The Yearling Par 3 Course
Third, you have the Yearling par 3 course. This aims to provide a transition between Close House's PGA Academy and the two main courses. However, it's also a stand-up test in its own right and particularly good for practicing short game shots between rounds on the Colt and Filly. The holes range from 35 to 70 yards in length and, unusually for a par 3 track, which are often treated as 'inferior' to larger courses, receives the same, impeccable hand-cut greens as those on Close House's longer set-ups.
The Views
In addition to the excellent design of Close House's courses, what sets this resort apart is its views. The aesthetic is in-keeping with the Northumberland terrain, featuring gorgeous panoramas of ancient woods, many of which bisect the courses, and fertile arable farmland framed by rolling hills in the nearby River Tyne Valley. There are also multiple beautiful water hazards on the property (albeit, perhaps not so beautiful if you hit your ball into them), while the tall trees provide definition bolstered further by golden grass. On the Colt, in particular, players have to climb up and down hills, which results in some amazing views out over the surrounding valleys, for example from the green of the par-4 5th.
Accessibility
Close House is located less than 8 miles from Newcastle Central Station and Newcastle International Airport, so another notch in the resort's cap is how accessible it is. The trip to the hotel takes just 15 minutes from Newcastle City Centre, making it incredibly easy to get to – an important factor when planning the perfect break.
Value For Money
Of course, the term 'value for money' is relative here, as Close House is a world class, luxury resort so naturally charges more than if you play at a municipal track and stay in a Travelodge. However, for what it offers, Lee Westwood's home club offers excellent value. If you play during the off-season, you can get onto the Colt Course for £100 as a visitor and just £35 as a member's guest, while a round on the Filly is just £50. Golf days also offer good bang for your buck, but perhaps the best way of experiencing Close House is opt for a stay and play break – see the great deals on Golfbreaks down below.
Cuisine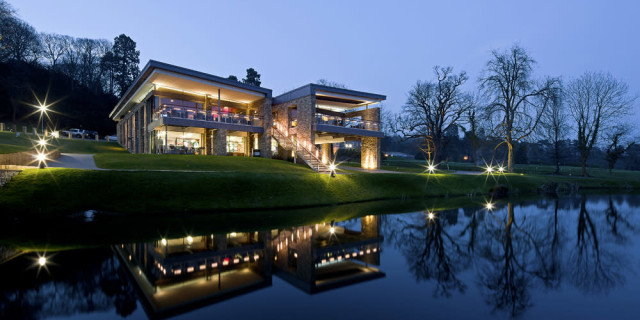 Food. It's an important, though oft-overlooked part of the perfect golf break and Close House's No.19 contemporary and state-of-the-art restaurant has you covered for this. All the food is home-cooked, with ingredients sourced from the local region. The menu is themed around local seafood, meats and vegetables, prioritising seasonal dishes, all of which can be enjoyed soaking in spectacular views over the Tyne Valley. Sunday lunches and afternoon teas are also offered.
Accommodation
There are a grand total of 20 rooms on the Close House site. 16 of these are suit-style rooms, all of which are decorated and furnished to the highest standards, which are situated in the House's Courtyard property. The Lodge, formally the gatehouse to the Close House estate offers yet more luxury, boasting a lounge with a cast-iron woodburner and a private garden with a hot tub and countryside views, while visitors seeking the ultimate in luxury experience can stay at the Pavilion, an elegant cottage at the centre of the estate (yes, that's right, your garden is basically the courses!).
PGA Golf Academy & Driving Range
The Close House Academy and Driving Range offer some of the best practice facilities around. In addition to designated tuition bays, a custom-fit suite and practice bays (all with high-tech launch monitors), there is a specialist short game area which is kept to exacting standards. There are SAM puttlab analysis facilities too, so no aspect of your game is overlooked.
Great Deals on Golfbreaks
Finally, what list of reasons to visit Close House would be complete without a mention of all the great stay and play deals you can take advantage of? At Golfbreaks, you can get 1 night with dinner, bed and breakfast and two rounds at Close House from as little as £99. And this includes knocks on both the Colt and the Filly Courses. Meanwhile, 2 nights and 3 rounds can be enjoyed from £215.
So, if you're looking for a golf break in Newcastle, Close House should be high on your list. For more information and to take advantage of these great stay and play offers, visit Golfbreaks.
---
Related Content: travel golfbreaks Golf Courses England Close House
What do you think? leave your comments below (Comments)
---
Leave your comments below
comments powered by

Disqus
Plan Your Next Round
Ardglass Golf Club
County Down
from £22.00
Save 50%
Castlerock Golf Club
County Londonderry
Galgorm Castle Golf Club
County Antrim
from £13.00
Save 23%
More Golf Course & Travel Features
Plan your next golf break with Golfbreaks.com