PGA National Ireland Slieve Russell Feature Review
By: Andrew Picken | Mon 12 Aug 2019 |
Comments
---
Review by Golfshake Ambassador Andrew Picken, May 2019
---
PGA National Ireland, previously known as Slieve Russell, is a premier stay and play facility. It has a 222-bed luxury hotel and world class spa facility, supported by a range of sporting and conference facilities together with a superb 18-hole championship golf course. The venue has been rebranded and has now joined an elite family of only eight facilities under the PGA banner.
Consideration of the other PGA members gives a clear indication of the quality and standard here. It is situated between Dublin and Belfast Airports in a beautiful part of Ireland known as Ballyconnell, County Cavan. The golf course has previously held European Tour events and was home to the Irish PGA championship in 1996.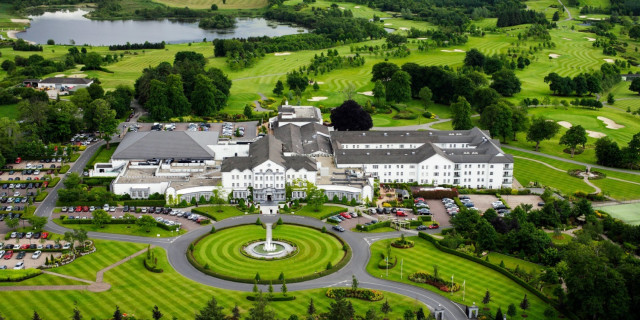 Pre-Round Thoughts
The facilities here are superb. The pro shop, clubhouse and training areas are state of the art. The grass range and short game area is excellent, and the academy course is an absolute beauty. It weaves its way around a loch and is in fabulous condition. Leona and Lisa Maguire, stars of Irish women's golf, both learned the game as juniors on this track. I can think of no better validation of PGA National Ireland than that. The par 3 course is a par 54 at 2,514 yards and it is kept in superb condition.
I also liked the quirky putting course that replicates many of the full course golf holes so that non golfers can access the design. There is an excellent swimming pool that is family friendly. They also have three bars, one of which is restricted to those over 12 years of age. I found the cuisine and customer service to be excellent throughout my stay.
The course design by Patrick Merrigan is utterly sympathetic to the local terrain and scenery a real feature of the course is how they use horticulture to add value to its overall appearance and beauty. Many tee boxes and green surrounds have beautiful displays of flowers and hedges. It is stunning visually from all perspectives. These are small additions, but they really add to the overall effect and positive impressions that the course provides.
The estate is 300 acres with 50 acres given over to water. The course manoeuvres around substantial tracts of water and streams weaving them cleverly into the course. It is close to Concra Wood and Loch Erne and could easily be used as a base for an extended golf trip to the area.
Front 9 Overview
Standing on the 1st tee by the new PGA Northern Ireland signage is intimidating but it gives a clear indication of the quality of what is to follow. This is not an easy opening hole, it dog-legs left to right as a 425-yard par 4. There is a highly visible bunker at the elbow of the dog-leg that definitely impinges on the first hole tee shot strategy. The greens throughout are well maintained and conditioned but I found them difficult to read. I later found out that the local description given to greens of this type was "Devilishly Tricky". I can't better that!
The 2nd is a lengthy par 4 that is a beauty requiring and accurate and well-shaped tee shot over water to the thin sliver of a fairway. The second shot is again over water to a well-protected green complex supported by a series of elevation changes and swales. An excellent golf hole. All the short holes are demanding yet beautiful and the greens each offer serious challenges given the amount of runs and swales contained within them.
The 4th at 162 yards is a lovely hole requiring accuracy and good distance control. Get on the wrong plateau and you are easily in three putt territory. The 5th is a par 4 of 433 yards and is known as Feather Bed Lane. The fairway does indeed resemble a ruffled bed after sleep. Only one bunker is needed to protect the green short and right as the fairway undulations and elevation changes are enough on their own.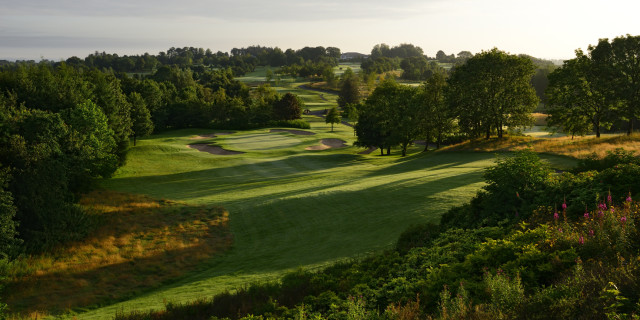 The 7th at 220 yards par 3 is a real gem and is called Tee More. I think that this is a clue as most shots I saw played that day dropped short of the green. The elevated tee box is beautifully presented, and the green complex is viewed easily from the tee. Less easy is the club selection and managing the wind. Bunkers provide green protection to all sides.
Back 9 Overview
The back nine opens with Swan Lake a 408-yard par 4 that is a snakey left to right dog-leg requiring real accuracy off the tee. Bunkers feature either side of the elbow but a shot short of these hazards will leave a very long iron into an elevated green that is also well protected. The 11th known as Heron Haunt is a 189-yard par 3 and is another gem of a golf hole. Water protects anything short and to reinforce the visual intimidation four different bunkers cover all points of the compass.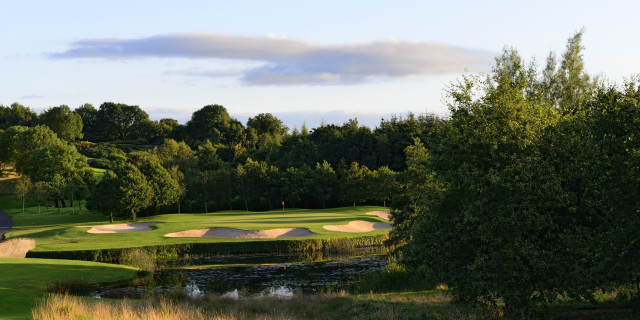 Risky Rud is the name of the 12th, a 436-yard par 4 that is superb. Water is in play the entire length left and a carry from the tee is required to reach the fairway. The green sits out into the water and is protected to its right side by a substantial bunker. The 13th is a par 4 of 528 yards known as Watergate. Again, the tee shot requires a carry over water to a fairway that swoops around the edge of the lake. How much you try and take off is up to you. This is the hole that features the iconic SR gardens on the water edge. The fairway runs around the circumference of the lake until it reaches the green. This hole is all about angles and accuracy. I had neither and got wet. Several times. This is a fabulous golf hole that I would love to challenge myself with again.
Another highlight, the 16th is known as The Mourning Pond at 170 yards par 3 is another gorgeous short hole. Water covers anything short. Bunkers cover anything north, west or east. Green or nothing people. The closing holes are both a real challenge. The 17th at 409 yards known as Cranaghan Bend is a beauty that requires careful placement off the tee to have any chance to hit an elevated green. Very well bunkered this dog-leg left to right is a very cleverly proportioned hole. Finally, the 18th is known as The Gap and is a very strong 533-yard par 5 before returning back to the clubhouse after a meandering fairway that weaves left and right back up the gradient.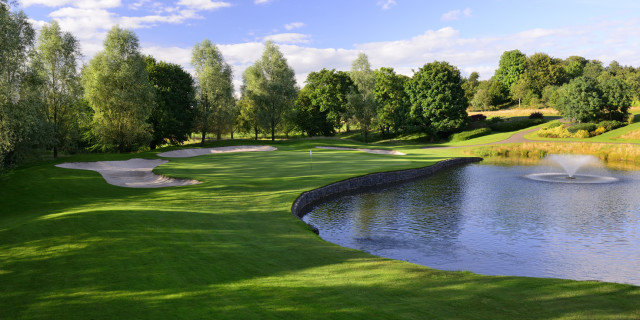 Post-Round Thoughts
PGA National Ireland is based within an area known as the Hidden Heartlands of Ireland. I anticipate that its newfound status within Irish golf will cause it to be much more attractive to the travelling golfer. It is already well known within local circles for its quality and style, but I think it is now much more likely to be seen as more attractive to the global golfer who needs to be drawn away from the wonderfully famous links courses with which this country is blessed. When visiting Ireland consider travelling to this area as it provides a product that is of a very high quality.
Verdict
Attaining the PGA status (that is globally recognised) and being the first course in Ireland to achieve this is a massive feather in the cap of this facility. It is a superb stay and play option and well worth the journey if you are looking for an Irish golf experience that moves away from the wonderful links experiences offered in the coastal areas, then come to PGA National Ireland.
Overall Rating - 10
Course (Conditions) - 9
Course (Hole Variety/Layout) - 9
Course (Green Condition) - 10
Course (Challenge/Difficulty) - 9
Club Facilities & 19th/Clubhouse - 10
Practice Facilities - 9
Friendliness/Hospitality - 10
Pace of Play - 10
Value for Money - 9
---
Related Content: travel review Ireland Courses
What do you think? leave your comments below (Comments)
---
Leave your comments below
comments powered by

Disqus
More Golf Course & Travel Features
Plan your next golf break with Golfbreaks.com