Panmure Feature Review
By: Andrew Picken | Wed 16 May 2018
---
Review by Golfshake Ambassador Andrew Picken
---
The stretch of Scottish coastline from Monifieth, at the eastern edge of Dundee, to the town of Carnoustie is home to five superb links layouts: Monifieth, Panmure and the Championship, Burnside and Buddon Courses at Carnoustie. For lovers of links golf, there are few destinations to rival this small corner of Angus for proliferation and quality of courses.They are situated within an artillery shell of each other. A strange analogy perhaps until you get the chance to play the wonderful Panmure and discover that it is adjacent to the Carnoustie complex with an artillery range in between them both. My morning round was punctuated by the sound of heavy machine gunfire and you are close enough to smell the cordite from the shells! Amazingly, this is in no way distracting. I loved this place and the experience of following in the footsteps of my golfing heroes.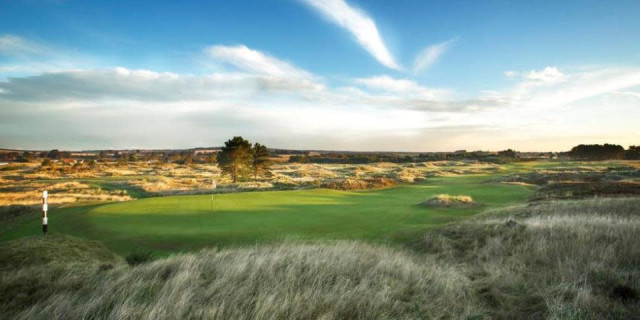 Panmure Golf Club was founded in 1845 and moved to its current site at Barry in 1899. The club has played host to a number of significant championships over the years, including the Amateur Championship (together with Carnoustie) in 2015. It was also used in final qualifying for the Senior Open 2016. Panmure is a classy and historic golf club with a wonderful natural links course.
It is the sixteenth oldest golf club in the world dating back to 1845 and is one of the 26 clubs that originally helped purchase the Amateur Championship trophy first played for in 1885.
James Braid influenced the links following a site visit in 1922 and measures in at par 70, SSS 72, 6,551 yards.
Pre-Round Thoughts
There is a well stocked shop staffed by extremely friendly staff who are used to dealing with international visitors. The clubhouse remains much as it was designed 100 years ago with only the entrance area being altered. There are magnificent silver club trophies with silver golf balls being added each subsequent year to the victors.
The clubhouse has a regal feel and I was not surprised to find that it was based around one to be found at Royal Calcutta in India. It is designed to look like a ship form all the high points on the course. It has direct links to the Calcutta Jute Trade with many being members of both golf clubs. I was surprised to hear that there was a separate entrance for lady golfers, but I am pleased to report that now this has changed and a recent committee decision has overturned this outdated style of club membership. "Like other golf clubs, we are trying to be forward-thinking and also family friendly, so we are delighted about this exciting development, having worked hard over the past 18 to 24 months to get members onside," said Panmure's captain Jim Wallace. "Women are free from today to apply to become full members and we are confident that they will do so over time." I applaud this decision as everyone who wants to do so should have the chance to use this wonderful golfing facility.
Front 9 Overview
The course starts with a gentle opening hole known as Maule. 302 yards off the whites with out of bounds protecting the entire hole down the right hand side. There is very clever greenside bunkering that provides discreet protection to the green complex.
Hole 2 is a sweeping par 5 played from 488 yards again protected along its whole length by out of bounds. The third hole follows the natural topography and also sweeps around to the right. It has gently rippling fairways. The green falls away to its rear and left and requires accuracy to hold.
When nearing the 4th green complex an approach can be played in a number of different ways to achieve the desired result; along the ground, through the air or a combination of the two. I love this type of styling as it encourages much more creativity on the part of the golfer.
The short fifth at 144 yards is an excellent short hole. This green is protected from all sides by its elevations and topography. It is a lovely green complex, one to savour.
I loved playing the 414 yard 6th hole. It is a par four of great quality that acts as a focal point for the whole course. I found myself looking at it from several parts of the course as we played. It looks magnificent from all angles. A semi-blind tee shot over heather creates anticipation for the player who is then greeted with a rumpled, ruffled fairway that quickly narrows. I played too far left and my recovery shot was swallowed by the exquisitely sited Hogan's bunker.
It was the sand save I made from this bunker that caused me to research its origin. Treading in the Footsteps of Tradition.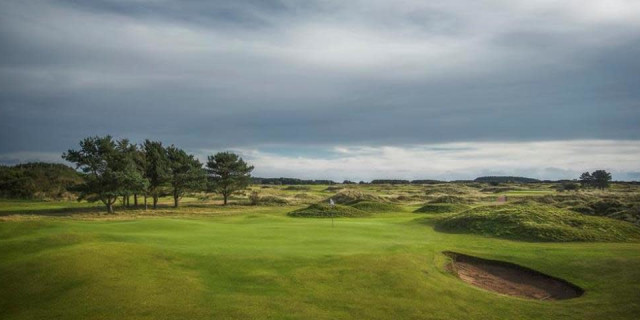 Back 9 Overview
The championship credentials of this elegant inland links are abundant at the 10th and 11th before more devilish design engulfs you at the 12th where the course shakes hands with neighbouring Monifieth but not before a winding burn is crossed short of the raised green. This series of holes are great fun offering a range of challenges.
More fun follows at the 13th with a sunken putting surface adding even more charm and character to a section of the course that is superbly conceived and constructed. The 14th runs parallel to the train line; your eye is drawn to the white posts and then drawn to the expanse of gorse and rough. This is a great par 5 requiring a series of accurate shots.
The angled 15th called "Dalhousie" is a par-three that might not be visually satisfying but at 234-yards is likely to require a well struck 3-wood or even a driver for most players.
Why was it called Dalhousie? In 1845 Lord William Panmure leased some land for a golf course to 17 local gentlemen. The Panmure membership supported golf across the area and they became instrumental in the creation of the Amateur Championship. In 1899 the present Panmure land was purchased from the 14th Earl of Dalhousie, a direct descendant of Lord Panmure.
I really enjoyed the closing holes and can imagine that they would be a real cause for tension if in contention in a major event.17th is a par 4 at 401 yards requiring an initial tee shot that follows the line of the bunker to the left of the fairway. This would give the best angle into a tight and well bunkered green. Hole 18 known as Calcutta is another with very visible out of bounds markers along its length to the right. The green is nestled towards the Pro Shop and car park and it is in full view of the waiting gallery at the clubhouse. If you drift right there are whins and hollows that will hamper your progress further as around them are rough and other natural hazards.
FEATURE CARNOUSTIE COUNTRY - GOLF AND SO MUCH MORE
Hole Highlights
This has to be the 6th. When Ben Hogan was asked which was his favourite hole having won the Open at Carnoustie he was alleged to have replied: "The 6th at Panmure".
This is a superbly balanced golf course, but I would say that the middle 12 holes will stand comparison with many courses across the globe. This is links golf at its best and most natural.
Post-Round Thoughts
Jacket and tie are required in the dining room but the configuration of the rooms has been altered to accommodate the majority of golfers. The recent decision to encourage membership by women is a welcome change to a traditional and conservative with a small c club. The club archive facility is wonderful and there are some incredible trophies displayed in the traditionally appointed clubhouse.
Verdict/Round-up
To sum up I consider this to be an excellent golf course. It is understated and doesn't shout its credentials but it serves up a delicious cocktail of golfing delights. There is a palpable feeling of heritage and tradition and I loved it. If you are playing golf in this area this is a must visit. I can almost guarantee that you will not be disappointed.
Reviewed in April 2018 by Golfshake Ambassador Andrew Picken (Handicap 18)
Overall Rating - 9
Course (Conditions) - 10
Course (Hole Variety/Layout) - 9
Course (Green Condition) - 9
Course (Challenge/Difficulty) - 9
Club facilities & 19th/Clubhouse - 9
Practice Facilities - 8
Friendliness/Hospitality - 10
Pace of Play - 9
Value for Money - 10
---
Related Content:
Plan Your Next Round
Drumoig Golf Hotel
Fife
from £13.00
Save 20%
Fairmont St Andrews
Fife
from £30.00
Save 35%
Fairmont St Andrews
Fife
from £30.00
Save 35%
More Golf Course & Travel Features
Plan your next golf break with Golfbreaks.com