Golf and Wine - Golfing in France
---
Closer to home than the rest of Europe, France offers an unrivalled range of courses within just a few hours travel time of the UK. The location of Le Touquet is a popular favourite among golfers of both high and beginner standards alike. Further afield, beautiful courses can be found in the South of France and its tempting surrounding regions. Aquitaine, located in the South West of France, boasts some of the finest weather France has to offer. With fantastic golf courses in France the region has become a favourite destination for golf breaks.
Member Feedback on 2 popular locations from Peter Boardman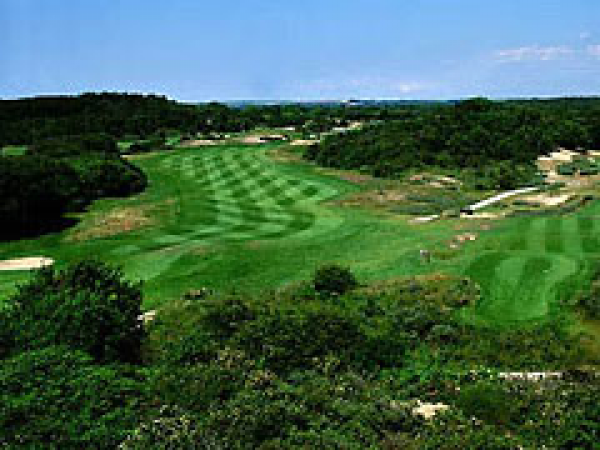 We played both courses (le Foret amd le Mer) and enjoyed both of them. Le Mer is the tougher challenge especially if the wind blows with le Foret being more like a british parkland/woodland course.
On both courses there are only a few holes where you are even aware of the rest of the course with either the dunes or the trees making you feel you are on the only hole around.
Beware of the long walk from the club house to le Mer and be warned that there are no facilities at the le Mer first tee, only a starters hut.
If you want a buggy book early, there is not a large number available.
The club house facilities are limited and tend to close pretty early, but most of the staff speak English and are very keen to help.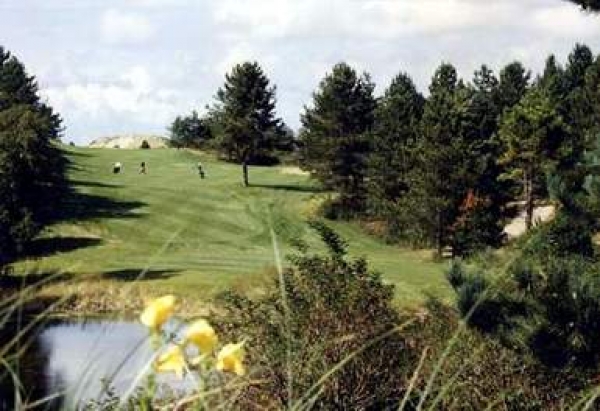 Set in the dunes and woods right on the French coast an hour south of Calais this is a course to bring out the best in anyones game and bite back if you are having an off day.
You have to think about virtually every shot. If you keep it straight scoring can be very good, but you do not need to stray far to drop a few shots. The greens were in excellent order, consistant in speed and interesting to read.
The sound of frogs is a contant companion and the back ground of the quirky holiday homes only adds to the atmosphere.
There was only one down side to this golf course...they would not let us go out and do it all again.
To take a line from the song by Elbow - "One day like this will see me right".
Golf and Wine guest feature from Nick Liddle, Golfbreaks.com

As Ernest Hemingway once quoted, "Wine is the most civilized thing in the world". Which would lead one to argue that after a round of the most civilised sport in the world, how better to unwind but with a quality glass of wine? Indeed, golf and wine complement one another perfectly– the relaxed lifestyle, the immediate pleasures and the fact a number of professional golfers (Faldo, Els, Palmer) have all entered the wine market either partnering up with vineyards or launching their own labels. Being an avid wine enthusiast and a keen golfer, I thought I'd take this opportunity to promote some of the venues we work with, where these two of life's passions can be enjoyed in abundance.
Bordeaux
Where better to start than in the heart of the Bordeaux region, at the Golf du Medoc Hotel & Spa. This 4* hotel combines quality gastronomy with an enviable collection of the finest Medoc wine to choose from. With two 18 holes courses onsite, a spa and just 20 minutes from Bordeaux airport, this is the ultimate golf and wine destination. With the package below, enjoy a FREE visit and wine tasting, exclusive to Golfbreaks.com clients.

Getting There...
Flying to Bordeaux couldn't be easier. Numerous U.K. airports (London, Bristol, Manchester etc) offer flights to Bordeaux and they are generally very well priced. BA, EasyJet, FlyBe & BMIBaby all fly this route.
Bergerac
Moving east across 'La Gironde' and to the border of the Bordeaux Appellation in Bergerac, is located the fabulous 4* Chateau des Vigiers. Surrounded by 17 hectares of vineyards, this truly unique château produces its own award winning red and white wine onsite. Add to this 27 Donald Steele designed holes, a 'Marie Galland' Spa and top class dining facilities, the word 'heaven' springs to mind. With the package below, you can make the most of exclusive rates and a free wine gift pack on arrival, exclusive to Golfbreaks.com.

Getting There...
Flying to Bergerac is also very simple. You can again choose from a whole selection of U.K. airports and flights are very reasonably priced. Ryanair, FlyBe & Air France all fly this route.
Provence
My final recommendation is the beautiful 4* Dolce Fregate located on the Mediterranean coast, 30 minutes from Marseille. This stereotypical Provençal resort is located within Bandol, Provence's most internationally recognised wine region. Although both red and white wine are produced here, I recommend the superb Rosé wine, given remarkable ageing ability and depth of flavour through the dominant use of a particular grape called Mourvèdre. With an 18 hole championship course and superb dining and leisure facilities, the package below is terrific value for money. With the package below, receive a bottle of Dolce Fregate Rosé Bandol wine on arrival, exclusive to Golfbreak.com clients.

Getting There...
Fly to Marseille airport (35 minutes from Frégate and with a choice of numerous airlines and departure airports) or Toulon (20 minutes from Frégate and operated by Ryanair from London or Bristol).

Further information and golf breaks in France click here.
More Golf Course & Travel Features
Plan your next golf break with Golfbreaks.com