By: Golf Shake | Mon 21 Dec 2015 |
Comments
---
Post by Sports Writer, Derek Clements
---
We often regard the world's top golfers as being pampered, overpaid and more than a little bit spoilt. And that may be true. Correction – that is true. But they also do an awful lot of great work behind the scenes, away from the glare of publicity. So we thought it was about time that we paid tribute to some of the good guys...
Tiger Woods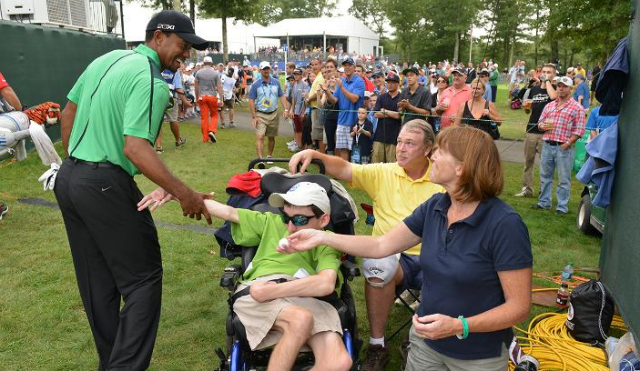 Image Credit - (Brandon Barrett / Tiger Woods Foundation)
Tiger gets more than his fair share of criticism, but when it comes to charity work, he has no peers. His contribution is mind boggling. Woods donates every cent he earns at the Hero World Challenge to his foundation. He does the same with prize money won at the AT&T and the Deutsche Bank championship. That amounts to north of $15m. The world challenge has raised almost $30m for Tiger's foundation since it started in 1999. The foundation's goal is simple enough. It seeks to "empower young people to reach their maximum potential." Apart from his foundation, Woods also supports Caddy For A Cure, the Rainforest Foundation Fund, Shriners Hospitals for Children and the Tiger Woods Learning Center. He donated $9.5m in 2007 and another $1.35m in 2008 to the Earl Woods Scholarship Fund and the Tiger Woods Learning Center, both of which help underserved kids get to college. His charities raise about $50m a year, and he has been involved for more than 15 years. Do the math
Padraig Harrington
The Irishman never does anything without giving it 100%. And so it is with his charity work. He has a charitable trust that does a huge amount of work for good causes. And he also organises an annual chairty auction. At the end of 2014, he staged "An Evening With..." in Dublin, with all proceeds going to charity. He has been a global ambassador for the Special Olympics since 2010, and has conducted a number of golf clinics with Special Olympics athletes and coaches throughout the world. With more than four million athletes in over 170 countries, the Special Olympics is the world's largest sports organisation, providing year-round training and competition for children and adults with intellectual disabilities. He lost his father to oesophageal cancer and works closely with the Oesophageal Cancer Fund (OCF). Their main fund-raising event is Lollipop Day, an annual event held in February when thousands of lollipops are sold, and Harrington works hard to help publicise it
Rickie Fowler
Fowler knows how lucky he is. Back in 2011, he created the Rickie Fowler Foundation to support charitable organisations endemic to his Native American and Japanese heritage with a focus on at-risk youth. In 2013, Rickie continued his charitable giving by donating $100,000 to help victims of the devastating tornado in Moore, Oklahoma. The young man says that he wants to be remembered for more than his golf – he has already guaranteed that
Rory McIlroy
McIlroy is just 26 years old, but he has already made his mark in the world of charity. In 2014 he donated £1m from his charitable foundation to open a new support centre for children with cancer, Daisy Lodge in Newcastle, County Down, a therapeutic short-break centre. And he hinted that there could be more such projects on the way. "It is a project I would like to see replicated and I think can be replicated. I don't think there is any reason why we should stop here." Daisy Lodge, the first of its kind in the UK and Ireland, will provide every family in Northern Ireland affected by childhood cancer a therapeutic short break – it will also welcome children from the Republic of Ireland. The care will extend to families nursing a child with cancer, families where a parent has been diagnosed and the bereaved.
Steve Stricker
Everybody knows that Stricks is one of the good guys, and he doesn't need to do any charity work to prove it. But he does so anyway. The Steve Stricker American Family Insurance Foundation supports programmes, initiatives and organisations that help build strong families and healthy kids. The foundation's initial focus is on nutrition and wellness — helping families develop the habits and knowledge necessary to maintain a healthy lifestyle and combat chronic health conditions in children. You may have guessed that he is not a fan of fast food. The partnership between Steve Stricker and American Family Insurance — including the establishment of the foundation — was announced in 2013. He heads a community outreach programme and spends Thanksgiving Day helping to feed 400 less fortunate people in Edgerton, Wisconsin, along with his wife and two daughters. "The thing that is really cool was to watch how much my two girls got into it. They were serving and cleaning tables and really enjoying themselves," he said. They clearly take after their father
Phil Mickelson
No player is more generous with his time than Lefty. No matter how he has played, he will stand and sign autographs until nobody is left. And he will sign anything that is put in front of him, always with a smile on his face. His Birdies For The Brave donates $100 for every birdie and $500 for every eagle he records, with the money going to help support troops injured in combat. But that is only the tip of the iceberg. He also supports Caddy For A Cure, Celebrity Fight Night Foundation, First Book, the Muhammad Ali Parkinson Center and Soles4Souls. Mickelson's wife, Amy, was diagnosed with breast cancer in 2009 and it affected Mickelson deeply when he realised he could lose his wife and their children a mother. Fortunately, she made a full recovery and the couple have thrown themselves into fund-raising for various cancer charities
Lee Westwood
The Englishman is a patron of the English Blind Golf Association. Blind golf began back in the 1950s when a lot of injured people from the armed forces suffering from eye problems found pleasure in playing the game. The sight-impaired player is joined by a caddy whose vital role is to give the player as much information as possible. It is a really worthy cause. In 2009 it was announced that Lee had agreed to become an ambassador for the Golf Foundation Charity, supporting Golf Roots, the national project that aims to improve the playing and personal skills of all young people. For the previous eight years, he had supported the Golf Foundation's Charity Challenge and in 2009 was awarded with the organisation's Spirit Of Golf award. Golf Roots introduces golf skills and the game's "skills for life" to youngsters from all backgrounds and abilities, in schools and golf clubs and through special initiatives in city areas. He also runs golf camps in the UK and in Florida
Darren Clarke
Clarke lost his first wife, Heather, to breast cancer and it affected him deeply. Three weeks after her death, in August 2006, Clarke was picked by Ian Woosnam as one of the wild cards for the Ryder Cup at K Club and, in an emotionally-charged week, produced one of his most memorable performances, winning all three of his matches. A dedicated worker for charity, he set up his own Darren Clarke Foundation, which not only helps further the development of junior golf in Ireland, but also now raises money for Breast Cancer Awareness. In July 2014 he received the Golf Foundation's Spirit of Golf award in recognition of his work. On receiving the trophy, Clarke said, "This is a great honour for me. Golf has been very good to me and I try to put something back into the game and play the game in the right way."
Brandt Snedeker
Now this guy is sheer class. Sneds picked up $11m when he won the FedEx Cup playoffs in 2012, and immediately announced that he had no plans to buy an expensive new car or a big new house. "I'm not a flashy guy. I do not need $11m," he said. "I've had a car for four and a half years – a Yukon Denali – and it's got 24,000 miles on it. Why do I need a new car? This is like winning the lottery and there are things we can do to help people. I think we can make a difference." With that, he duly gave most of the money to a series of charities around his home in Nashville. He focuses his charitable efforts on helping families and communities recover from natural disasters. Brandt hosts the annual Franklin American Mortgage Charity Cup, which, in 2010, benefitted flood victims in the Nashville area. In 2013, he founded the Brandt and Mandy Snedeker Foundation, with the aim of helping underprivileged children who need a break and a chance in life.
Matt Kuchar
It should surprise nobody that Kuchar and his wife, Sybi, are involved in many charities. They support Camp Twin Lakes, a network of camps providing programmes for kids in Georgia who have serious illnesses and disabilities. They also are involved in the Ronald McDonald House Charities, providing temporary homes for families that want to stay close to their hospitalised child. The temporary homes charge little or can be provided at no cost. Camp Twin Lakes offers year-round recreational, therapeutic, and educational programmes for children facing serious illnesses and other physical, emotional and life challenges. With the help of people like Kuchar, it provides life-changing experiences for thousands of children each year at its state-of-the-art, fully accessible facility, located on 500 acres in Rutledge, Georgia, and at other locations throughout the state
Graeme McDowell
Most of you will have heard of the G-Mac Foundation. McDowell is another golfer who has been touched by the plight of sick children. His foundation's mission is to support children's medical research in the Republic of Ireland, Northern Ireland and Florida (where he lives), raising funds for much-needed research in the area of children's medicine. One of the foundation's partners is Aer Lingus, which flies recovering children, from Dublin and Belfast, and their families, to Orlando Florida, for the holiday of a lifetime. The children are all recovering cardiac patients of Our Ladies Children's Hospital in Crumlin. Joe Quinsey of The Children's Medical & Research Foundation at Our Ladies Children's Hospital, said: "We all know Graeme as a world-leading golfer who has achieved the highest accolades in the game, but with this initiative to bring recovering young cardiac patients to Orlando for a dream holiday, Graeme is truly giving those kids and their families an unforgettable experience that will stay with them for many years, helping ease their very long road to recovery. To those kids, and their families, G-Mac is more than a golfing legend, he's their personal hero."
---
What do you think? leave your comments below (Comments)
---
---
PLAY MORE PLAY BETTER - LATEST TUITION TIPS
---
Leave your comments below
comments powered by

Disqus