Feature Interview - Long Drive Champion, Rebecca McGinley
By: Golf Shake | Wed 16 Dec 2015 |
Comments
---
Interview by Sports Writer, Derek Clements
---
WHEN you think about golfers consistently smashing the ball in excess of 300 yards, you bring to mind images of Dustin Johnson, Jason Day and Rory McIlroy. These are three of the best players on the planet, men who reduce courses to little more than pitch and putt through their ability not only to hit the ball vast distances but to consistently find the fairway.
Of course there is far more to dominating the world rankings and winning major tournaments than an ability to hit the ball a long way. But it helps. And it is interesting to note that Jordan Spieth, the best putter on the planet and the winner of two majors in 2015, is currently working on trying to add another 10 yards to his drives.
So just imagine the potential glory for any woman who is capable of hitting 300-yard drives. Step forward Rebecca McGinley, for she is that woman. She won the British ladies' final of the American Golf Long Driving Championships and, as a result, was flown out to Oklahoma to represent her country against 13 other big hitters from all over the globe.
"I have always hit the ball a decent distance," says Rebecca. "And I saw an advert for the heats of the British championships and thought, 'Why not?' So I entered and managed to reach the final.
"When you play in these events you drive the ball from something that is not unlike a stage and hit to a grid that is about 50 yards wide – the ball has to finish within that grid to be measured."
---
Rebecca McGinley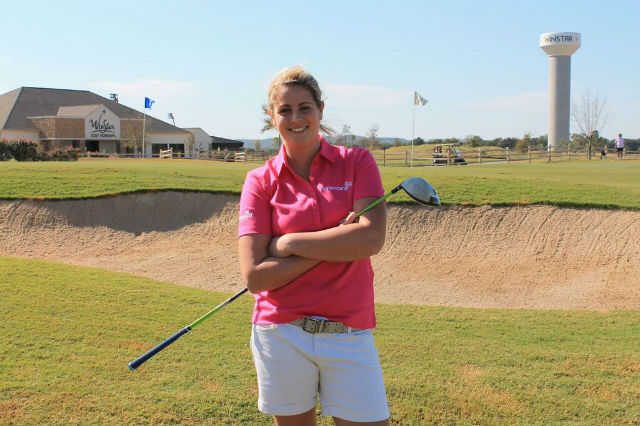 ---
It all began for Rebecca at one of the British heats held at the American Golf store at Gateshead. She came through that, reached the British final in High Legh and won that with a mighty blow of 321 yards. THREE HUNDRED AND TWENTY-ONE YARDS! Remember, too, that it was her first long drive competition; the world final was her second.
American Golf paid for her to travel to the United States and she spent five days in Oklahoma, during which she spent time acclimatising to the conditions. She used a nine-degree Krank driver with a 48-inch extra-stiff shaft -shafts on standard drivers measure 44-45 inches.
She admits that when she first stepped out onto the stage in Oklahoma she was nervous, but she got through the qualifying rounds with drives of 271, 291 and 310 yards. "It was very different from the UK, with people shouting and screaming," she says. "It took a little bit of getting used to but you end up drawing energy from them."
Her performances took Rebecca into a sudden death qualifying round, which she won thanks to a drive of 307 yards. It meant she had reached a three-way shootout against four-time world champion Sandra Carlborg and 2013 champion Heather LeMaster. Remember, this was only the British woman's second long-drive event, and here she was competing for the chance to become the biggest -hitting woman on the planet.
Rebecca produced her longest drive of the tournament with a 311-yard monster, but she couldn't quite match LeMaster's 318 and winner Carlborg's 321-yard efforts. She says: "What started as a bit of fun has turned into an incredible, life changing experience. Sandra and Heather are two fantastic competitors that the American Golf competition has given me an opportunity to take on. I just need to work on my Long Drive swing and I'll hopefully come back next year to perform even better." To put her performance into perspective, the average distance hit by LPGA Tour players is about 265 yards.
She is from Northumberland in the northeast of England and her home course is Wearside, in Sunderland. Rebecca has certain natural advantages. For a start, she is 5ft 11in. And there is not an ounce of spare flesh on her body. She looks like an athlete because, quite frankly, that's precisely what she is. "I don't spend hours working in the gym," she says. "I played a lot of football up until the age of about 17 so I have naturally strong legs, which helps me when it comes to distance."
Rebecca, who started playing the game when she was 12 years old, turned out to be a quick learner and when she turned professional in December 2014 her handicap was plus two. She has spent the season playing on the LET Access Tour, where she has enjoyed a pretty successful year. "I have had a few top 20 finishes and have learnt a great deal," she says. "You don't realise until you take the step up just what a huge difference there is between top level amateur golf and playing professionally. It is all a learning experience."
She travelled to Casablanca in October to take part in the penultimate qualifying tournament for the Ladies European Tour and will return to Morocco, this time to Marrakech, to play in final qualifying, where success would see her win her card for the LET in 2016.
"I was proud to come through the event in Casablanca," she says. "It was one of those events where you have to keep your focus from start to finish because a couple of bad holes can destroy your hopes. The key is not to think too much about what could go wrong. It will be huge for me if I get my card. I hear people saying that they want to go out and win during their maiden season and while that is what we all want to achieve, if I get there my aim will be to make cuts. If you keep doing that you will eventually put yourself into contention to win. It's all about taking baby steps, setting yourself goals that you can achieve."
THE SECRETS OF BIG HITTING
So how does Rebecca achieve such vast distances? Surprisingly, she says that part of the key to long hitting is to swing within herself. "When I took part in the long-drive championships, I tried to maintain my balance and swing the club as fast as possible and hit the ball as hard as I could, but when I am playing a proper round of golf, my thought process is different. My average drives are between 285 and 295 yards, with the occasional one going past 300 yards, and I am lucky enough to be a fairly straight hitter. A lot of the guys who compete in these long-drive contests only get a few golf balls within the grid, but I think that one of the things that helps me to keep it so straight is simply that I play so much proper golf. If you are an all-round golfer, then obviously things like your alignment will be naturally better.
"Normally I use a .10.5 degree TaylorMade SLDR driver fitted with a stiff Fujikura prototype shaft, and my ball of choice is the Titleist ProV1x. When I am playing tournament golf, my swing is all about tempo. I focus on two things - one is to let the clubhead do the work, which gives me the feeling of swinging the golf club freely. Lots of people try to steer the ball, but that is not the way to hit the ball a long way. The more carefree I feel when swinging the club, the further the ball will go.
"And I believe that your legs and thighs are very important in achieving distance. You should plant your body firmly and use your legs to get your power and distance. Lots of golfers make the mistake of trying to swing their arms as quickly as they can, but it all comes from the ground. Your core and the lower half of your body is a lot stronger than the upper half."
---

Be part of the action with a selection of unique golf tournament experiences, from playing in a pro-am with the stars to watching the action at golf's most illustrious events. Whether it's the Masters or The Open, The Ryder Cup or WM Phoenix Open, build your own bespoke package with the experts at Golfbreaks.com.
---
What do you think? leave your comments below (Comments)
---
Tags: American Golf
---
PLAY MORE PLAY BETTER - LATEST TUITION TIPS
---
Leave your comments below
comments powered by

Disqus