Ojee Golf launch special edition GOLD Talon
By: Golf Shake | Thu 30 Jul 2015 |
Comments
---
Ojee Golf who are currently in the middle of a successful crowdfunding campaign for its revolutionary, new digital golf training aid, the TALON. To celebrate five investors will each receive a luxurious 24K gold-plated version.
The first five individuals to donate £499 - by selecting the 2FOREK Gold Talon! perk - will receive a unique piece of the product's history in the shape of a special-edition, gold TALON, each serial numbered and available for personalisation.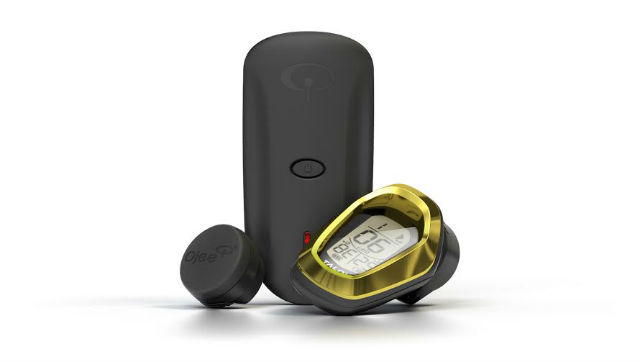 The TALON is the first product to deliver real-time, visual feedback on golf stance, set-up and angles of address, and all pre-orders will be available in November.
The innovative golf stance improvement tool - the brainchild of Teesside-based product designer Matt Hulbert and his father Paul - is a unique addition to the golf technology market, which enables golfers to view their stance and adjust to their best position, improving muscle memory, consistency and performance.
Following its airing on INDIEGOGO - a crowdfunding tool which helps users to reach financial goals - three weeks ago, the creative brand has managed to raise nearly £12,000, which will go towards the first production run.
And Ojee Golf has been delighted with the huge interest it has already received from the golf market, with more than 50 per cent of its £20,000 monetary goal already achieved.
The innovative product uses a digital display unit that attaches to the top of any golf club, together with a separate wireless back unit, which uses patent-pending technology to remove guesswork by calculating and clearly displaying four critical angles of address: spine angle, club-shaft angle, club-shaft-to spine angle, and rotation angle of the club face.
Company director Matt Hulbert said: "We're absolutely delighted with the feedback we've received for the TALON so far and thrilled to be able to offer a special-edition version with a bit of 'bling'.
"With its availability scheduled for November, the TALON makes the perfect Christmas present for any avid golfer, and the gold version just offers that little bit extra for those who want to indulge in golfing luxury."
Ojee Golf was founded by Hulbert and his father in 2014. Matt's background in product design, combined with Paul's lifelong passion for golf, led to a 12-month quest to solve a critical issue for golfers: how to establish and replicate the optimum golf stance or set up position.
Golfing legend Jack Nicklaus highlighted the importance of posture in his book, Golf My Way, when he said: "If you set up correctly, there's a good chance you'll hit a reasonable shot, even if you make a mediocre swing. If you set up to the ball poorly, you'll hit a lousy shot even if you make the greatest swing in the world."
The TALON was born from these informed words and has become the driving force behind Ojee Golf's pursuit to develop a training aid unlike any other out there.
For more information please visit http://igg.me/at/ojee-golf-talon to pre-order your TALON
---
What do you think? leave your comments below (Comments)
---
Tags: ojee golf
---
PLAY MORE PLAY BETTER - LATEST TUITION TIPS
---
Leave your comments below
comments powered by

Disqus