The best new laser rangefinders 2015
By: Golf Shake | Thu 05 Mar 2015 |
Comments
---
We all know that technology is developing far quicker than the game can comprehend but as with everything else like newer clubs, next generation shoes and balls that should fly further and feel softer, laser rangefinders have taken it to the next level.
Slope adjusted distance technology has been introduced to some new releases which enables you to do exactly what it says on the tin – receive the slope adjusted distance by adding the horizontal distance with the height of the uphill or downhill slope.
What is and is not allowed in tournament play
Although the new technology is a brilliant advancement in laser rangefinders, the slope technology is actually prohibited for tournament use unlike previous models that could be used upon local rulings or the tournament director's preferences.
The R&A rule 14-3/0.5 states, 'A Committee may establish a Local Rule allowing players to use devices that measure or gauge distance only. However, the use of a distance-measuring device that is designed to gauge or measure other conditions that might affect a player's play (e.g., gradient, wind speed, temperature, etc.) is not permitted regardless of whether such an additional function is used.'
So it's great for those friendly games or practice rounds when you really want to fine tune your game but just don't get caught out if you tee it up in competition play.
So let's have a look at the new laser rangefinders on the market in 2015.
Bushnell Tour Z6 JOLT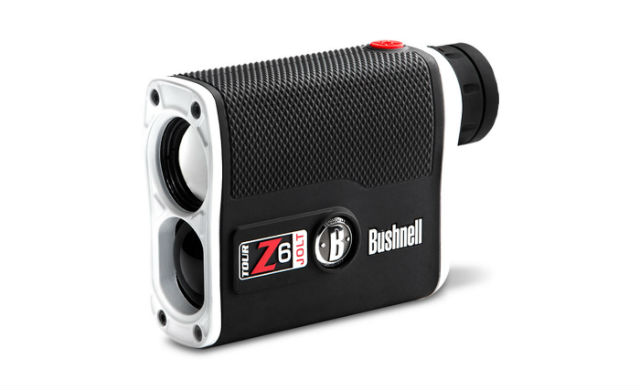 Ultra compact and packed with extra power, Bushnell say the Tour Z6 JOLT is the smallest, most advanced laser rangefinder on the market.
The name comes from Bushnell's PinSeeker Technology with JOLT that provides you with short vibrating bursts to reinforce that the laser has locked onto the flag. JOLT Technology eliminates all doubt.
Incredibly, the JOLT Technology enables you to instantaneously acquire flags up to 450+ yards away with extreme speed and incredible range.
As well as JOLT, the Tour Z6 also features second generation E.S.P (Extreme. Speed. Precision) and Vivid Display Technology.
Second Generation E.S.P - provides yardages five times faster and more accurately than ever before. Not only has the acquisition speed been increased to a lightning fast level, second generation E.S.P. provides ½ yard accuracy from 5-125 yards, and the distance is displayed to 1/10th of a yard.
Vivid Display Technology - Created specifically for Bushnell's premium laser rangefinders this technology dramatically improves the display for rapid, positive target identification in all lighting conditions.
Extra features:
• Waterproof
• 6x magnification (objects appear six times closer)
• Adjustable dioptre setting
• Entirely legal in tournament use
The Tour Z6 JOLT retails at £349
To find your local dealership or to read please visit the Bushnell website - Click here
Nikon Coolshot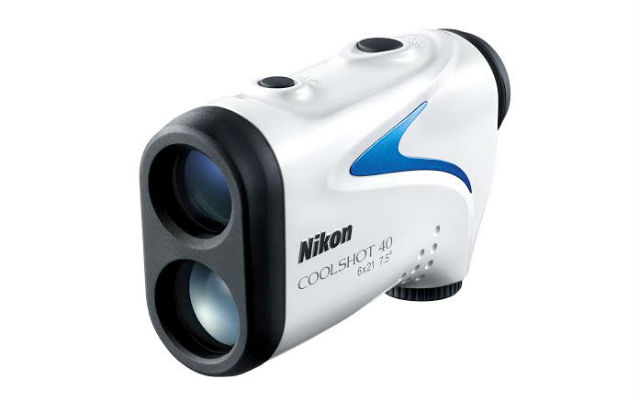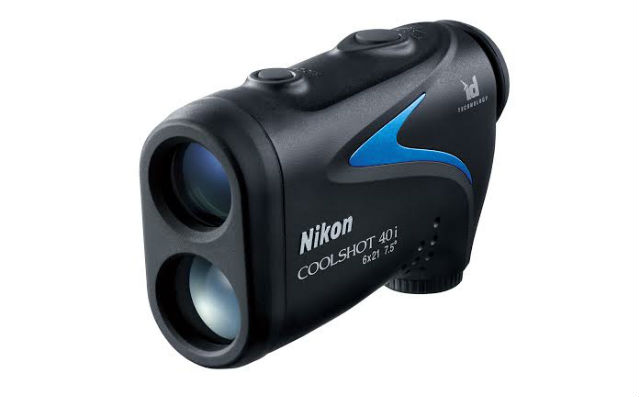 Built to give you confidence from tee to green, the new Coolshot 40 and 40i distance-measurement performance is fully optimised to ensure the target is secured with speed and accuracy.
Using the new Coolshot's from Nikon will boost your confidence in choosing the right club for those all-important numbers.
For quick response and a high degree of accuracy the Coolshot 40 offers many key features:
• First Target Priority mode - when measuring overlapping subjects, the distance of the closest subject is displayed which is useful for measuring the distance to a flagstick on a green with woods in the background
• HYPER READ enables quick and stable measurement response regardless of distance
• Long eye relief affords eyeglass wearers easy viewing
• And many more
Nikon Coolshot 40i
The ID technology is used in the 40i which also offer superior measurement performance. The compact, lightweight and ergonomic design offers everything you get in the Coolshot 40 plus the slope adjusted distance mode but REMEMBER, can't be used in competition play.
You can read more information on the Coolshot 40i, please - Click here
Golfbuddy LR4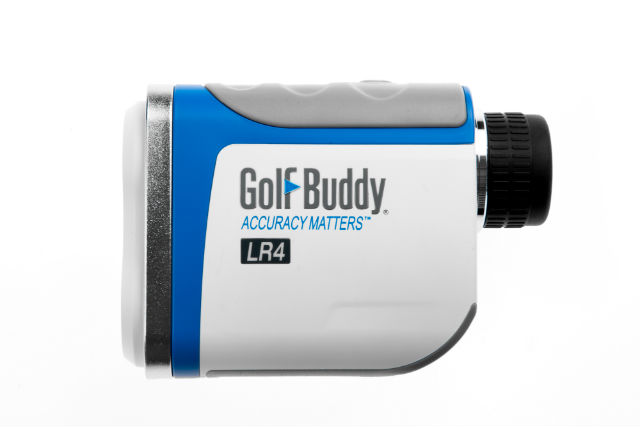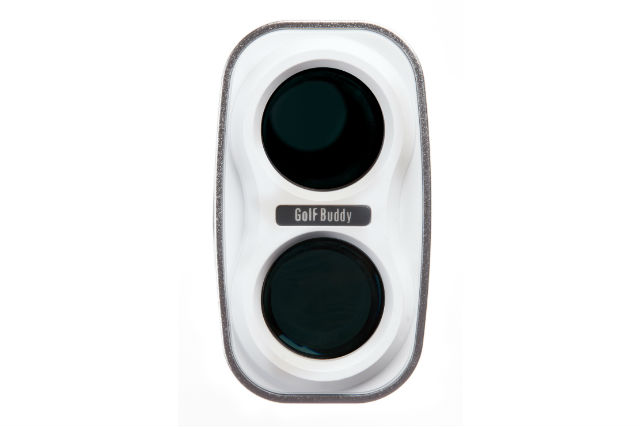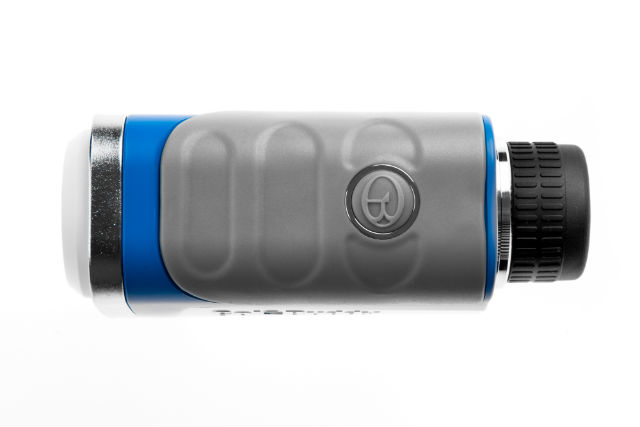 Moving forward from a multiple award-winning product was never going to be easy but Golfbuddy have managed it here with the LR4.
A re-design of that award-winning LR3 which launched in early 2014, the new GolfBuddy LR4 delivers improved ergonomics and style, making it super-comfortable to use and great to look at.
The laser's outer casing has been reshaped, to fit more into the golfer's palm. The top grip section has been flattened slightly and the finger locators redesigned to make it even easier to find and press the 'power' button.
Listening to feedback from their customers Golfbuddy have strived to improve the LR4 to its maximum.
New features include:
• Eyepiece is easier to grip and smoother to turn
• The battery compartment can now be opened easily thanks to a redesigned flip-and-twist flap.
• Eye-catching new white, blue and grey casing - to replace the all black previous model - with smart metallic finishing to the lens casings, eyepiece and all buttons.
As well as all the new upgrades the LR4 only weighs 218grams making it a light, compact and powerful addition to your golf bag.
The LR4 can operate in three modes:
Scan mode - provides a continuous 10-second display of all objects located.
Flag mode - Targets the pin and factors out background noise to provide precise readings.
Normal mode -provides a single distance to any chosen target from flag to dogleg point or hazard edge.
The Golfbuddy LR4 retails at £214. To read more on the Golfbuddy LR4 please - Click here
Leupold GX-4i²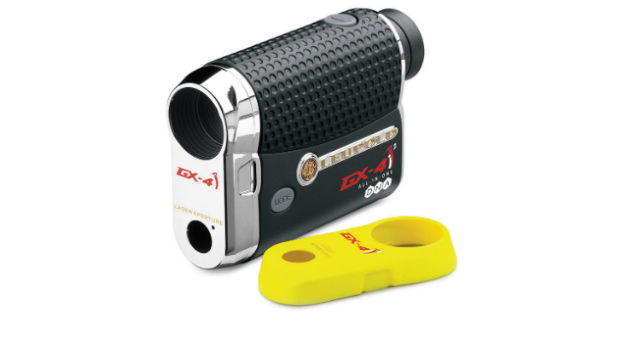 Described as having your own personal caddie thanks to the Leupold GX-4i² Club Selector by pre-entering your normal striking distances for the eight, six, and four irons, Club Selector will then make club recommendations based on the True Golf Range (TGR) of your shot.
You may think that this sits beyond the rules of golf in tournament play, and you'd be right but Leupold have thought of that.
Whilst you can practice using the TGR and Club Selection to home in those all-important iron shots the Leupold GX-4i² comes with a revolutionary yellow Smart Key which when attached disables the TGR and Club Selector mode confirming the Leupold GX-4i² for tournament use.
More features on the Leupold GX-4i² include the Pinhunter 2 and Prism Lock Technologies. Available on the previous GX-3i² as well the Pinhunter 2 filters out background images and makes zeroing-in on the target faster and easier. You also have the choice of three different reticle options offering you more flexibility when deciding which one is best for you.
The Prism Lock combined with PinHunter 2 makes locking on to your target faster than ever before. An audible tone alerts you when the rangefinder finds the prism, and the distance is immediately displayed, meaning you won't be holding anyone up finding that ideal yardage.
Other features:
Fog mode – The GX-4i² will cut through the foggiest of conditions to provide fast and accurate measurements to your target.
Quick set menu – Fast and easy access to the setting you need stands by Leupold's strategy of speeding up the pace of play whilst using the latest in golf technology.
Scan mode – This enables you to receive multiple readings in one quick step. By holding down the power button the display will continuously update with accurate line-of-site measurements. As an extra benefit, on courses utilising prism technology, The GX-4i² will beep and the display will freeze the moment you scan past a prism-topped flag stick, assuring you of an accurate reading.
The Leupold GX-4i² retails at around £409.
---
What do you think? leave your comments below (Comments)
---
Tags: nikon golfbuddy bushnell
---
comments powered by

Disqus